As my plane scooted down the runway of Bilbao's small airport a wave of happiness overcame me.
I'm back in Spain. Yes!
I love Spain.
If you were to ask me why, I honestly couldn't tell you. I'm pretty obsessed with the Spain language (life goals: to be fluent in Spanish), one of my favorites food styles is tapas, and… wine. Lots of wine.
But I really can't answer why I love Spain so much. I just feel a connection, a vibrancy, and an affinity for it. I've stopped trying to encapsulate what it is about Spain that I like so much, especially since I haven't spent much time here (unfortunately) but I was more than stoked to be back.
I was excited because I was here to explore the Northen area, an area I knew nothing about.
This region, for some odd reason, isn't explored as much. Why?
Perhaps Barcelona steals THAT much of the spotlight? Either way, I'm making it my mission to show you guys why you should put northern Spain on your itinerary.
First on the list, Basque country.
What's Basque Country?
You learn something new every day when traveling. I didn't know Basque Country was considered an autonomous community and has fought to be independent of Spain in the past.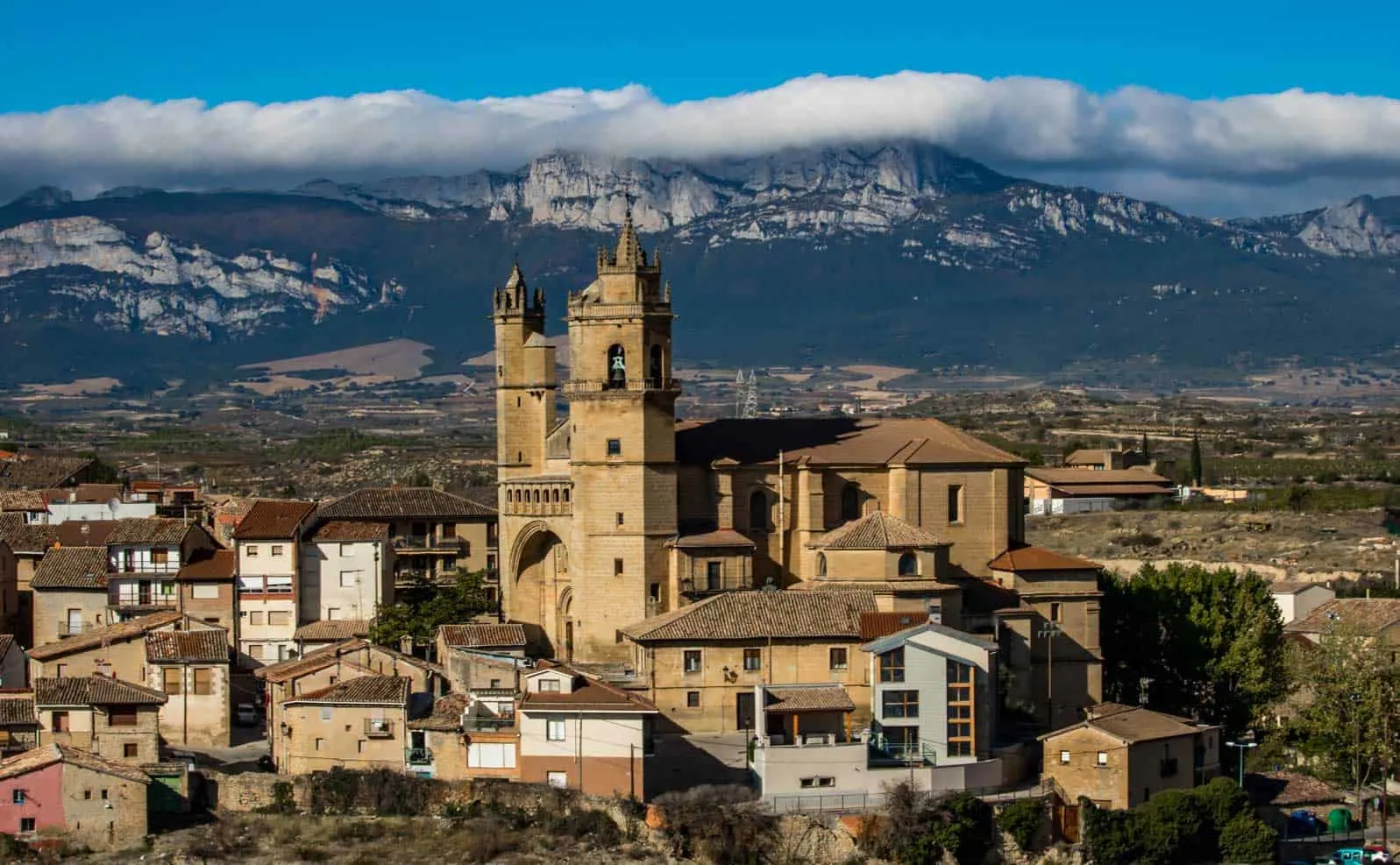 Basque Country is located on a slice of north Spain, also known as Green Spain, and are known for their feisty natives (wait, it's this all of Spain?) and their fab Basque coast!
The Basque people even have their own language, which is damn near impossible, even for "regular" Spanish speakers, to understand or learn. I find their bold use of X's and sometimes Z's extremely intimidating… Who uses these letters so often?! The only words I dared to learn were Txakoli and Pintxos. More on that later…
A 48-hour Northern Spain Itinerary for the Basque Coast and Beyond
I live and breathe for coastlines. Being a professional beach bum from Florida, I can't help but be drawn to the ocean which is why I loved the Basque Coast. It's not all this region offers though, so here is everything I squeezed (and I mean squeezed) into two days before moving on to the next region…
San Juan de Gaztelugatxe
San Juan de Gaztelugatxe was simply spectacular.
Where else can you see a small bridge and winding pathway leading up a tiny island with a church precariously perched at the top? Not many places I'm willing to bet.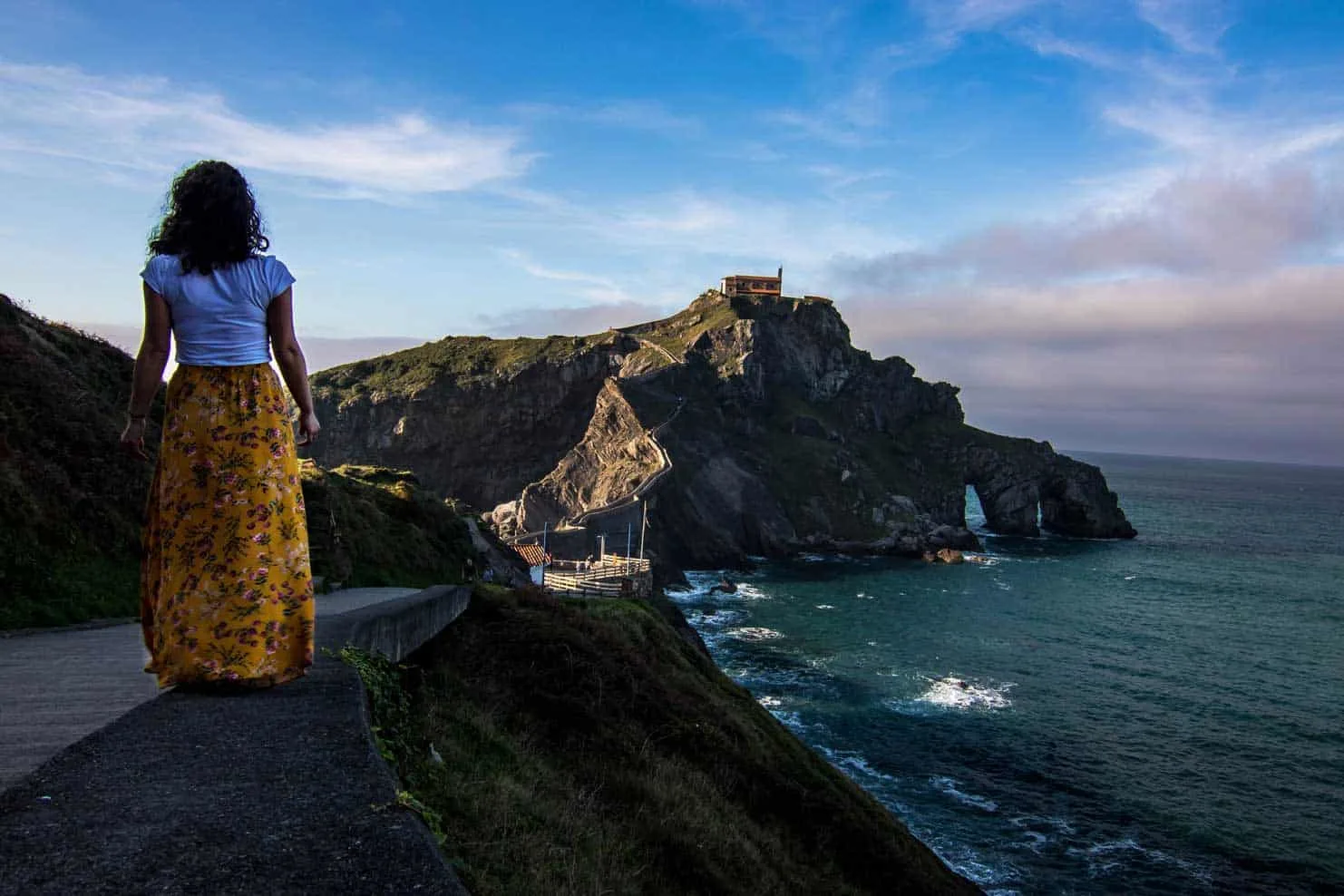 While we were trying to beat the sunset during our visit here and didn't make it to the top, the views from the bottom and from the mirador (viewpoint) were enough for me to fall head over heels for this brutally beautiful wedge of coastline. The waters are rough causing the rocky coast to crumble off and create arches.
I certainly wouldn't recommend swimming anywhere near here but I could have watched the waves here for ages… Speaking of watching, this was one of the sets for Game of Thrones. I don't watch (yet) so I may even learn to appreciate this place in a new light soon! (Should I start getting addicted to this show?)
San Sebastian
San Sebastian was another coastal gem to fall for but it's undesired weather decided to grace us with its presence. Under the haze, mist, and sprinkles in my eyes, I could see what was still a shimmering and desirable coastline.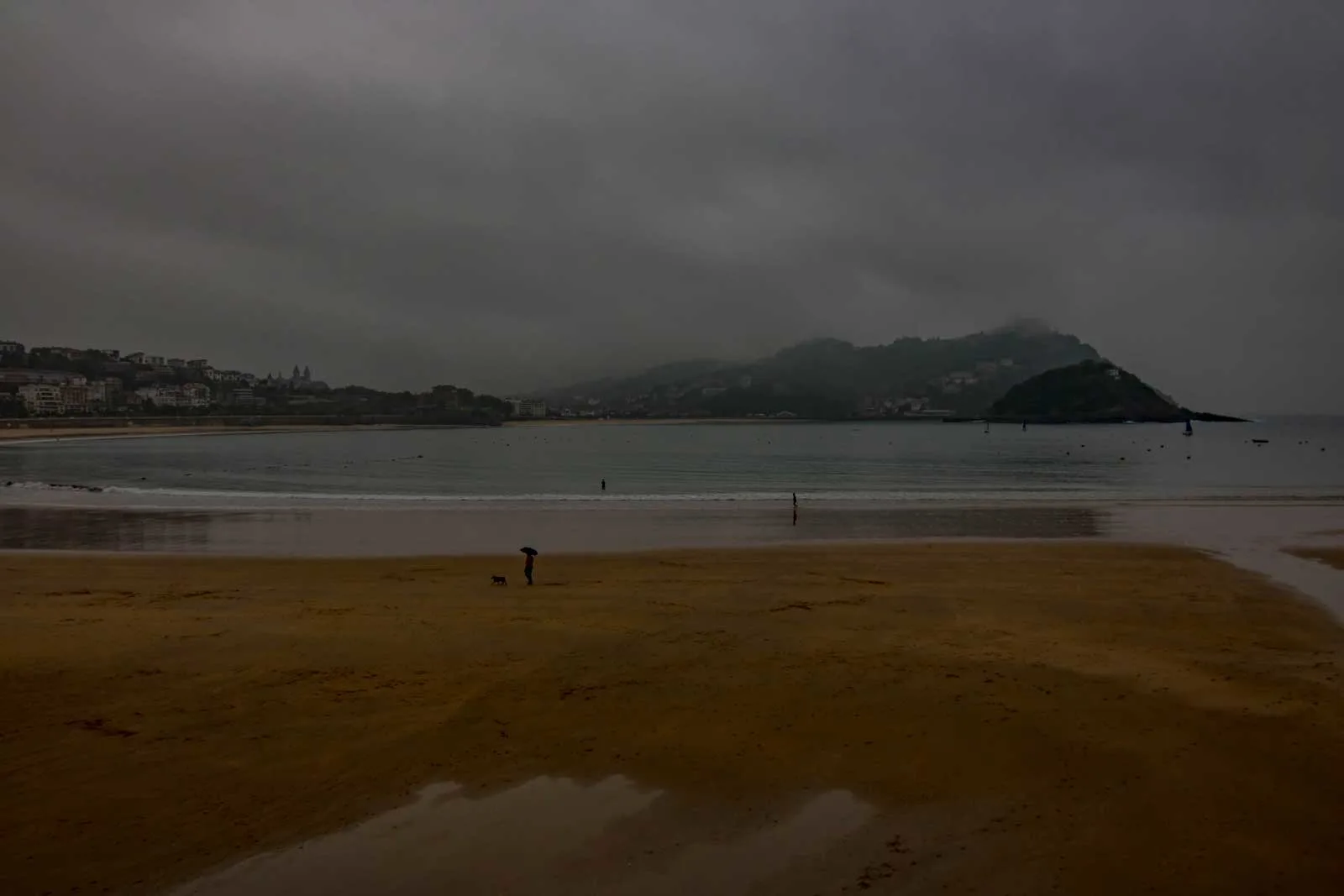 Two outcrops hug small Bahia de la Concha, a bay to the side of the city with Isla de Santa Clara in the middle. Surely Mount Igeldo would have provided some great views if the clouds parted but they were stubborn on this day. Despite the weather, there were some real troopers out there splashing in the chilly water and lounging on the wet sand.
Laguardia
Laguardia was an interesting medieval village to learn about and to grab a bit to eat at.
This entire town was once underground!
Deep tunnels were carved many years ago as a defense tactic but are now just used as wine cellars or cool cave bars.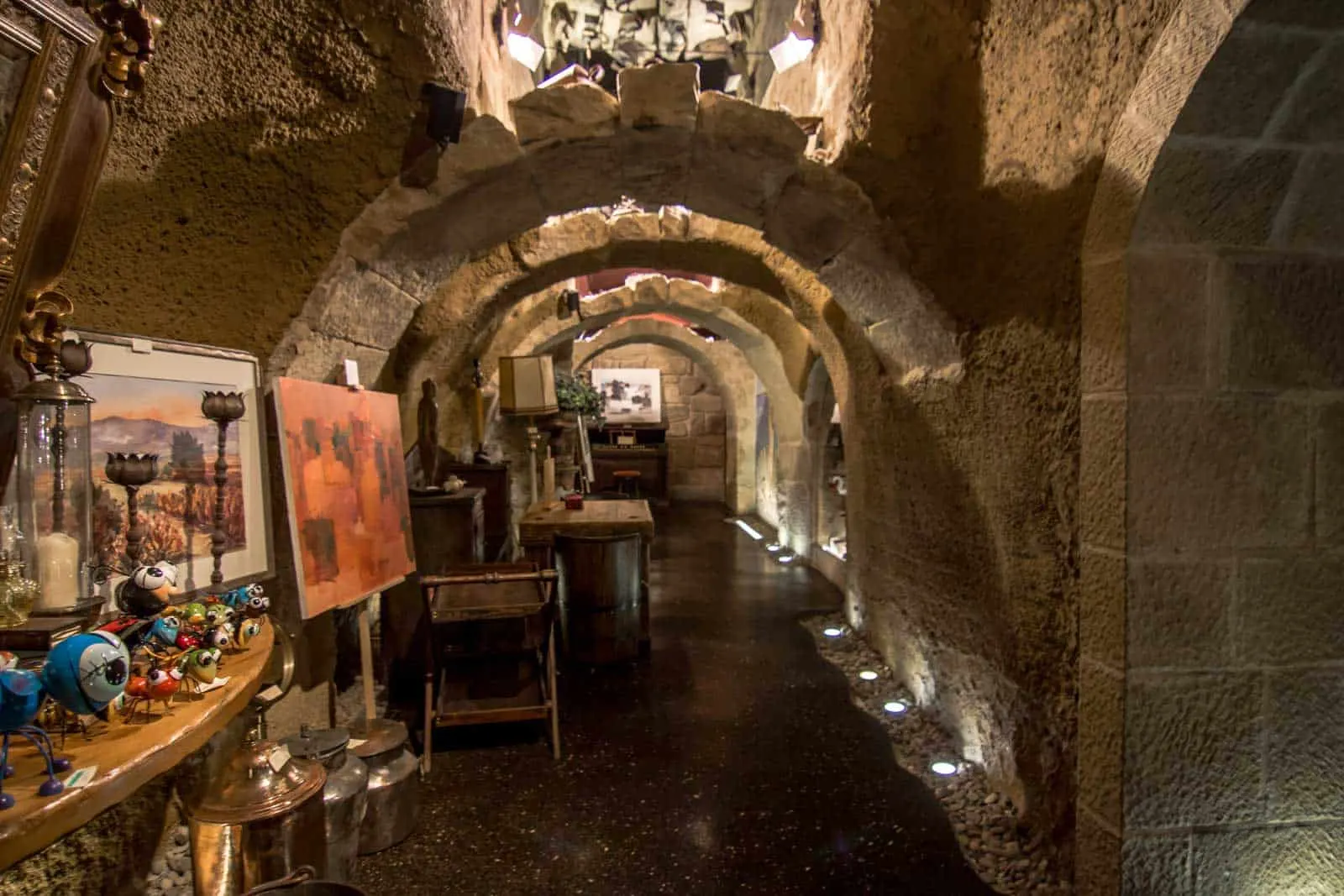 Frank O. Gehry's work + Marqués de Riscal's wine
Speaking of wine… Marqués de Riscal winery does a pretty bang up job on their wines AND their buildings.
When you roll up to this place you will surely think you've time-traveled to the future.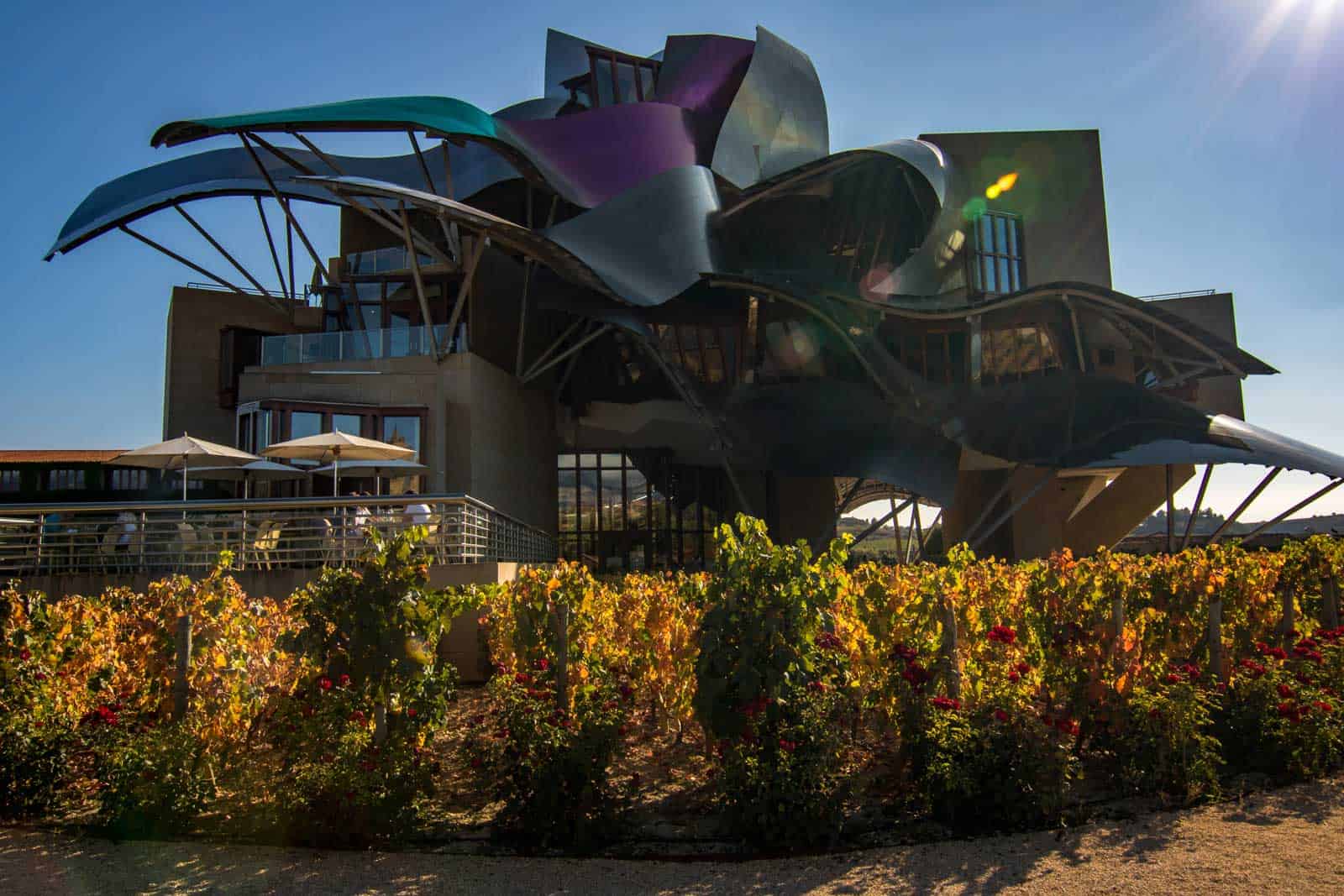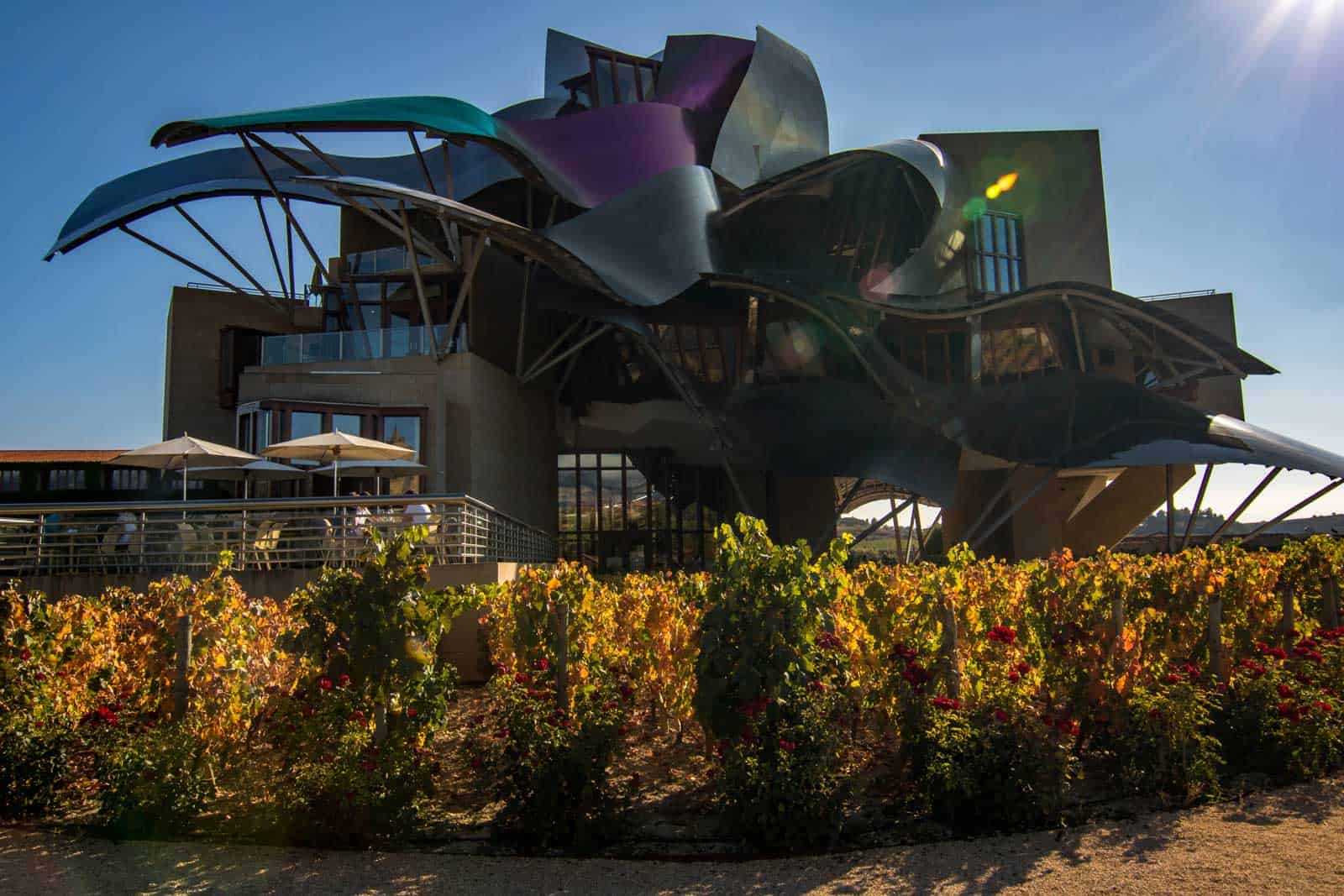 The hotel on the premises was created by Frank O. Gehry, the same person who designed the Guggenheim Museum in Bilbao (another place to add to your list!). His inspiration for the Marqués de Riscal was taken from the rolling hills surrounding the area and the colors of wine.
The Guggenheim in Bilbao is incredibly impressive, particularly from the outside.
We got quite lucky with the current exhibition on display that made the museum float on a cloud. Nakaya Fujiko, a Japanese artist, created this ethereal piece which captivated us as we walked up. (That's a lie, I literally thought something was on fire or something just blew up when I first walked up, ha!)
Words are hard so that's what pictures are for… What can I even say about his work that will do it any justice?!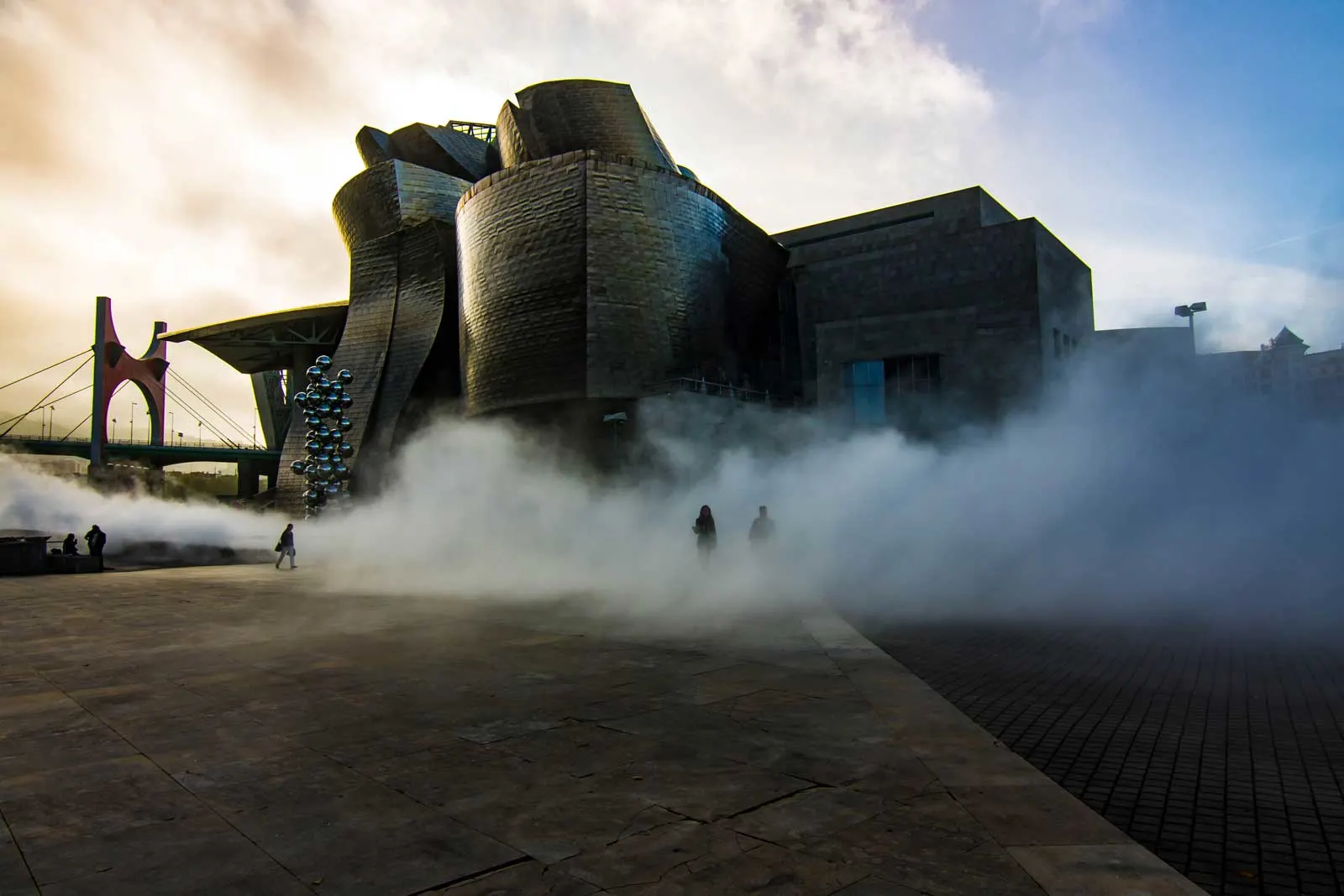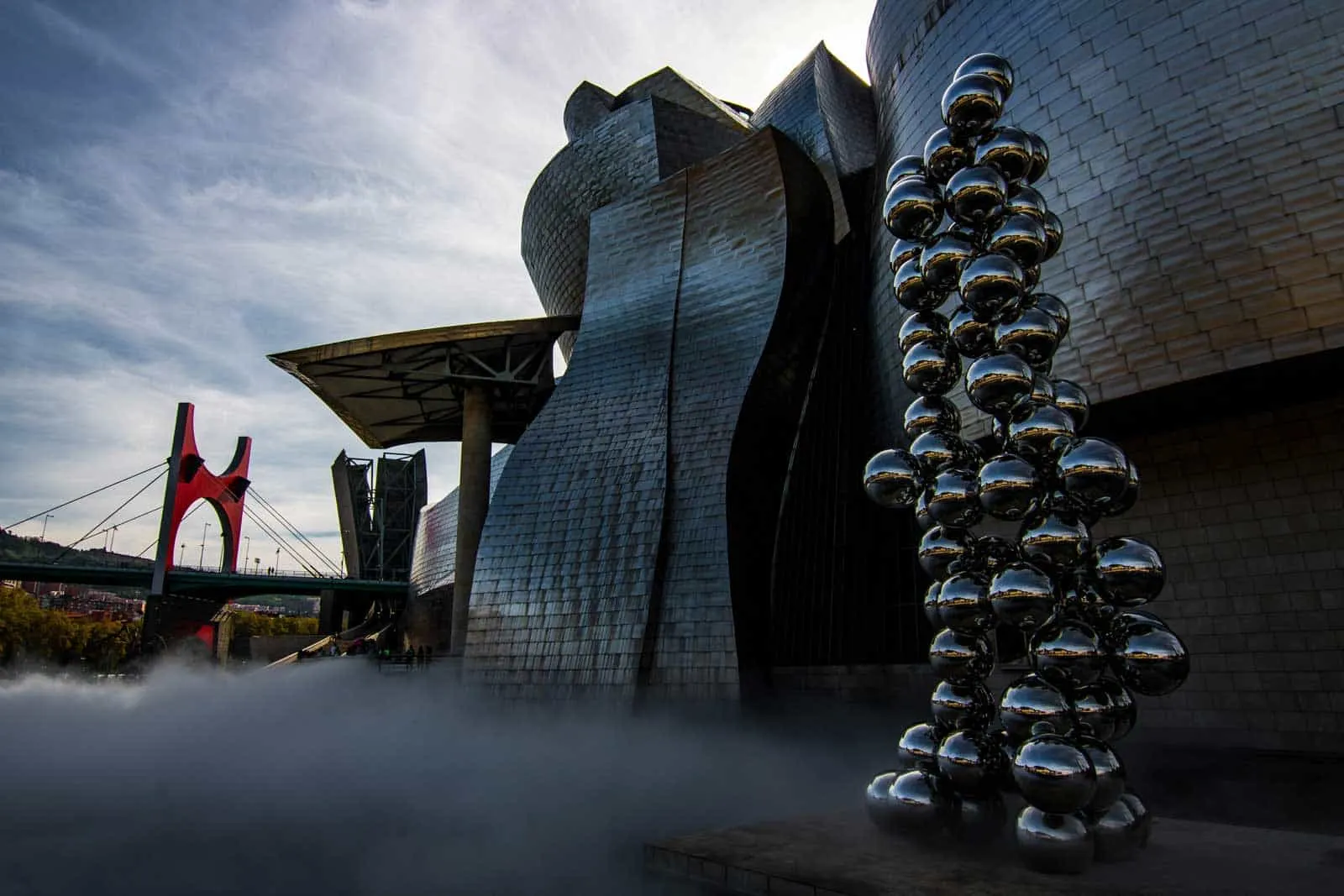 What to eat and drink in Basque Country
If you think you can maybe squeeze more things to do during your time here, you'd be right, but they won't be attractions. instead, your extra time should be spent indulging in wine and the local fare, which is incredible, to say the least.
Txakoli and Pintxos
These two things were (kinda) new to me. First, these two words are pronounced like chakoli and pinchos. And essentially they are my two favorite things, WINE and tapas, but the Basque version. Often times the pintxos were more like a small finger food type thing, maybe one or two bites, but overall, it's really just like tapas!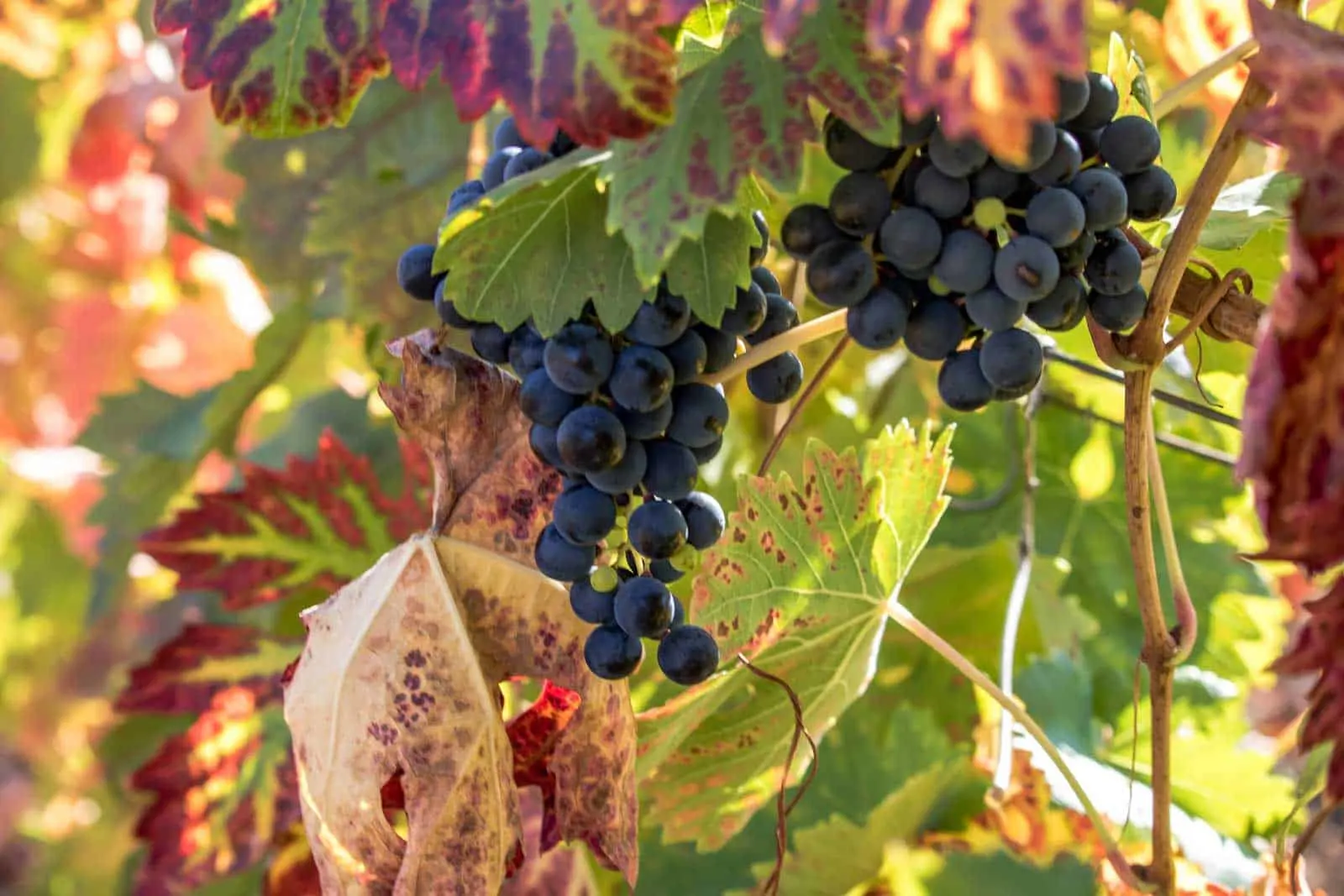 So what pintxos should you get? Literally anything.
I can't decide which I liked I more, the smoked salmon with herbed yogurt, the perfectly prepared fried white asparagus, the anchovies with peppers and olives on a stick (don't judge, it was awesome!), or maybe the delicately grills octopus… Uh! They were all good. So literally walk into a pintxos bar that was recommended by a local and order all the things… All of them.
They are often on display at the bar for you to get tantalized by smell and looks before you devour them. It's common for locals to visit numerous pintxos bars in the evening and eat and drink a bit at each of them.
Here's where to find some of San Sebatian's best pintxos.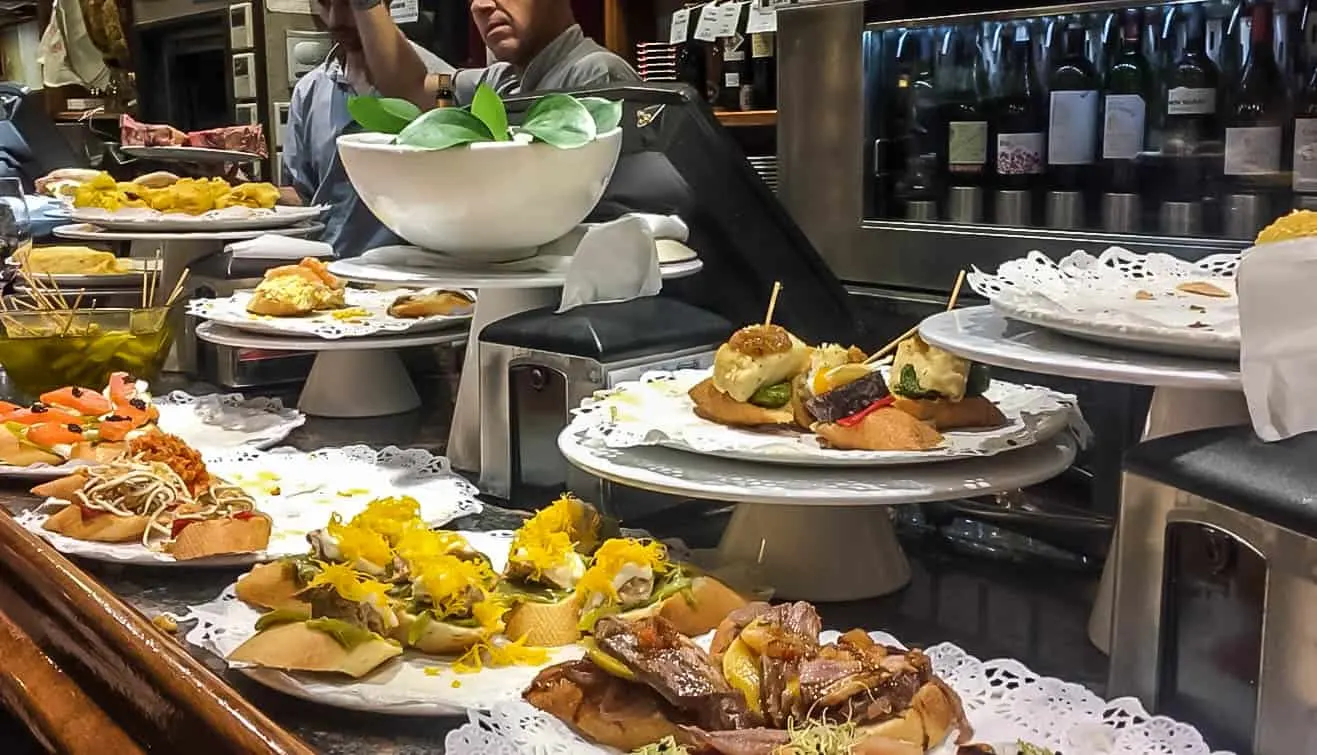 And txakoli, I admit, I was prepared to not like. It's a dry and acidic white wine with a dash of sparkle to it. I usually drink red, non-sparkling wines, and for some reason, txakoli screamed "sweet" to me, which isn't my thing. Well, I was proven wrong. It was very good!
It was so good, in fact, while many of us were red wine drinkers, we were happy to down bottles of txakoli… Night after night. (#noshame)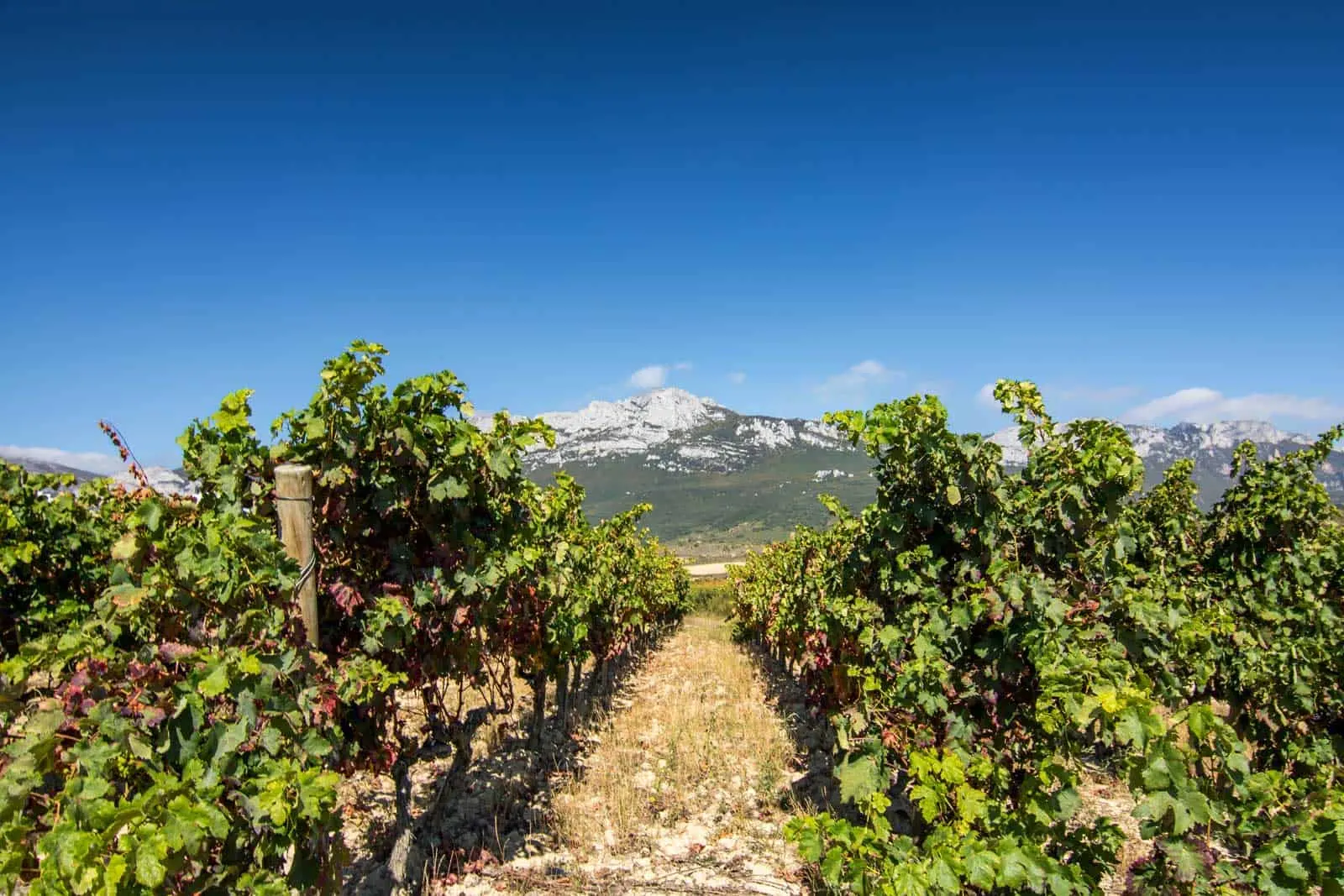 Here's a map for your Basque Country itinerary outlining some of the main highlights we got to see while exploring this region. There's plenty more to pack in should you have more time, I wish I did!
Have you put the Basque Coast and it's surroundings on your northern Spain itinerary? I hope so 🙂
---
Pin me if this Pin-terested you :-p

---
This article is written in partnership with Spain Tourism Board and the local tourism board of Basque Country, and in cooperation with The Travel Mob, for the #InGreenSpain campaign. As always, all opinions are my own and it will always be that way.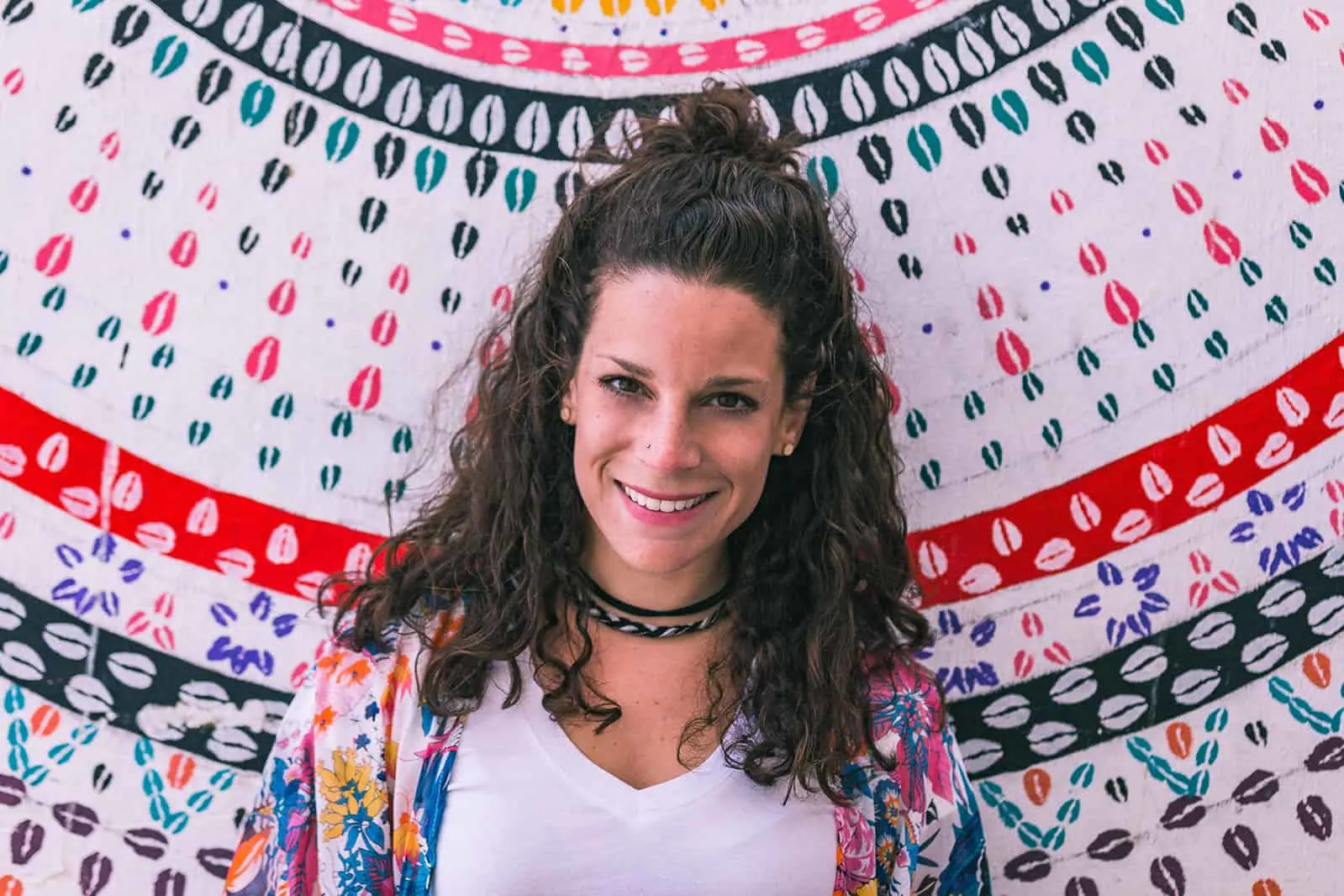 Nina Ragusa is an adventurer, messy bun master, breakfast fan, and full-time travel blogger. She's been abroad since 2011 and blogging on Where in the World is Nina? for nearly as long. Nina helps people like you move around the world while making money. She loves talking about how to work abroad and online to travel longer!