Home to some of the most stunning waterfalls in Mexico, along with a range of fun and relaxing attractions, natural wonders, and turquoise blue rivers, the area of Huasteca Potosina is a stunning sub-region of San Luis Potosi that should without a doubt make your Mexican bucket list.
It's located just a few hours from the city of San Luis Potosi. Surprisingly, despite its beauty, most travelers have never even heard of it. It's pretty popular with local tourists but foreigners aren't flocking here.
That might be because there isn't a great deal of information about the area online or in guide books, but don't let this deter you from exploring.
The entire area comprises various terrains and landscapes, from hills to miles of flat land, old lava flows, and gullies cut out of the soft rock by the many twisting rivers that weave their way through the area.
This Mexican haven is most well known for the Huasteca Potosina waterfalls, which are all extremely impressive in their own right.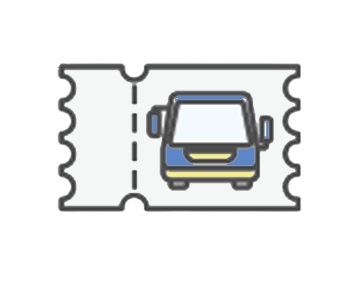 TRANSPORTATION TIP
If you're looking for bus or boat tickets around Central America and Mexico, you can easily book them online! Check Availability
Exploring Huasteca Potosina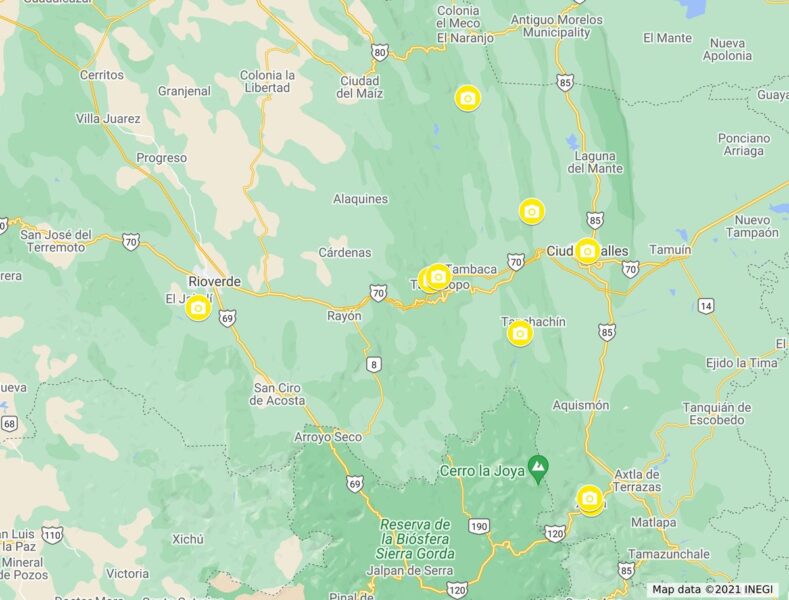 Media Luna
Cool off in the incredible Media Luna cenote while in Huasteca Potosina, Mexico. The park is a hotspot for families, so expect it to be busy during your visit, but it makes a great quick stop if you want to tick cenote swimming off your bucket list, although it's a bit different than the cenotes you may have in your head since it's not really in a cave-like setting.
It is located in the Rio Verde jungle and also has camping spots, diving, and hot springs to enjoy. There are warm, lazy rivers that wind their way through the jungle and smaller pools dotted around, and the main Media Luna. The bigger lake area is used for scuba diving.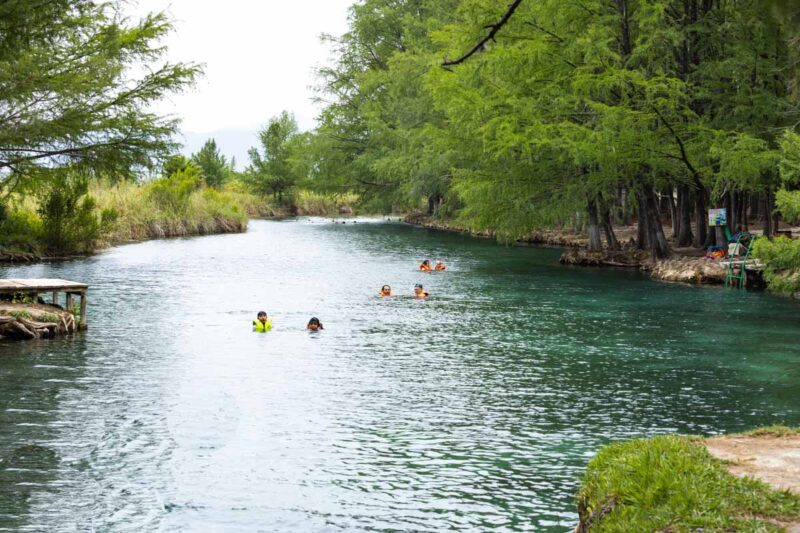 The small fee to enter the park lets you re-enter as many times as you would like over many days. If you want to extend your stay, you can pay a small fee to use their campsite.
While in the park, grab yourself a bite to eat from one of the many food vendors, pick up a souvenir, or hire snorkeling equipment and see what you can see beneath the still, blue waters.
This was a cool stop and a nice place to hang and have a picnic and some drinks with family or friends. It's not the coolest thing you'll be doing in Huasteca Potosina, but I figured I'd include it as a relaxing thing to do on the way from San Luis Potosi to break up your trip!
Puento de Dios Falls
Just two miles northwest of the town of Tamasopo, you'll find the hidden beauty that is the Puente de Dios Falls, one of the best San Luis Potosi waterfalls. The cascading falls are located in a narrow gorge and carve beneath a rocky arch, through which the Gallinas River flows.
Both at the top and the bottom of the cavern are some prime swimming spots with lush blue water just inviting you to jump right in. If you feel daring enough, you can even swim right into some of the caverns and explore the tunnels.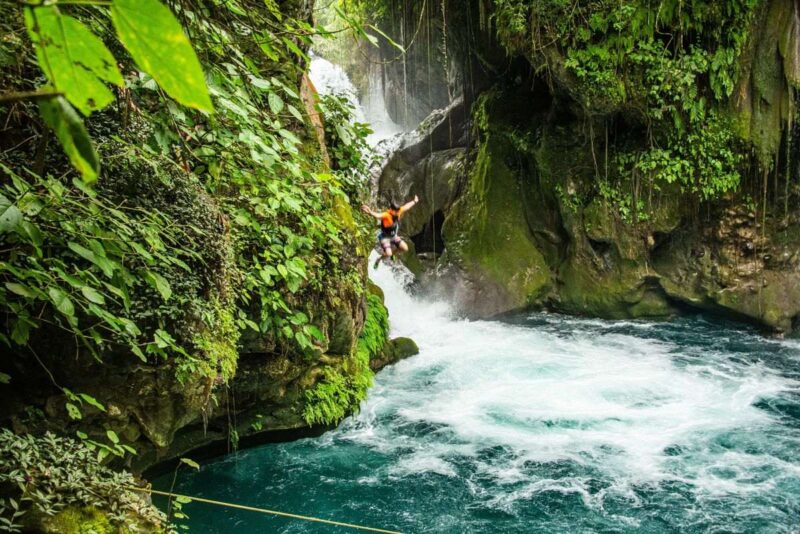 There are three cascades in total that altogether tumble about 20-meters into a smattering of pools, each of which is separated by travertine ledges and shelves. Also in the area is a 600-meter long walkway, complete with stunning rainforest views.
There is a small entrance fee to see the falls that only works out to be a couple of dollars. You have to be relatively fit to reach the pools, as you will have to head down around 380 steps which can be quite steep. If you want to jump in the pool, you'll have to rent a life jacket to keep you safe, but the cold water is very refreshing.
The water is crystal clear, and there are cords of rope that are strategically placed to help you swim against the current, which can get very strong at times. There is a locker-type setup going on, so you don't have to leave your valuables if you fancy going for a dip.
I didn't have enough time to stop off here but I couldn't leave it off my list of cool Huasteca waterfalls to see.
RELATED: Cascada La Reforma—Puerto Escondido's Coolest Waterfall!
Tamasopo Falls
Tamasopo Falls is unique in the fact that the cascades lay on the grounds of a hotel. They are in a huge, well-kept garden with natural pools and two huge waterfalls.
You have to pay a small entrance fee, but for the money, you do get the modern comforts that other waterfalls wouldn't offer, such as changing rooms, bathrooms, and life vest rentals.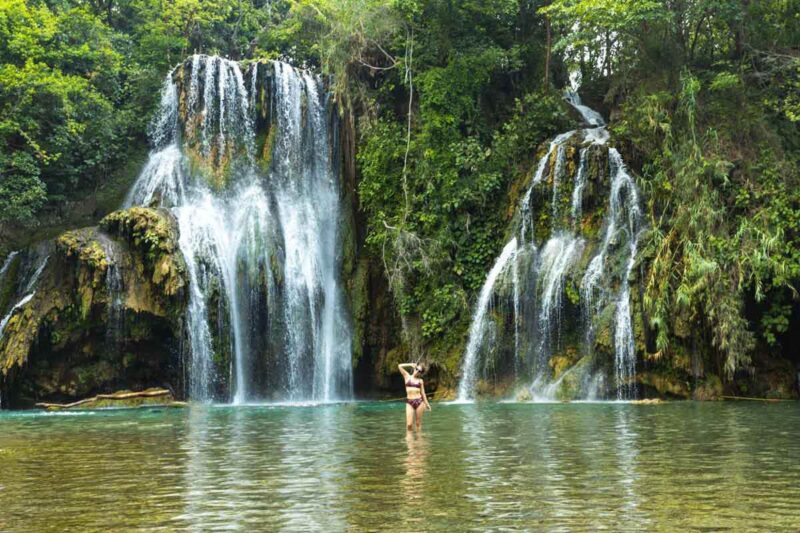 Think of this spot as a fun, natural, water park! There is a great mix of natural and man made here to make it really beautiful but accessible. The waterfalls are flanked with jumping areas and little bridges to take you to the other side. There are cute little shops for food and drinks, hammocks randomly placed for chilling, and little "beach" areas for relaxing.
RELATED: A 3-Day Mexico City Itinerary: Boats, Pyramids, Churros, & Squirrels?
Minas Viejas
Minas Viejas is a picturesque Huasteca Potosina waterfall, dropping 55-meters down into a shimmering pool below. Although a few of the pools are roped off, most are available to swim in.
Although beautiful to look at, the falls are often visited for another reason. You can actually rappel down the side of the waterfall and into the pools at the bottom!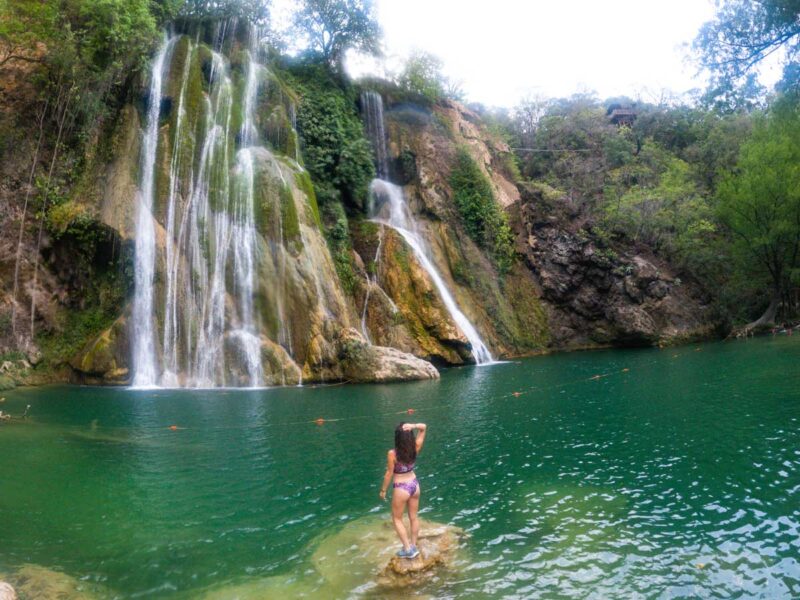 I rappelled down the side of a huge cliff and dropped into the pool below. I swam just a minute to my left and then these towering waterfalls welcomed me into their gorgeous blue waters!
From the main pool, there are several smaller waterfalls of varying levels. The area is just beautiful and while the rappelling sounds a bit scary, it was SO much fun, so push yourself!
Book this Tour: Rappelling Beside Minas Viejas and Micos Waterfall.
Tamul Waterfall
You can never have too many Huasteca Potosina waterfalls, and a trip to Tamul Falls is one you don't want to miss. I actually say this ironically, because I MISSED IT! I was pretty upset to learn I just chose the wrong time to visit… So don't make my mistake!
These falls are some of the most impressive in the region, and one of the best ways to view them is from the water itself on a canoe. The canoes in this region are traditional wooden pangas, and these will help you paddle upstream, although you'll definitely have to put a little effort in.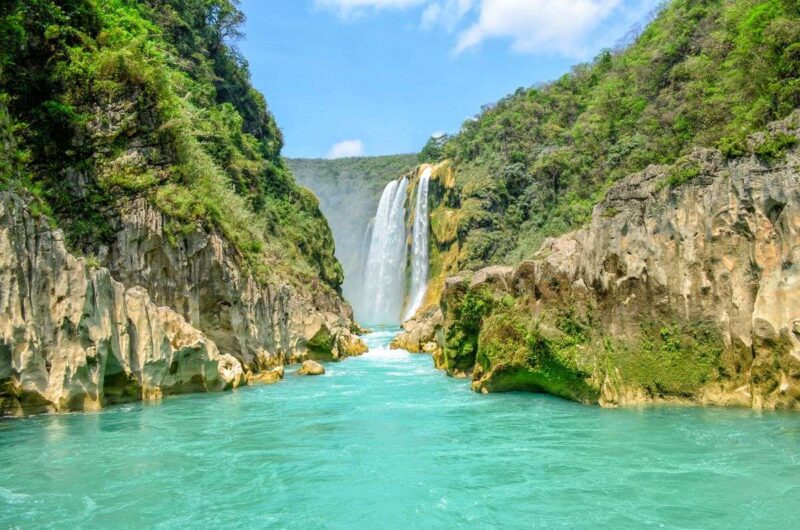 The wall of water raises around 340-feet above the Tampaon River, making it the tallest waterfall of San Luis Potosi. It is a result of two great rivers merging, the Gallinas and the Santa Maria River, which results in not only hugely tall falls but also a wide one at 300-meters in width. Pretty impressive!
The river around the waterfall is famed for its turquoise waters, but be aware that the best time to visit is from July to March, I went in May and they said don't go, it's dry, boo.
To get to the falls, you start at La Morena, which is around 3km from the falls and is where the boats and guides are located. The journey itself is beautiful, as you'll head through a canyon surrounded by solidified sand walls with the odd waterfall dotted around.
Usually, you will not get too much time at the falls themselves as other boats await their turn to get close to the water.
RELATED: A 2 Week Mexico Itinerary For Beach and Mountain Lovers.
Micos Waterfalls in Huasteca Potosina
The Micos waterfalls are a stunning group of San Luis Potosi waterfalls that tumble from different heights of rock. There are eight falls in total and once you reach them, there are numerous activities to choose from to enjoy.
You can take a boat ride to get close to the falls, head up the mountain with a guide to find the waterfalls' source, jump from the rocks, and even zip line!
Jumping Into Micos Waterfalls Near San Luis Potosi
The tour company that runs the experience will provide you with a helmet and a vest and will guide and advise you on the safest ways and areas to propel yourself off of the rock. It is a fun and adrenaline-fuelled way to enjoy the area's beauty from a great height while also getting the chance to cool off in the beautiful blue waters.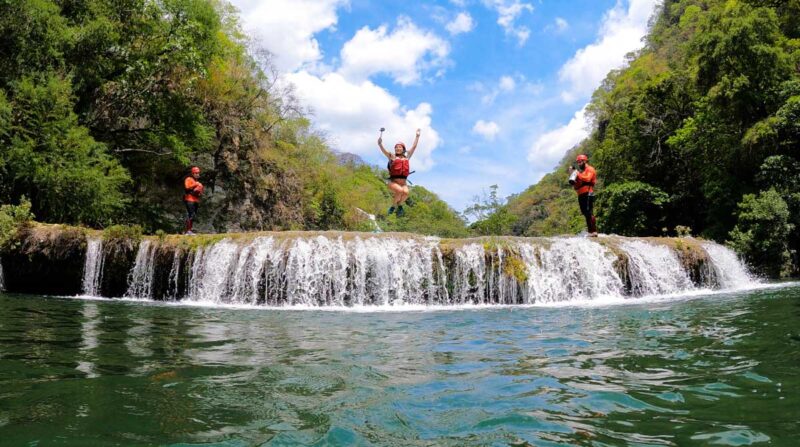 With seven beautiful waterfalls to jump off of (you can't jump the highest one), by the time you reach the 7th, the fear will be gone, and you can fully enjoy the experience of plunging into the bizarrely blue and beautiful waters!
The entire time you're jumping off the falls, you'll be able to look up and see one of the other great activities to do in the area, zipling over Micos Waterfalls!
Ziplining Over Micos Huasteca Waterfalls
Ziplining is an incredible experience, but doing it over these spectacular falls is something else entirely. There are three zip lines to try, each of varying lengths, with one 175 meters, one 200 meters, and one a huge 720 meters, all of which will have you soaring high above these epic Huasteca waterfalls, giving you a unique vantage point.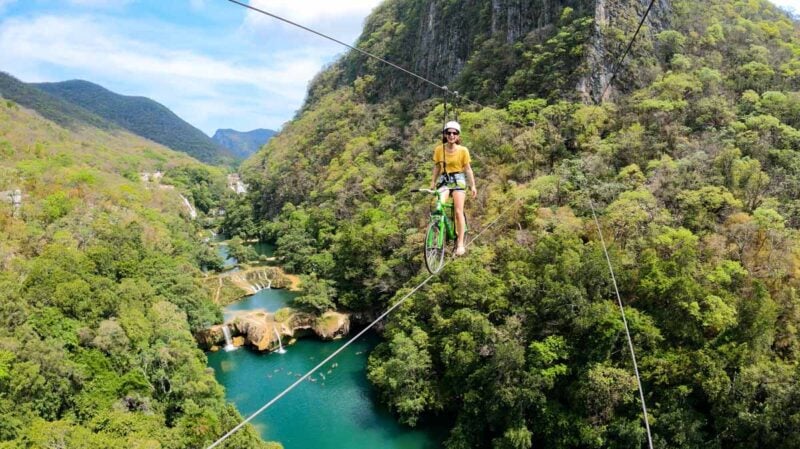 One of the unique ziplines here is the skybike, and is likely something you have never seen before and is unsurprisingly the only one in Latin America.
You'll actually be able to ride a bike suspended in the air at the height of 80 meters. Of course, you're strapped in, but being on the bike gives you a little more time to admire your surroundings and take in the view.
Rafting on the Tampaon River
With a knowledgeable guide leading the way, you'll be in safe hands on this gentle rafting trip down the river in Ciudad Valles. Be prepared for a little thrill as you bounce and bump your way along Class III rapids so that you won't be up against anything too hairy.
Book This Tour: Rafting in Tampaon River from Ciudad Valles.
From this angle in the water, you'll have some impressive views of the Huasteca Potosina area. The tour is pretty inclusive and will be an all-day adventure, lasting around 7-hours with hotel transfers and lunch included, so you won't have to worry about anything other than having a great time.
The guides are fantastic, making you feel safe the whole way, as they know the waters well. Keep your eyes peeled as you have a good chance of spotting a range of birds and wildlife. This is another activity I just didn't have enough time for but that I wish I did!
Xilitla
Surrounded by the jaw-dropping scenery of the Huasteca Potosina, beautiful Xilitla is a small, hillside town and makes the perfect quick stop on a Mexican adventure. The town is known for its incredibly steep streets and it's bizarre surrealist garden…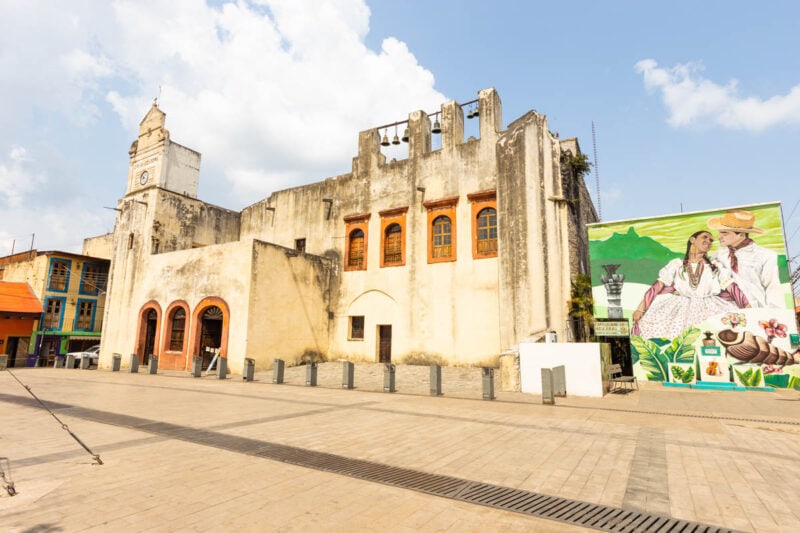 Las Pozas—Xilitla Surrealist Garden
One of the main reasons people visit the town of Xilitla is its proximity to the gardens of Las Pozas, designed by the wealthy English eccentric Edward James.
Step into this part of the Mexican jungle and admire the bizarre and madcap experiments of this artist. It is one of the best and most unique attractions in the area, and you can't leave without visiting. There is a great tour you can do to Xilitla and the garden.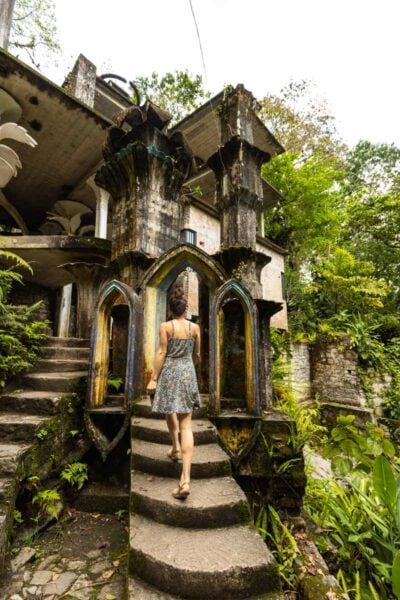 The incredible structures and sculptures within the park are vast and are made up of twisting staircases that essentially lead to nothing, bridges that end before they reach anywhere, and doors that open to nothing. All are elaborately decorated and, with a backdrop of jungle foliage, are very impressive.
While in the gardens, a few key attractions are The Staircase to Heaven, the Hands of a Giant, one of the most iconic statues in the whole complex, the Seven Deadly Sins, and the waterfalls of Las Pozas themselves, which are what gave the gardens their name.
The entrance fee only a few bucks, and this gives you access to the huge gardens and all of the buildings to explore to your heart's content – so fill your camera roll! Make sure you at least give yourself a few hours to explore this jungle wonder.
Book This Tour: Xilitla Surrealistic Garden and Huahuas Abyss Tour.
Stay at Selva Teenek
This is where I stayed for my time in Huasteca Potosina and I LOVED it. The owner is one of the sweetest people and cares so much about animals, her life is dedicated to them. The cabins and glamping opportunities at Selva Teenek help the injured wildlife that reside here!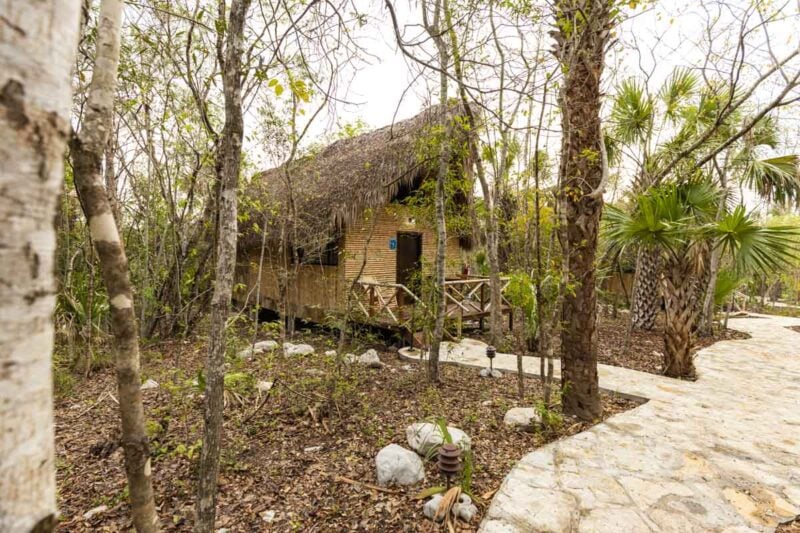 Just outside your accommodation are gorgeous exotic animals that get to live out their best lives here. They are all too domesticated or permanently injured to return to the wild. The money from the accommodation goes to the animal's care, stay here if you can!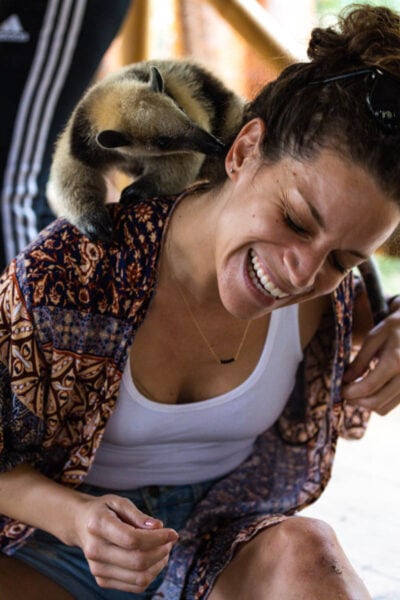 They have amazing eco-friendly cabins and tents and the food that's included when you stay here is incredible!
Tips For Exploring Huasteca Potosina
Stay/fly into/ base etc in Cuidad Valles, NOT San Luis Potosi. This was a small mistake I didn't realize until I was there. San Luis Potosi is the bigger city but most don't realize it's actually a three-hour drive from all the cool stuff here, while Cuidad Valles is much closer to many of these activities.
Car Rental – If you rent… it's best to reserve online so you get a price from a computer rather than a human noticing you're a tourist. With that said, there is a bit of a BS "tourist insurance charge" that is "mandatory" that they wouldn't let us rent without despite all of us having car rental insurance from our travel insurance and credit cards! So just be prepared for that.
Get a tour – I usually don't say this but yes, this area is best on a tour. You'll need to book them anyway as you can't rappel, white water raft, go zip lining, etc without guides anyway. Huaxteca was AWESOME and their tours were great.
Pick up Spanish – I can't lie, you'll need some level of Spanish to get around here, it's not a place where English will get you very far. Not that many people will speak it at all. If you don't know Spanish, then you should DEFINITELY book a tour with Huaxteca for ease.
I hope you enjoy your time in Huasteca Potosina!
Book this three day tour that encompasses many of the experiences in Huasteca Potosina that are mentioned above.
Tips for Booking Your Trip:
---
---
---
---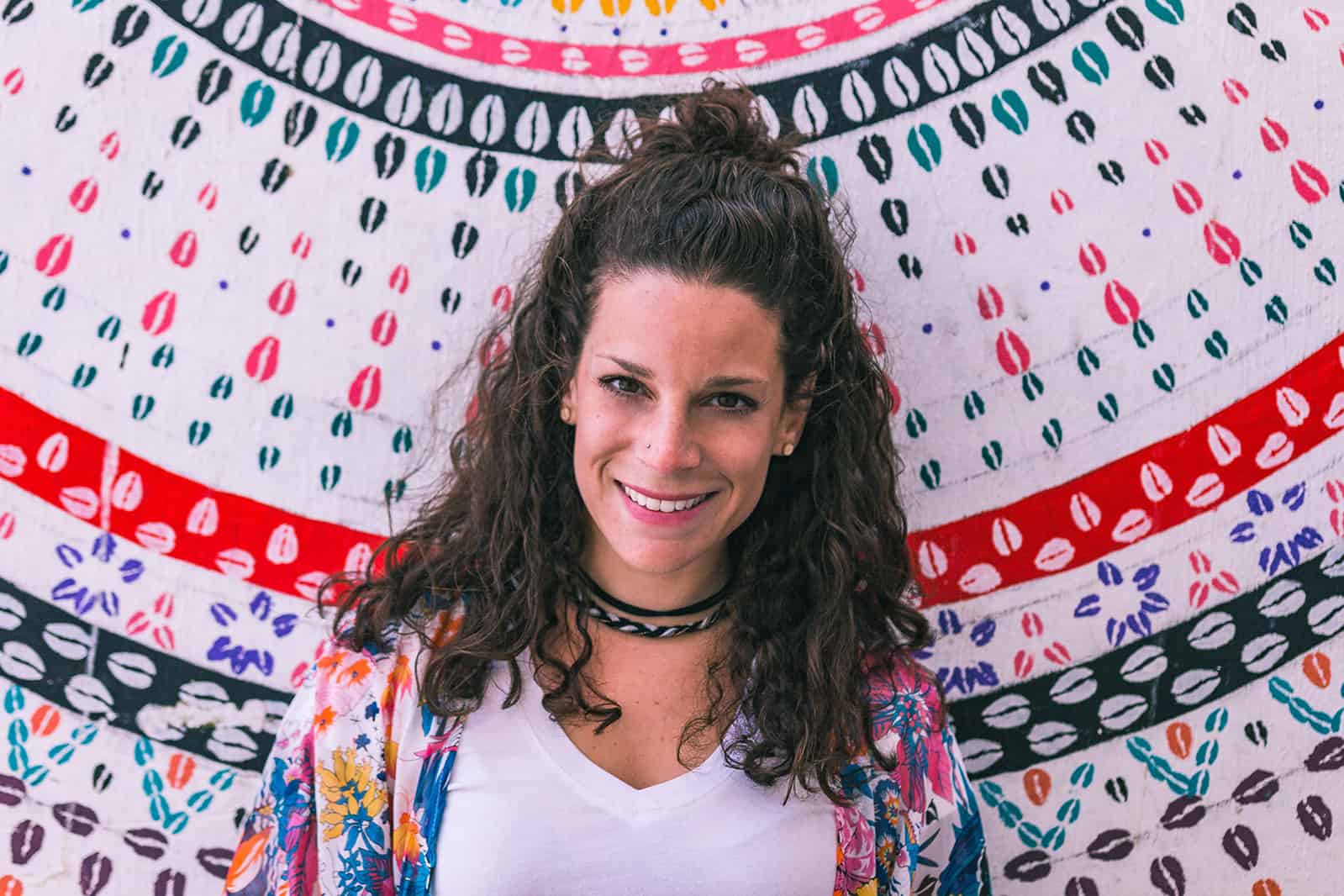 Nina Ragusa is an adventurer, messy bun master, breakfast fan, and full-time travel blogger. She's been abroad since 2011 and blogging on Where in the World is Nina? for nearly as long. Nina helps people like you move around the world while making money. She loves talking about how to work abroad and online to travel longer!