There are plenty of people out there who are dying to travel more. Sometimes, even more than that, people want to live abroad. The world is an intriguing place, and more and more people are realizing that they really want to see it. What is their excuse for not living and traveling abroad though? Money. Money is always the problem. I get it! Mortgages are high, gas prices are constantly fluctuating and are rarely at a reasonable price, and the thought of buying a plane ticket hurts your head. But what if I told you traveling and living abroad can actually be cheaper? Don't think I'm just teasing, I'll show you. The cost of living in the USA vs living and traveling abroad might surprise you.
Let's take a look…
Cost of Living in the USA vs Living and Traveling Abroad
My living expenses in USA
(back home being Tampa, Florida)
Rent and electric bill: $550/ month ( And this apartment was a DEAL, but it was also super old. Many people pay more)
Car payment and insurance: $230 + $150 / month (Necessity! Essentially zero public transport options)
Gas: maybe around $200/ month depending on driving habits.
Food and drink: $500 / month (This is grocery shopping, a few meals at a restaurant, maybe a few take away sandwiches and even a few bottles of cheap wine)
The food and gas was constantly fluctuating. Sometimes I'd buy more food and bring it to work, sometimes I'd eat out more. These are just the averages.
Total: $1630 and NO fun included.
This doesn't include anything cool, no heavy drinking, no new clothes, no new items that I might need, toiletries…etc. I didn't go out to nice restaurants often or really ever. I rarely was going out and hardly spending money on drinking at a bar. I was living modestly.
My living expenses abroad
The cost of living in the USA vs living and traveling abroad looks a lot different! I've been traveling in SE Asia and living in Thailand as my base. Here's what my expenses look like:
(Prices vary around Thailand so since I've lived in many areas of the country, this is the average.)
Rent: $160 / month (including water and electric)
Food and drink: $300 / month (This is on the high end, and eating whatever I want. Including random 711 binges and even a few beers at the bar. I can spend a lot less and still eat well.)
These are my only two necessities per month!
Other stuff….
Renting a motorbike for a month: $70
Gas: Maybe $15/ month on the high end if I'm driving a lot.
(I don't even rent a motorbike sometimes depending what city I'm in.)
Misc (beers, a boat to an island, and new shirt) : Let's say about $75 on the high end per month. (I don't drink a lot nor do I buy many things)
A random two and half week trip to explore Java, Indonesia: $370 (including everything from food to a car rental for a day and my RT flight)
RELATED: 11 Ways to Get Free Accommodation While Traveling The World!
The basics – $460 a month (food and shelter)
The added expenses like a motorbike, getting new stuff, and then even a 2.5 week trip to another country: add $530
For UNDER $1000, not only can I afford the basics, but I can buy some new shit, leave to travel to another country for more than half the month, and have a motorbike as my transportation.
Staying put and doing things around the city I'm staying in: Around $500-600. (high end)
My month in Pai for April cost me a whopping total of $450 for the whole month! (eating anything I wanted, having a motorbike, and frolicking around to nearby places)
OH!!! And let's throw in my students loans which I still pay for every month- $200/month. I still have money to pay those off too.
Now this sample is showing the cost of living in the USA vs living and traveling abroad in Southeast Asia, namely Thailand, although the prices you see can be almost a blanket cost for the surrounding countries give or take a few bucks.
Other parts of the world might be different, in fact, they are of course different. However, with that said, if you are careful with your money and live simply, you can actually live cheaply almost everywhere.
I encourage you to look up other blogs by people who live and travel around the world and claim it's cheaper, I've seen them! It's possible.
We're conned into thinking we need this and this and that and that….We spend our money frivolously and on anything. Save a bit, be simple, and see how far it takes you. Traveling is more attainable than you think. Hopefully comparing the cost of living in the USA vs living and traveling abroad in Southeast Asia has helped you realized that a bit more.
More Digital Nomad Resources
Where do you live now and how much does it cost compare to this? Do you think this comparison is enough evidence to show you that living abroad and traveling can actually happen?
Pin this to reference later.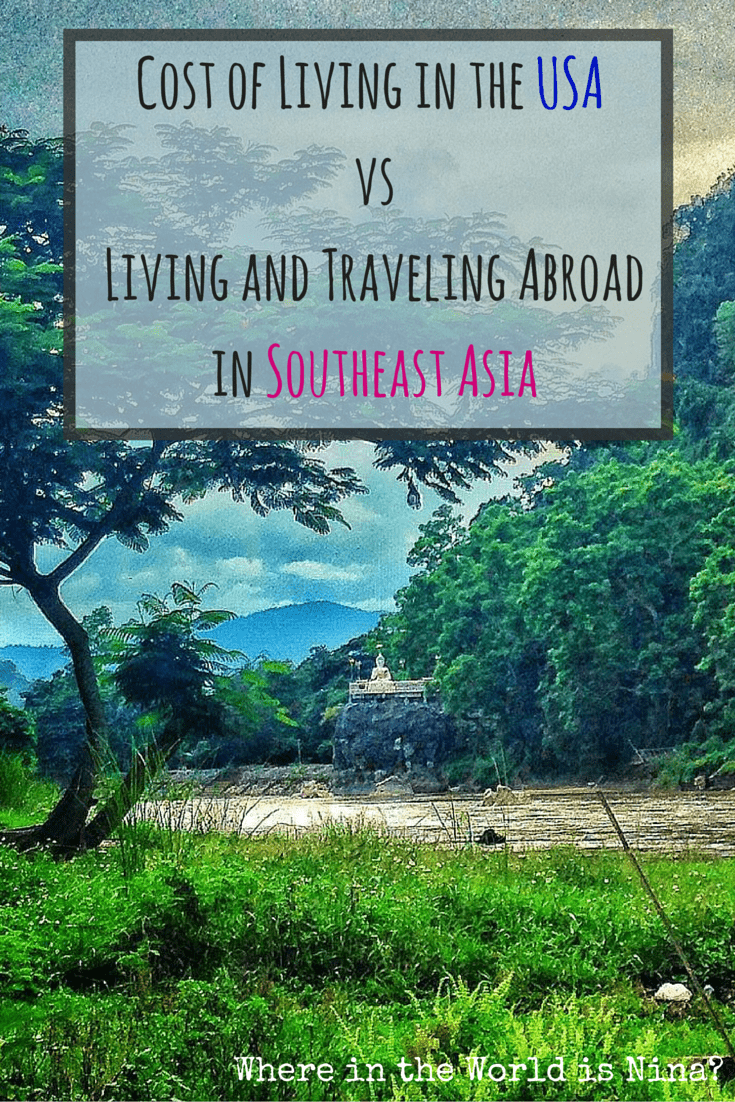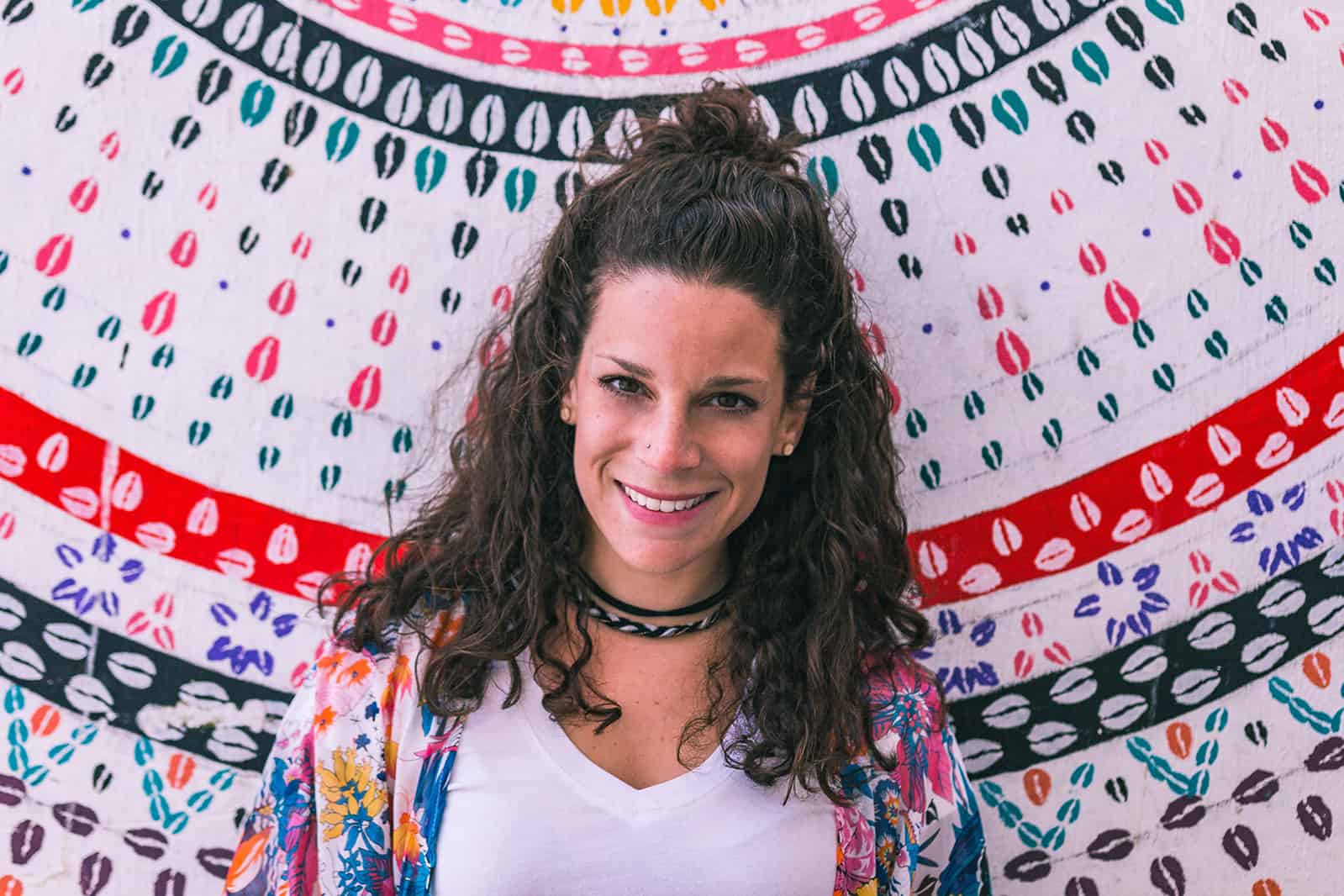 Nina Ragusa is an adventurer, messy bun master, breakfast fan, and full-time travel blogger. She's been abroad since 2011 and blogging on Where in the World is Nina? for nearly as long. Nina helps people like you move around the world while making money. She loves talking about how to work abroad and online to travel longer!