This Scotland road trip article is authored by Ela & Bea.
So, you're coming to Scotland… Amazing!
It doesn't matter whether it's your first visit or you've explored some of this ancient land before, Scotland WILL SURPRISE YOU! Actually, it's a slogan from a TV ad for Scotland, but I can't think of a better invitation line for a road trip in Scotland.
In fact, if you don't feel surprised by something at least once a day then I am prone to think that you took the wrong flight and ended up in a totally different country.
OK, so let me take you for an iconic Europe road trip through some of the most stunning locations, landscapes, and nature, as well as welcoming towns and villages. Prepare yourself for a unique experience of Scottish culture as well as myths and legends.
Enjoy the Scotland itinerary and remember to share your experience with us, once you're back!
A 7-Day Road Trip Scotland Itinerary
---
Scotland Road Trip Itinerary—Day 1
Start Your Scottish Adventure From Edinburgh / Glasgow, Discover Stirlingshire and the Best of Loch Lomond and the Trossachs National Park
I'm guessing that having arrived in Scotland (most likely to Edinburgh or Glasgow airport) and going through passport control you were already surprised. Despite arriving to a part of the United Kingdom, Scots welcomed you in a very weird sounding language, which only remotely reminds you of English.
I felt the same when I moved to Scotland some 15 years ago, but believe me, Scottish accent grows on you with time, and soon you'll just love it.
With the first impression of Scotland past you, let's hit the road.
RELATED: 3-Day Edinburgh Itinerary
Wallace Monument Near Stirling
First on the agenda is a visit to the Wallace Monument near Stirling (directions). I think it's a perfect place to start with; you'll get to know the Scottish greatest hero and learn a little bit of the country's history. Thinking about William Wallace (yep, that's the guy from Braveheart) you probably see Mel Gibson's face and I don't blame you, I do too.
I guess the real Sir William wouldn't mind, as long as you're getting familiar with some important aspects of Scottish history, it can even have the Aussie's face. Nae, bother!
The monument resembles a high tower built on the top of a small hill. It's an awesome viewpoint, but to enjoy it fully, you have to climb 246 steps to the upper terrace and admire the 360 degrees panorama of Stirlingshire! Don't worry, it's not as strenuous as it seems and anyway, you can regain your strength later on, in the nearby café.
A walk to Wallace Monument was just a warm-up before the next stop on your Scottish itinerary, Ben A'an.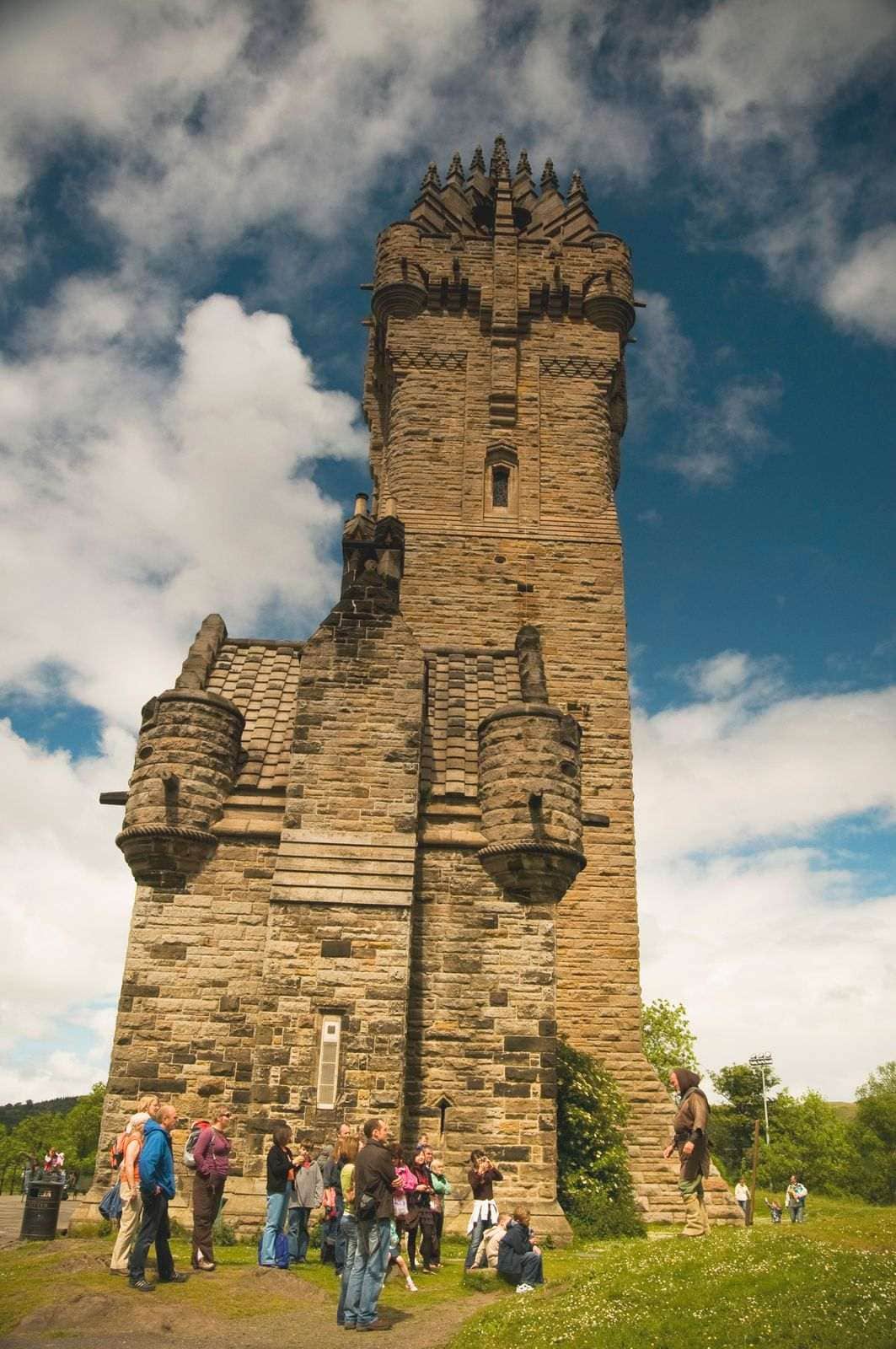 Ben A'an and Loch Katrine Near Callander
Hike info: 3.5 km round trip, easy
Ben A'an may not be the highest of mountains, but the experience and view it offers are amongst the best in Scotland! It's a must-visit, definitely worth including in road trip in Scotland.
The short hike to Ben A'an starts at the dedicated car park (directions) and follows a well-trodden path thru old woodland (signposted). Soon you'll come to a small meadow and see the summit of Ben A'an towering above you. As much as it may seem intimidating, reaching the top only takes another 30-40 minutes.
Once at the top, you'll be completely breathless, but not because of the ascent. Before your eyes will be one of the most scenic panoramas of Scotland; rugged mountains of Loch Lomond and the Trossachs National Park and crystal waters of Loch Katrine. Oh, what a stunner!
One thing for sure, you won't be in a hurry to leave this place. The view is stunning, with ever-changing light, rain clouds brushing distant mountain tops.
If, like me, you've completely fallen in love with Ben A'an area, you can extend the trip by visiting Loch Katrine (directions); yep, that's the loch you saw from Ben A'an's summit. Warm up with a coffee at the visitor center, rent a bike and enjoy a ride along the loch's shores or take a steamship cruise to discover the secrets of Loch Katrine.
At this point you'll probably feel that the 1st day of Scotland road trip was quite busy and you'll be right. So, it's time to relax and wind down.
Loch Lubnaig, Killin and Falls of Dochart
I encourage you to arrange your first night accommodation in / near Killin, which is less than a 1-hour drive away. You may ask why Killin? I picked it, because this small village is beautifully located over Loch Tay and overlooked by mighty mountains, yet still busy enough to have a couple of typical Scottish pubs.
What is more, if you fancy an evening leg stretcher, check out the Falls of Dochart (south end of the village), which is a series of small cascades, and a historic stone bridge.
On your way to Killin you'll be driving along Loch Lubnaig (directions), which, with a bit of luck, will be mirror-like and reflecting surrounding mountains in its still waters.
Scotland Road Trip Itinerary—Day 2
Killin to Fort William, via Stunning Wild Scenery of Glen Coe
I hope that Killin will bid you farewell with dry weather as your road trip in Scotland will be greatly influenced by the elements. This day I'm taking you for a drive (and optional short hikes) in some of my best loved Scottish locations!
Tyndrum
Tyndrum is another beautifully located village and a very popular short breaks destination. Despite being a small settlement it always seems to be thriving with life!
One of the reasons is a Green Welly, an iconic café and motorbikers' rest stop. You'd be surprised at the number of choppers parked in front of it every summer day!
As soon as you pass Tyndrum, you'll enter a totally different landscape, which suddenly feels very wild and remote. Don't hesitate to stop and take a picture whenever you find a decent parking spot as this stretch of the road runs through the middle of the majestic Grampian mountain range.
Bridge of Orchy and Loch Tulla viewpoint
There's nothing like a good high viewpoint that doesn't require walking up the hill! Loch Tulla and Bridge of Orchy viewpoint (directions) is located directly along the main road, so you do the hard bit by car.
A fun addition to the viewpoint is a Scottish bagpiper who seems to always be there… unless he somehow knows I'm coming and always awaits me!?
The guy, fully dressed in Scottish attire adds to the wonderful views. He's also very friendly so don't be shy to talk to him; who knows he may even surprise you by playing your national anthem on bagpipes, as he once did for us.
Rannoch Moor
Who would have thought that a massive, never-ending swamp could be so picturesque! Rannoch Moor is just that, a never-ending mud land dotted with lochs and lochans (Scottish for lakes). Luckily, to get a feel of the area you don't have to wade knee-deep in the bog; stopping at a viewpoint along the road is good enough.
Rannoch Moor is most beautiful in the morning when the nearest mountains are lighted up by warm light.
King's House Hotel
If you'd like to have a chance of a close encounter with half-tame deer, stopover at the King's House. The hotel is often visited by a herd of deer; they're not exactly tame, but if you're geared with carrots or apples they'll be happy to snatch it from your hand!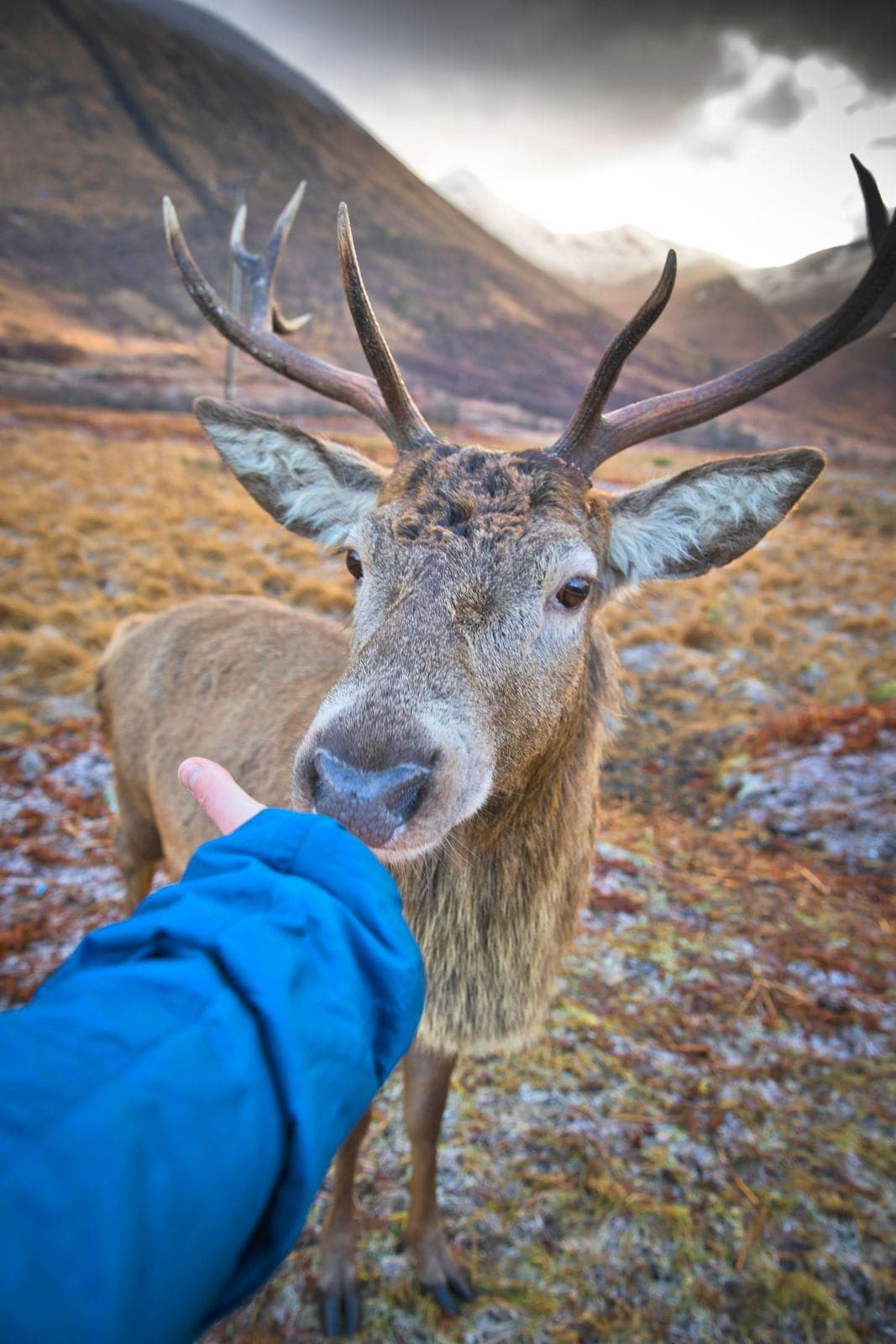 But please, please, please don't be an asshole and chase them around the grounds, nor give them 'human junk food'! They'll love your veggies but your crisps will make them sick, so don't be a d*ck!
Pass of Glencoe
Pass of Glencoe is a 10 km section of road A82 which follows the bottom of Glen Coe valley. The road is tightly squeezed between some of Scotland's highest mountains.
I think it's the most iconic spot ever; steep mountains, crags, and rocks in connection with a narrow valley make a very dramatic impression! It's one of those places which takes your breath away and stays in your heart forever.
There are numerous hiking trails initiating from Pass of Glencoe, however, these mountains are serious stuff, conquering any of them requires previous scrambling/climbing experience, a good map, and navigation skills.
Optional Hike to Lost Valley
If you'd like to see Pass of Glencoe from a higher viewpoint, why not hike to the Lost Valley?
It's a 2-3 hour hike of medium difficulty (total ascent 300 meters, you'll have to climb over rough ground and boulders in the upper part). I mean, you can't expect it to be difficult, considering that in the XVII century, when the Scottish clans (families) fought each other, Clan MacDonald hid their precious cattle from Clan Campbell in the very same valley! If Highland Coos could do it, so can you.
Trailhead location (directions), follow the trail as shown on Google Maps.
Glencoe Village and Ballachulish
These two charming villages are worth a visit. Both located on the shores of Loch Leven, overlooked by Munros (Scottish mountains over 3000ft / 914 masl), both have a tourist information/visitor center if you'd like to find out more about the area.
I think that Glencoe village is a bit nicer, however, Ballachulish offers a nice short walk along the loch.
Walk to a Viewpoint at Loch Leven
Hike info: easy, 1 km round trip
I highly recommend a short walk at Loch Leven, with an impressive view of Pap of Glencoe. The mountain stands a guardian at the 'gates' to Pass of Glencoe, which you've just driven through. With a bit of luck, you may even capture it reflected in still waters! Worth a try!
Leave the car at Ballachulish visitor center car park and walk via the tunnel under the main road. Soon you'll be at the shores of Loch Leven. Spot the old slate sheds, remains from the past. Pap of Glencoe is the cone-shaped top to your right.
Accommodation for the Night
I recommend staying overnight in Glencoe or Ballachulish, especially if you're into photography. Sunsets and sunrises over Loch Leven are stunning!
The nearby town, Fort William, also offers all kinds of accommodation, from posh hotels with a spa to humble Airbnbs.
Scotland Road Trip Itinerary—Day 3
Meeting Scottish Giants at the Nevis Range
Day 3 will see you discover the Nevis range, home to the highest mountain in Scotland, Ben Nevis. A road trip in Scotland wouldn't be complete without visiting this corner of the country.
Don't worry, if you don't feel like venturing to the high mountains, we're listing 2 alternative easier walks, so you can pick the one you feel is most suitable.
Hike to Ben Nevis
Hike info: 17 km round trip, hard
At 1344 masl, Ben Nevis is not only the highest mountain in Scotland but in the United Kingdom! That alone makes 'The Ben', as it's often referred to, an attractive destination for all outdoor enthusiasts.
Conquering this magnificent mountain requires good fitness and a lot of stamina as it's a 17 km hike, however, the route is straightforward and does not present any technical difficulties. If the weather is plausible, prepare yourself for a long day out and you'll be fine.
The route is signposted and follows a steep, very well-trodden track; you're also most likely to meet dozens of other walkers (or hundreds – if hiking in summer).
Initially, the Ben Nevis trail climbs the western slopes of the massif and provides spectacular views to Glen Nevis as well as the Mamores mountains, however as you progress, you'll notice that the terrain becomes more rugged and rocky. Once you pass the lake, you'll be halfway up already, but your hike is far from over.
On my first visit to the rooftop of Scotland, I was constantly surprised by how far I still needed to go; I felt I was 'almost there' on so many occasions, and only a couple of hours later I realized how long and strenuous the hike has been. Nonetheless, the summit views are mind-blowing, with an unspoiled 360-degree panorama of the mountains, lochs, moorlands, and remote villages.
What is more, the top of Ben Nevis has a little surprise for you – there is a tiny observatory and an emergency hut!
Ben Nevis dedicated car park (directions)—The trail is signposted from the car park, just cross river Nevis and you'll be on the trail already. Keep in mind that higher sections of the trail may still be partially covered by snow as late as June.
If the weather prevents you from conquering the highest top of Britain, or you simply don't feel like wrecking your feet on Ben Nevis, we have another two suggestions.
Discover Glen Nevis and An Steall Waterfall
Just off Fort William begins the 7 miles long Glen Nevis, the gate to the giant mountains of Scotland. The drive to the valley end is already stunning, with view to the rugged mountains, crossing rivers over stone bridges, small waterfalls and cascades along the way…
Leave the car at the 'Upper Glen Nevis car park' (directions) and walk towards its far end. A wide and well-maintained path to the An Steall waterfall starts there. You can be sure to be in the right place if you see a sign telling you that you're entering a wild and dangerous terrain and people had died there.
That's my favorite and most inadequate signpost in Scotland. If, after such a note, you're expecting some kind of a thrill, you'll be disappointed. You're going to walk over a well-defined path, with minimal altitude gain, with only a couple of sections where you actually have to mind your step. But yeah, be careful, you're in danger of death!
Anyway, the walk takes you to a large meadow with a beautiful waterfall. But it's not the end of attractions, because, as always, there is a surprise awaiting you.
When you arrive at the meadow, look out for a rope bridge over river Nevis (to your right, near river's bend). I think the bridge itself is even more popular than the waterfall. Many visitors challenge themselves across it, having only 2 ropes for handles and another two ropes to walk on. Want to try it?
Viewpoint on Nevis Range
If you prefer to give your legs some rest, why not take a gondola to two high viewpoints on the northern slopes of Aonach Mor, a mighty neighbor of Ben Nevis.
Once you effortlessly reach the upper station, you'll be only a short walk away from the 2 viewpoints at 630 masl; the first one located to your left, the other to your right. Paths to both viewpoints begin at the ski center, and don't require any height gain, yay!
How to get there: lower Nevis Range ski center car park (directions)
Scotland Road Trip Itinerary—Day 4
Scottish Myths and Legends – Explore Loch Ness Area
As much as you love the outdoors, you are probably eager to visit Loch Ness and find out whether the monster is home or away. Well, good luck to you. Whenever I visit the area, Nessie must be off someplace else.
The drive from Fort William to Loch Ness is incredibly scenic. As you leave the mighty Nevis Range behind, you'll enter a world of lower hills, forests, meadows, and lakes. Before you know it, you'll be in Fort Augustus, at the southern end of Loch Ness!
Fort Augustus
This small town will win you over with its charm. Beautifully located at the shores of Loch Ness, it's also famous for cycling trails along the Caledonian Canal. Just a short walk from the town center are several locks that allow water transport despite the natural difference in water level. Fancy stuff!
Fort Augustus is worth a visit; don't miss it on your Scotland road trip.
Urquhart Castle
The castle is probably the best-known landmark along Loch Ness, shaded only by the legend of Nessie! The two go together very well, as the ruined XVI century fortress is a perfect spot to look out for the famous Loch Ness monster.
Can't see Nessie from the shore? Increase your chances by taking a cruise on Loch Ness. Fingers crossed.
Drumnadrochit Village
Can you even read the name!? Just wait till you hear a local guy read it out to you with a thick Scottish accent.
Despite being a small settlement, Drumnadrochit can be very busy, due to its proximity to Urquhart Castle (walking distance). No wonder, the village is known as the 'capital of Loch Ness area', with many Nessie-related attractions, boat cruises, and a Nessie museum.
On top of that, Drumnadrochit is home to the Fiddlers Highland Restaurant and Pub, a must-visit place if you're into local whisky and craft beer. For ultimate local experience try Glen Ord whisky, LightNess lager or DarkNess ale.
You could spend two days just here and still not see it all.
Glen Affric
The Glen is one of the best-kept secrets of northern Scotland. Its intriguing name comes from the sight of Scots pine trees growing in the valley bottom, reminding the view of trees on the African savannah. Are they really similar? I guess you have to find it out yourself.
Although Glen Affric is only a short drive from Drumnadrochit, it remains rarely visited by tourists, as it's totally overshadowed by the fame of Loch Ness. However, it offers spectacular, unique scenery and well deserves to be part of your Scotland itinerary.
Scotland Itinerary—Day 5
The North – Ullapool and Assynt & Coigach
What about visiting a truly remote area and discovering something you've not seen before on your road trip in Scotland? Yep, day 5 introduces you to some of the most remote and stunning locations of Scottish North.
Roggie Falls
Fancy an easy short walk to beautiful cascades? Visit Roggie Falls near Inverness—It's only a 1-hour visit, a great leg stretcher.
Ullapool
Some Scots don't even know where Ullapool is, or think it's a middle of the nowhere tiny village. I simply love the blank eyes that stare back at me when I tell them how awesome was my weekend visit to Ullapool.
Despite the general assumption that a village 'up north' must a middle-of-nowhere place, Ullapool can really be perceived as the true 'metropolis', with its cafes, pubs, ferry terminal and a supermarket.
But seriously, Ullapool is a nice stopover and I recommend it for a short visit to look around.
Hike to Stac Pollaidh in Coigach Area
Having passed Ullapool you'll quickly realize that you've entered a new world of vast spaces, remote mountains, small lakes, and wetlands. That's the Assynt & Coigach area for you.
To fully appreciate its unique beauty, I recommend a half-day hike to Stac Pollaidh.
Another name you struggle to read? No bother, the mountain is also known by its easier name, Stac Polly. Now, that's better, isn't it?
I can't recommend the hike to the summit ridge of Stac Pollaidh enough. Despite being only a small mountain, it's full of character and, most importantly, is a superb viewpoint. Take my word, you won't regret spending the 3-4 hours climbing Stac Polly. The trail is signposted from the car park (directions) and easy to follow throughout.
Once at the top, you'll be breathless (yep, the final section is steep) and awed – all these little lakes and isolated monolith mountains in the distance make a fascinating, out-of-this-world sight!
After a day filled with hiking, I recommend taking the scenic drive along road A839 thru remote Glen Oykel and arranging the accommodation in/near Inverness. Alternatively, there are some great places to go camping in Scotland too.
Scotland Road Trip Itinerary—Day 6
Inverness to Aviemore, Discovering Moray and the Cairngorms National Park
So far, on your road trip in Scotland, you've seen spectacular mountains, vast moorlands, iconic glens, moon-like landscapes… I think it's time to discover the stunning sandy beaches of the Scottish east coast and find out how exactly the smooth whisky is made.
Inverness
If you haven't had the time to wander around Inverness last night, I strongly encourage you to spend the morning in Inverness city center. Visit Inverness Castle, enjoy cafes or a walk along Caledonian Canal.
If you've fallen in love (you will) then here's where to stay in the area so you can spend more time.
Nairn Beach
Nairn is a small town located only a short drive from Inverness and it's famed for stunning beaches.
Although the town is placed between two fine sandy beaches, I recommend exploring the 'eastern beach', a home to Culbin Sands Nature Reserve.
You can follow the beach for as long as you like; it stretches continuously as far as Burghead, some 7 miles away.
Apart from the fine white sand, the nature reserve is known for its large population of seals, which can often be seen sunbathing on the beach. Keep in mind though, that they're wild animals and ensure not to cause them any distress.
Glenfiddich Distillery
I guess everyone gives in the temptation of Scottish whisky, at least once. Whether you do enjoy a 'wee dram' or would rather have a shot of bitter medicine than the 'Scottish fiery water,' paying a visit to a small distillery should not be omitted from Scotland itinerary.
I recommend visiting a legendary Glenfiddich Distillery, near Aberlour (south of Nairn). It's one of the best known Scottish distilleries and very popular with visitors. Hidden in tranquil surroundings, the distillery offers tailor-made tours, depending on how much you're into the 'golden drink'.
Even the shortest (1.5 hours) tour will give you enough insight into the whisky world and will be an unforgettable experience!
Aviemore
This little town is a gate to Scottish most moody mountains, The Cairngorms. Despite reminding big-bumps, these are wild and rather inaccessible hills, local hikes are usually long and strenuous.
However, the peripheral summits and villages get very busy at any time of the year, either with day hikers or skiers.
Therefore Aviemore, at the doorstep of The Cairngorm National Park, is small but thrives with life.
The easiest way to give you some taste of the area is a short hike to the Cairngorm mountain (directions). It can be conquered within 2 hours, or alternatively you can take the funicular train up, and walk down.
Another surprise—With a bit of luck you may even be able to spot reindeer lazily grazing in the mountains. The Cairngorm National Park is the only area in the United Kingdom where reindeer are kept.
Scotland Road Trip Itinerary—Day 7
Visit 2 Charming Small Towns Before Returning to Edinburgh / Glasgow
Wow, the days pass so quickly you probably haven't even realized it's your last day. Let's take it easy, then, and enjoy the last moments on your Scotland road trip.
Dalwhinnie Distillery
If you skipped a visit to Glenfiddich Distillery in Moray, you may want to check out Dalwhinnie Distillery, located directly along the road A9, your route back to Edinburgh / Glasgow.
Its pagoda-style roof, beautifully framed in the mountainous background catches the eye while driving past; old, traditional-style buildings are incredibly inviting.
Pitlochry
Pitlochry is a small town, picturesquely located over river Tummel and overlooked by Ben Vrackie. With numerous pubs and restaurants, it's a perfect place to stop for a meal.
Dunkeld
You shouldn't omit a visit to Dunkeld. It's a very small town, with a beautiful old church, tiny market square, and many historic buildings. Located over the River Braan, it also offers peaceful walks in the shade of the oldest oak trees in Scotland! Dunkeld is a true hidden gem!
The Hermitage Near Dunkeld
No day would be complete without a hike or short walk. The Hermitage (directions) is a recreational area near Dunkeld, popular with locals and tourists alike.
It offers a 1.5-hour walk along River Braan, amongst amazing old trees – some of them the tallest in Britain. Follow the well-made track to the waterfall, visit Osian's house, and cave along the way.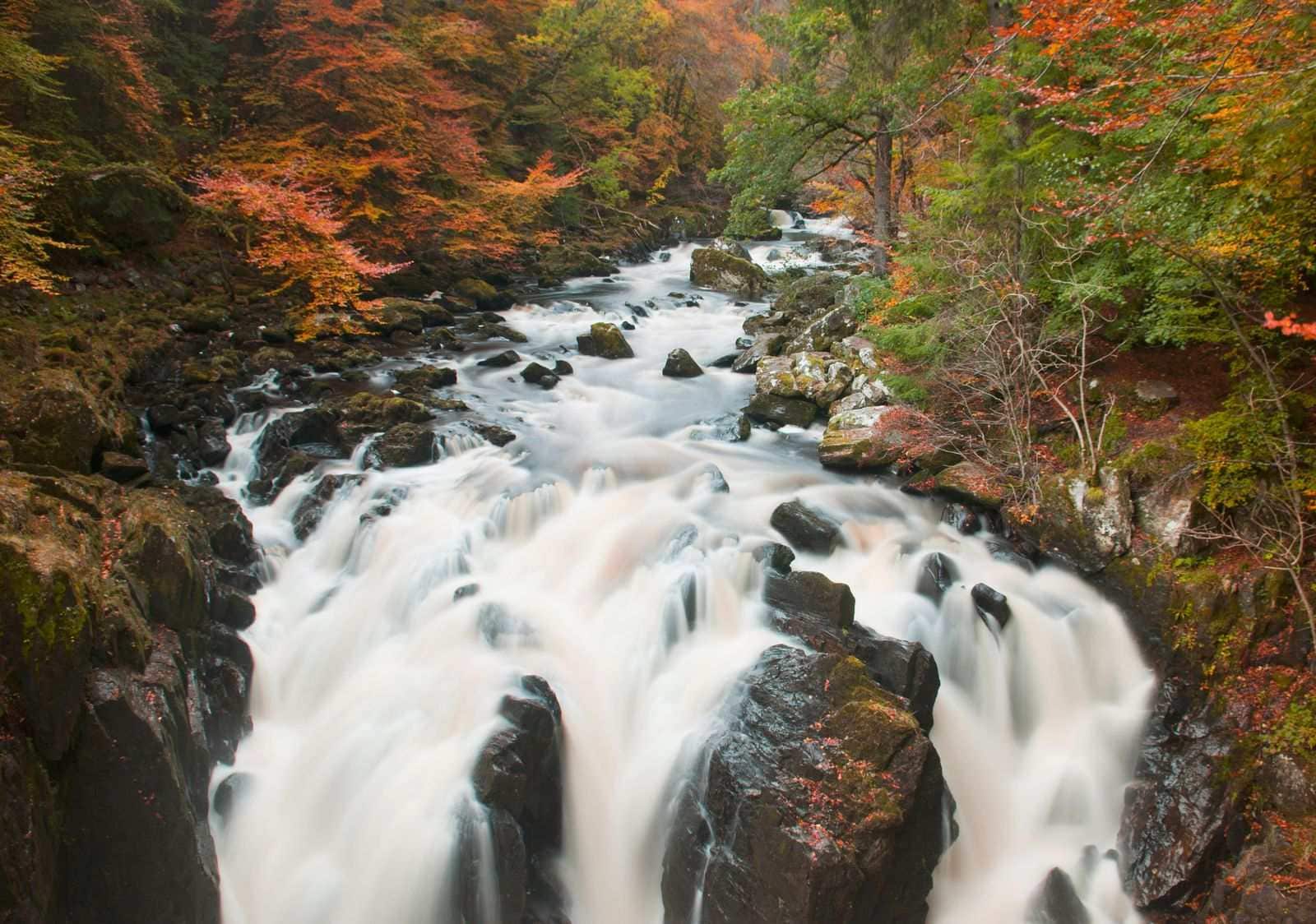 The Hermitage is one of my favorite short trips in Scotland, perfect to wind down. I can't recommend it enough.
If you're returning to Glasgow, the Hermitage is the last point to tick off the Scotland itinerary. If you're on your way to Edinburgh, you may want to take a small detour and spend a couple of hours in St Andrews.
St Andrews
This charming little town will amaze you with its beauty! Not only it's located directly over stunning sandy beaches, but it's also filled with history. Discover the castle and the old abbey, find your way through the labyrinth of narrow streets and lanes, enjoy its artisan cafes.
St Andrews is home to one of the oldest and most renowned universities in the United Kingdom. Recently it's been known for the Royals studying there, including Prince William.
That's all folks! I hope you enjoyed the 7-day road trip in Scotland! Haste ye back! Let us know your thoughts in the comments.
---
>>> Bio
Stunning Outdoors is a website founded by Ela & Bea, two outdoor enthusiasts based in Scotland. They have hiked and climbed mountains since a young age, nowadays they have hundreds of summits on their account, explored in several European countries. In 2018 Ela & Bea decided to take their love for the outdoors to the next level – they self-converted a van into a camper, both quit their jobs and drove into the unknown, beginning in Scandinavia. The journey still continues… Facebook | Instagram
---