I may receive a commission from The Point's Guy Affiliate Network if you apply for a credit card but reporting and recommendations remain independent and objective.
"How do you travel for free?"
"How do you get free flights?!"
The quick answer to these popular questions is—Get a great travel card!
But even then, you're not in the "clear" to get free flights and travels… You have to be savvy and careful to actually get these items "for free."
BUT it is possible! So I wanted to share a bit about HOW I get some free flights and travels and how you can too.
The first step, get a Chase credit card, it's pretty much the most travel-friendly credit cards out there.
Don't lose this! Click to pin it now.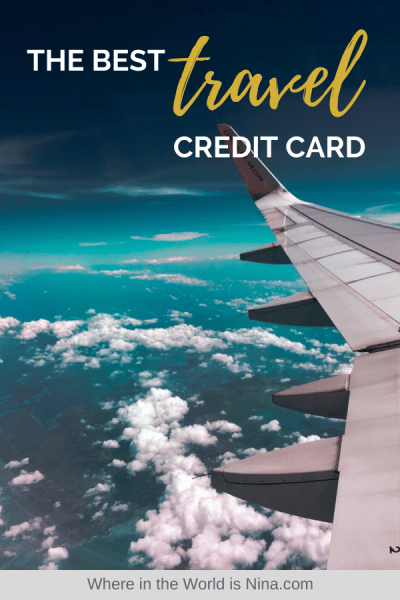 How I Get FREE Travel Perks & Flights
Honestly, it's not that complicated or difficult to get free travel perks and flights with a credit card. The main thing to remember is that you have to be super careful how you manage your money, otherwise you will do the exact opposite of what you're trying to do.
Instead of getting free flights and perks, you will PAY MORE for them if you're not careful!
I use the Chase Reserve Card since I'm a perpetual traveler. The "next level down" if you don't travel like a crazy person would be to get the Chase Preferred.
Here's a quick rundown on how I manage my card but it's not rocket science, it's very simple…
I first spend the amount needed to rack up those BIG points. I used my Chase Reserve card to purchase $4000 worth of things on the card so I could gain those 50,000 points right off the bat. Getting these points already affords me about $750 in travel money right there. WOOP WOOP!
>>> Save those big purchases for after you get the card! Put the new laptop on this card, a bunch of your bills, the new camera, offer to pay mom's bills and she gives you cash…
I hook up my card to pay for everything I can – literally! If I can pay by card, I will. ESPECIALLY travel related things like flights and hotels since I earn more points. Those points start racking up VERY quickly.
I pay off the bill every single month. I NEVER put something I can't afford on these credit cards.
That's literally it, told you it wasn't anything crazy! The problem is, many people put things they can't afford on these cards. Trust me, I know, I did it too.
The issue is the interest rates—if you start paying interest on your credit card you can say goodbye to that "free travel money" because you're actually paying for it – in interest.
You also need to watch out for the yearly fees the cards charge. Because I travel so often and use the perks of the card a ridiculous amount, the yearly fee doesn't even phase me, it's 100% worth it!
With the Reserve, one perk I get is a $300 travel credit. So that yearly fee of $550, just went down to $250 with that one simple perk. The card pays for itself in the end for me.
You'll see if you just crunch some numbers and DON'T pay interest, these cards can reward you MAJORLY with some free travel.
That's all I do to best use my card to my advantage. So which card is for you? I breakdown the details for you here so you can best choose!
Chase Sapphire Preferred
Whether you're new to traveling or have been doing it for years, the Chase Sapphire Preferred card remains a solid favorite in the traveling industry. Not only does it have some fantastic travel benefits associated with it, but you also get points just for signing up.
Cardholders have 24/7 access to a customer service support specialist, so no matter where you are in the world, you can rest assured there will be someone there to assist you.
There is an annual fee of $95 for the card, and it is recommended that you have good to excellent credit before applying. When using the card, you'll be earning Ultimate Reward points, which are one of the top flexible point currencies out there, there works well if you are experienced in using other travel loyalty points as well.
Bonus Categories
One of the best things about the card is the 2X points on travel and dining. This means that for every dollar spent on these categories, you'll get 2 points. The category is pretty broad, and includes quite a few purchases that you may not at first have through would be considered a travel expense.
This is an extremely generous offer when compared to other credit cards' bonus categories, as you don't have to make the purchases with a specific airline or company, it covers virtually every trip-related charge, even things like parking fees and road tolls.
Who Should Get This Card?
Although the card is great for anyone who travels a lot, it is especially considered a good card for those just setting out traveling or who have not had a travel credit card before.
This is because the annual fee is low, at just $95, and you get some great perks and an even better sign up bonus. You also can't ignore the range of travel benefits that owning the card comes with that can help give you peace of mind when seeing the world.
The Sign-Up Bonus
Once you've spent $4000 on the card in the first three months, and after buying flights, accommodation, and other living expenses are easily done, all new cardholders will get a huge 60,000 point sign up bonus. That's $750 towards travel when redeemed through Chase Ultimate Rewards.
With 60,000 points to use just three months into owning the card, a huge range of travel options opens up to you, especially if you are savvy with what transfer partners you use the points with.
The bonus alone sets this card apart from others before you even start looking at the other travel benefits, as gives options for a little bit of travel luxury that you otherwise may not have been able to afford.
Redeeming Points
When you are ready to redeem some points, that is when you will be able to get a better idea of the card's flexibility. Throughout the Chase Travel Portal, you can use your points for airfare, reserve hotel rooms, and rent a car at a fixed rate of 1.5 cents per point.
Plus, if you book a flight this way it should be treated as just a normal ticket, so you'll still be able to earn miles. Although this is the easiest way to spend points on your card, it is not the most lucrative. If you are prepared to do a little studying, you can get a lot for your points when used through the airline and hotel partners.
The Perks
Financial
When you use your card for any purchases made outside the US, you won't be charged any foreign transaction fees. If you travel a lot, then this could mean some huge savings and the only thing you have to worry about if how much you are actually spending.
Points
You'll earn x2 points in travel and when you dine at restaurants, whether that's fine dining in a classy restaurant, eating out at a beachside cafe, or grabbing a bite to eat before catching your flight at an airport bar.
When you redeem your accumulated points on anything related to travel, you'll get 25% more value. So, if you're buying airfare, hotels, car rentals or cruises through Chase Ultimate Rewards, you'll get more for your 'money.'
If you're a member of a frequent traveler program, you're able to transfer your Chase Sapphire Preferred points over to that program at a 1:1 value. This includes partners such as United MileagePlus, Virgin Atlantic Flying Club, Emirates Skywards, Marriott Bonvoy, and British Airways Executive Club to name just a few.
Insurance
You can shop with confidence when using the card, as the built-in purchase protection covers you on new purchases for 120 days against damage or theft. The coverage is pretty big, as per claim you are covered for $500 per claim, and a huge $50,000 per card.
If for some reason your trip is canceled or cut short, you won't be at a loss. The card comes with built-in trip cancellation/interruption insurance, so you could be reimbursed up to $10,000 per person and $20,000 per trip for pre-paid travel expenses. No one likes not being able to travel, but at least you won't be losing any money.
Sometimes the manufacturer's warranty on products is only a year or so, but if purchased with the card, by using the Extended Warranty Protection, the U.S manufacturer's warranty can be extended for an additional year.
Charge a car rental on your card for automatic coverage for theft and collision damage for most renal cards in the U.S and abroad.
If for any reason, your trip is delayed for more than 12 hours, you and your family will be reimbursed for the expenses during this time, such as meals and lodging, to the value of up to $500 per ticket. You'll also be reimbursed for essential purchases such as toiletries if you have a baggage delay over 6 hours. You'll be able to claim up to $100 a day for 5 days.
Other perks
If you want to add a friend or family member as an authorized user, you can for free.
Partners
The card has partnered up with a couple of great companies to get you a few additional perks. Plus, new partners are being added all the time.
DoorDash – As a cardholder, you can get unlimited deliveries from DoorDash with no delivery fee, plus a reduced service fee on orders over $12 on qualifying food purchases.
Lyft – You can earn 5X points every time you use a Lyft ride, which is an additional 3x points added to the double points that you get for a travel purchase.
Get the Chase Sapphire Preferred card here!
Chase Sapphire Reserve
Chase Sapphire Reserve is often regarded as one of the top travel reward cards out there, with a huge range of benefits for those that have the travel bug. Although the annual fee of the Reserve is much higher than the Preferred at $550 a year if you travel frequently the value that you get from this card far outweighs this fee.
The $300 annual travel credit that you receive at every account anniversary already takes a big dent out of that annual fee for a start.
Bonus Category
This is definitely considered one of the more premium credit cards out there, with new perks being added all the time. It combines strong value with simplicity, making it easy to use and make the most out of. One of the biggest benefits is it offers 3 points per dollar on travel and dining, with 1 point earned on every other dollar spent.
There is very little ambiguity about what Chase counts as travel or dining, so you'll always know what counts to get your x3 points.
Who Should Get This Card?
Sure, this card comes with a pretty hefty annual fee, so it should really only be considered by those that are serious about travel and will be able to get the most out of the serious perks it offers.
Crunch the numbers on your spending habits to see if it is worth getting the Reserve, as if you are a serious traveler, you'll likely make your money back and more in no time.
The Sign-Up Bonus
Spend $4000 within the first 3 months of owning the card to get your hands on the 50,000 point bonus. Seeing as Chase Saphhire Reserve holders get a value of 1.5 cents for Ultimate Rewards Point when redeeming in the travel portal, you are guaranteed to get at least $750 in travel from the welcome bonus alone.
Plus, any flight that you book this way also counts as a revenue booking, meaning that when spending the points you will still be collecting aline miles and elite credit. This huge points bonus already sets this card apart from other travel cards, especially when combined with the $300 in travel that you also get per year just for owning the card.
Redeeming Points
There are so many ways that you can redeem your points, but you'll get the most out of them if redeeming them through Chase Ultimate Rewards.
Not only will you get 50% more value from them, but there are also no blackout dates or travel restrictions, meaning as long as there is room at the hotel you want to stay in or a seat on the flight that you want, you shouldn't have any trouble booking it using your points.
The Perks
Financial
When you get the card, you'll automatically get up to $300 in statement credits which can be used as reimbursements on purchases to do with travel, such as hotel rooms, flights, and transportation. This will be added to your card every single year.
No matter where in the world you are, you will pay no foreign transaction fees when you make a purchase when you are outside the United States. If you travel a lot, then already this could mean some huge savings.
Points
You'll get 3X points on travel and dining purchases all over the world, which will soon start to add up. Plus, you'll still continue to earn a point for every dollar you spend on all other purchases.
When you redeem your points through Chase Ultimate Rewards, you'll get 50% more value from them than if you were to redeem them anywhere else. So if you redeem directly, it is the equivalent of 1.5 cents per point.
If you don't want to spend your points through Chase, the card offers a 1:1 point transfer to other leading hotel and airline loyalty programs, really opening up your options when it comes to deciding what you want to do with your points.
Insurance
The card comes with a range of insurance benefits such as emergency evacuation and transportation of up to $100,000, trip delay reimbursement if your travel is delayed for more than 6 hours, and damage and lost luggage reimbursement.
When hiring a car abroad, you'll have access to an auto rental collision damage waiver which provides reimbursement up to $75,000 for theft and collision damage.
Thanks to the trip cancellation/Interruption insurance, if your trip is cut short for a range of reasons, you will be able to claim back up to $10,000 per person and $20,000 per trip for your pre-paid and non-refundable trip expenses.
The card is great for non-travel related purchases as well. It offers return protection, which means you'll be reimbursed for certain items that the store won't take back within 90 days of purchase. You can get up to $500 per item and $1000 per year. It will also extend the warranty of a U.S manufacturer's warranty for an additional year. Additionally, it covers your new purchases for 120 days against damage or theft.
Other Perks
Before you even have your flight you can start to see the perks of being a cardholder, as you'll get complimentary airport lounge access in over 500 cities all over the world. This is thanks to the Priority Pass Select membership that comes with the card. Priority Pass is the largest independent lounge network in the world and is partnered with more than 1000 lounges in over 500 cities. Some airports also have restaurants that offer special benefits to Priority Pass holders. You will also be able to bring in two guests with you for no extra charge.
*I've used my Priority Pass SO many times, this perk alone was worth getting the card!
No matter where you are in the world, you can count on the 24/7 dedicated customer support team that will be in hand to help you with your travel needs.
Receive some special benefits at a variety of top hotels and resorts around the world such as early check-in and late checkout, plus complimentary room upgrades.
You are able to register someone else onto your card as an 'authorized user' for a fee of $75. Adding an additional user will help you build up points, plus you'll be able to meet your minimum spent requirement faster.
*Garrett and I did this since it made the most sense! No extra yearly fee and we can rack up points quicker together.
Partners
As well as getting perks directly through Chase, the company has partnered up with some other brands that are also offering cardholder benefits.
DoorDash – Similar to the Preferred card, DoorDash offers cardholders unlimited deliveries with no delivery fee, plus a reduced service fee on orders over $12 for a minimum of a year. Not only that, but you'll also be able to earn up to $120 in statement credits on DoorDash purchases.
Lyft – When making use of Lyft rides, you'll earn 10X points on every single journey. So not only will you be getting the 3X points that you would usually get for a travel-related purchase, but also an additional 7X points. Cardholders will also get a complimentary Lyft membership, which means up to 15% off every card ride, priority airport pickups, relaxed cancellations, and a range of other saving opportunities.
Get the Chase Sapphire Reserve card here!
So which of these travel cards are best for your situation? I travel more, so the reserve is my choice! Apply today and get started on racking in those travel rewards!!
Get the Chase Sapphire Preferred card | Get the Chase Sapphire Reserve card
Are you ready to start earning free flights? Which of these two cards are you interested in getting? Let me know in the comments below!
---
---
>>> Read More! <<<
27 of the Cheapest Countries to Visit in the World
Get an Airbnb Discount Code + Airbnb Tips for Scoring a Cheaper Stay
I Traveled the World for 4 Years Without Travel Insurance: Do You Really Need It?
All the Travel Gear I Use and Love
How to Boost Your Travel Savings: The Best Side Jobs for Saving Money!
---
---
Don't lose this! Click to pin it now.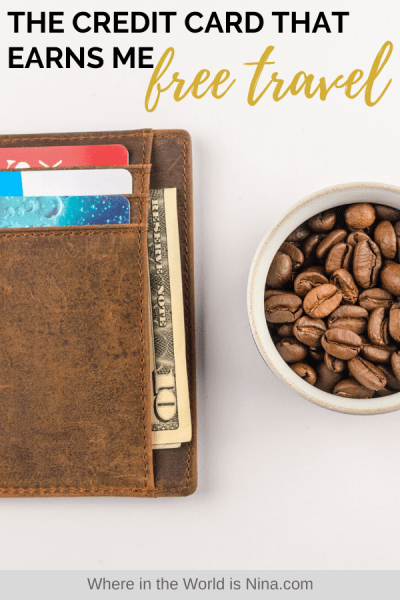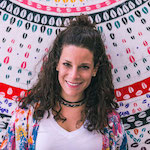 Nina Ragusa is an adventurer, messy bun master, breakfast fan, and full-time travel blogger. She's been abroad and epically failing at the American Dream since 2011. Her sassy yet informative blog, Where in the World is Nina? is all about how to work abroad to live a more adventurous life. If you want to travel longer you have to work to wander.