This post about things to do on the Sunshine Coast is a guest post by Ella.
At just over an hour north of Brisbane, the Sunshine Coast is a destination that's just as dreamy as it sounds. Obviously, this area of Australia got its name from its sub-tropical weather and gorgeous coastline, but if you're looking for things to do on the Sunshine Coast that involve more than just hanging out at the beach, you won't be disappointed.
This area of Queensland has good public transport options, and you can reach most destinations by train or bus. However, if you want to get off the beaten path, or try out a few hikes, you'll definitely need a car.
When it comes to exploring the great outdoors, whether that's hiking, surfing, or swimming in waterfalls, this region just has so many options! To make your decision easier, here is a tried-and-tested selection of the very best things to do on the Sunshine Coast.
Best Things to Do On the Sunshine Coast
---
1. Hike the Noosa National Park Coastal Path
Noosa National Park is the most visited national park in the whole of Australia, and there's no doubt you could spend a few days just hiking its different walking routes. Hiking the coastal track is something you can't leave Noosa without doing!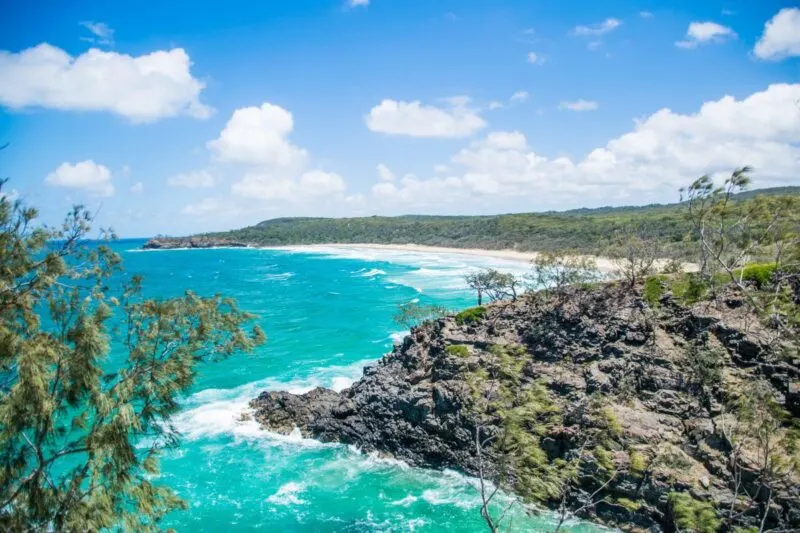 This 5.4 km/3.3 mile track hugs the coastline, from central Noosa to Sunshine Beach, and stops off at awesome viewpoints and some of Noosa's most secluded beaches. This hiking route is also where you'll find the famous Noosa Fairy Pools—large rock pools that Instagrammers just can't resist.
The hike is fairly moderate (aside from one steep section at Sunshine Beach) but not much of the path is in the shade. For this reason, if you're embarking on the Noosa coastal hike in summer, it's important to pack a ton of water and set off either before 9am or after 5pm to avoid the worst of the heat.
Getting there: You can start the hike at either Little Cove Beach near central Noosa or on Sunshine Beach. To get to/from Sunshine Beach from Central Noosa, take the 631 bus, which takes around 15 minutes.
2. Australia Zoo
With over 1,200 fascinating animals and set over 1,000 acres of land, Australia Zoo is the destination to visit on the Sunshine Coast if you're interested in animals.
The zoo was originally owned by the parents of world-famous TV personality Steve Irwin. In the 1990s, he and his wife, Terri, took over management. Nowadays, thousands of visitors flock to the zoo to feed kangaroos, cuddle koalas, and check out the Crocoseum.
It's here that the zoo staff educate visitors about crocodiles and their habits, and show how they behave.
Australia Zoo places a heavy focus on conservation. Through educational outreach programs, breeding programs, field research, media campaigns and advice to governments, the zoo raises awareness of animal conservation issues. They also place a particular focus on crocodile conservation, research and tracking.
Getting there: Just 75 km/47 miles north of Brisbane, Australia Zoo is one of the easiest day trips from the city. The drive takes 1 hour and 10 minutes, or you can get there from Brisbane or Noosa via the Greyhound Bus.
RELATED: 5 of the Best Things To Do in Queensland, Australia
3. Go Shopping on Hastings Street
Hastings Street is the beating heart of Noosa and the best place to splash some cash on the Sunshine Coast! It's just a stone's throw away from Noosa Main Beach, so spending the morning shopping on Hastings Street before sunbathing in the afternoon is one of the most popular ways to spend a day in Noosa.
Hastings Street is always buzzing with activity, so the best way to start your visit is by sitting outside Aromas Cafe with an iced latte, watching the world go by.
Once you're fully caffeinated, it's time to hit the shops. On Hastings Street, you'll find a ton of independent clothing boutiques, cute gift shops and plenty of fitness stores. After all, Noosa is all about healthy, outdoor living, and the shops here definitely reflect that.
Once you've worked up an appetite, be sure to pick up a poke or acai bowl from Hastings Street to go and eat on the beach. There are quite a few options here, but the best is Raw + Rice.
Getting there: Noosa is the most well-connected town on the Sunshine Coast. You can get there either by car or public transport very easily. From Brisbane, the journey is around two hours.
From Sunshine Coast Airport, the journey is approximately 30 minutes. Most buses will drop you off at Noosa Junction, which is a 17-minute walk away from Hastings Street.
4. Glass House Mountains National Park
The Glass House Mountains are an iconic landmark of the Sunshine Coast, and paying them a visit is a brilliant way to spend a day on the Sunshine Coast. The area is jam-packed full of winding hiking trails and epic viewpoints, so the Glass House Mountains are the best place to visit on the Sunshine Coast if you're into hiking.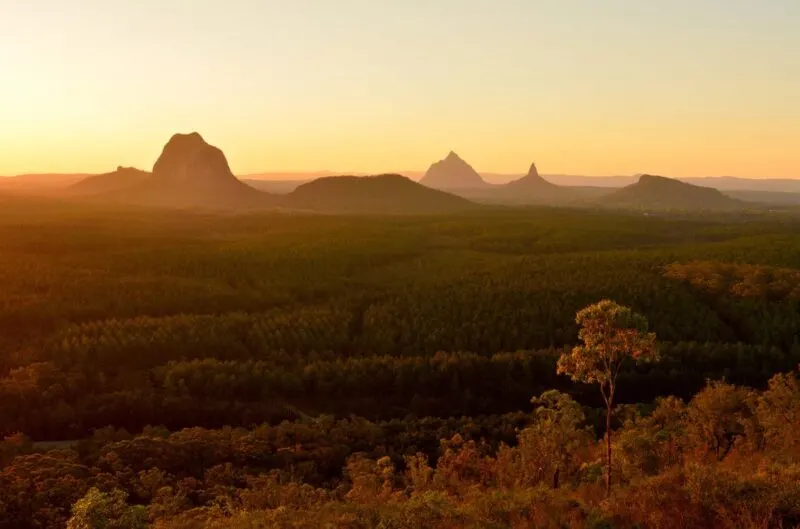 There are plenty of trails in the area, but if you're eyeing up the mountains themselves, only two of them are open to hikers: Mount Tibrogargan and Mount Ngungun.
The Glass House Mountains are sacred to the land's Aboriginal owners, the Gubbi Gubbi people. The Gubbi Gubbi people don't speak publicly about why the land is sacred to them, but ask that visitors don't climb the other mountains out of respect for their beliefs.
Getting there: From Brisbane, you can catch a direct train from Central Station to Glass House Mountains station, and the journey takes 1 hour and 20 minutes. You could also drive (which will make exploring the Glass House Mountains much easier), which takes 1 hour. The drive from Sunshine Coast Airport takes 40 minutes.
RELATED: 7 Adventurous Things To Do Around Cairns, Australia
5. Visit the Carlo Sandblow
The Carlo Sandblow is one of the most stunning natural landscapes in the Great Sandy National Park. It's located in the Cooloola Recreation Area of the national park and is an incredibly popular spot to visit since it only requires a short walk to reach.
The sand on the Carlo Sandblow has been building up for over 500,000 years and is one of Queensland's most diverse biospheres. If you enjoy checking out otherworldly landscapes, the Carlo Sandblow is an essential stop on the Sunshine Coast!
Because it's so popular, though, it gets very busy. To enjoy the sandblow without the crowds, aim to get there early (before 9am).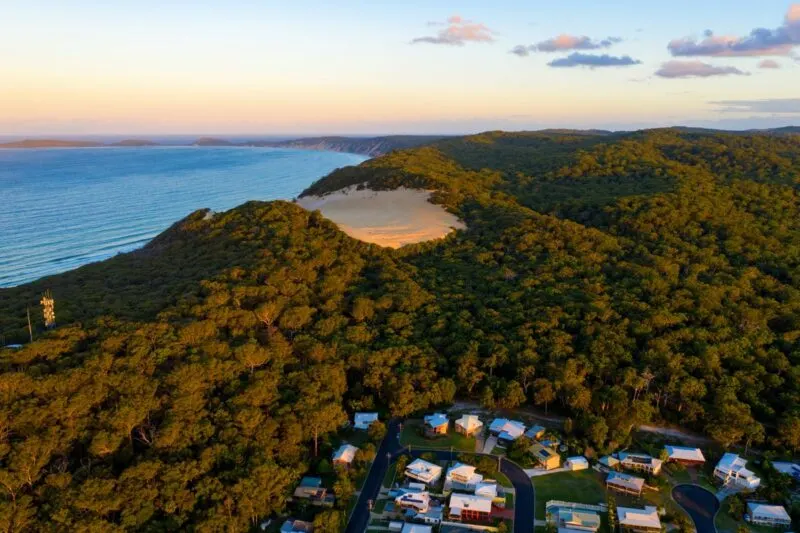 Of course, if you really enjoy hiking, visiting the Carlo Sandblow as a stop on the 102 km/63 mile Cooloola Great Walk is the best option. If that feels too overwhelming, though, you can drive up to the Carlo Sandblow Car Park, and from there it's just a short walk away.
Getting there: You'll need a car to visit the Carlo Sandblow. Its location is in the town of Rainbow Beach, so this is the best place to base yourself for your visit. Otherwise, the drive from Noosa is 103 km/64 miles (1 hour 30 minutes), and from Brisbane it's 240 km/140 miles (3 hours).
6. Hike to Kondalilla Falls
The most popular hike in Kondalilla National Park is undoubtedly the Kondalilla Falls Circuit. The Sunshine Coast Hinterland has no shortage of spectacular waterfalls, but Kondalilla Falls is certainly one of the best. Because of this, the area gets very busy on weekends, so it's best to complete the hike on a weekday to avoid the crowds.
To visit the waterfall, you'll hike the Kondalilla Falls Circuit, a short, 4 km/2.5 mile route that's not too challenging. Nevertheless, you'll want to take your time so you can admire the surrounding rainforest and dip your feet into the many rock pools you'll pass. Allocate two hours for the full trail.
The trail is a Grade 3 track, mostly due to the many stairs on the route (over 100!). This means that it's not very challenging, but some walking experience and a reasonable level of fitness is required.
Getting there: It's easiest to reach Kondalilla National Park by car. From Noosa, it's a 50-minute drive, although you can catch two buses (which will take around 2 hours). The hike starts from Kondalilla Falls Road car park.
7. Tewantin National Park
Encompassing Mount Tinbeerwah and the Wooroi day-use area, Tewantin National Park is a natural refuge for native wildlife, where you can spot koalas, swamp wallabies and echidnas. It's also a popular destination for birdwatchers, as you'll find plenty of endangered bird species here.
Visiting the Mount Tinbeerwah Lookout is one of the best things to do on the Sunshine Coast, and the views are unparalleled. From the Mount Tinbeerwah Road car park, you'll find the trailhead for the 1 km/0.6 mile walk to the lookout, which is very easy to follow.
From the lookout, you'll get 360-degree views of the entire Noosa region, all the way to the coast. The best time to visit is undoubtedly sunset, when the sky is streaked with vibrant pinks, oranges and yellows.
Getting there: Tewantin National Park is just 16 km/9.9 miles from Noosa, so it's very easy to get to. The drive is just 15 minutes. You could also catch the bus from Sunshine Beach Road at Noosa Plaza, which also takes 15 minutes to arrive in Tewantin Central.
8. Queensland Air Museum
Run completely by volunteers, you'll find this not-for-profit aviation museum at Caloundra Airport. It's the biggest aviation museum in Australia, so if you're into all things planes, this is the place to visit.
The museum's mission is to acquire, restore and maintain historically significant aircraft, and their collection now contains over 75 aircraft! The Sunshine Coast doesn't have many museums, so the Queensland Air Museum is a favourite of visitors looking to add a dose of history to their visit.
You can get up close to the aircraft, and the museum sometimes even opens up the aircraft for you to go inside (they advertise the dates in advance on their website). The volunteers here are all highly knowledgeable and passionate about aviation history, so come armed with questions and they'll certainly have the answers for you.
Getting there: The Queensland Air Museum is in the town of Caloundra, and is about a half an hour walk from the centre of town. To get here from Brisbane, the drive is 1 hour 15 minutes. It's a 50-minute drive from Noosa.
RELATED: 10 Cool Things To Do on the Gold Coast in Australia
9. Go Surfing at Coolum Beach
Coolum Beach produces some of the best surfing waves on the Sunshine Coast and is also the training ground of pro surfer Julian Wilson. If that doesn't tempt you to try your hand at surfing in Coolum, nothing will!
Since Coolum Beach is large, you'll find waves for all types of surfers on this stretch of sand. So, whether you're an advanced surfer, have a few lessons under your belt, or have never stepped foot on a board before, Coolum is a great destination for you. For the best surf conditions, paddle out at high tide.
Lifeguards patrol the beach, so it's perfectly safe to surf whilst they're on duty. Unless you're an advanced surfer, always stay between the black and white flags.
Getting there: Coolum beach is a 90-minute drive north of Brisbane, or a 17-minute drive south of Noosa. There are plenty of car parks near the beach.
10. Eumundi Markets
This buzzing, open-air market has been running, rain or shine, in the small town of Eumundi since 1979. The markets are open Wednesdays and Saturdays, and on these days the town's population skyrockets from 500 to a few thousand, who all visit to shop at the market's 600+ stalls.
If you want a parking space, aim to arrive at the markets as early as possible, otherwise, you'll have to park a fair walk away!
In the markets, you'll find pretty much everything – fresh produce, jewelry, handmade gifts, sustainable fashion and more. The highlight of any visit to the Eumundi Markets, though, has got to be the food.
Across countless food stands, you'll find cuisine to suit every taste. There are dishes from plenty of different countries across the world as well as plenty of vegan and gluten-free options.
A trip to the Eumundi Markets is definitely one of the best things to do on the Sunshine Coast!
Getting there: The Eumundi Markets are just 20 km/12.4 miles away from Noosa, and the quickest way to get there is by car, which is a 20-minute journey. To avoid the hassle of finding a parking space, you can also catch the 630 or 631 buses from central Noosa to Eumundi.
11. Gympie Music Muster
Known as "the festival in the forest", the Gympie Music Muster is Australia's original and most popular music festival! Taking place deep within the Amamoor State Forest, this 4-day music festival showcases the very best of rock, country, blues and folk music.
The festival has been running since 1982 and takes place in August (usually the last Thursday-Sunday of the month). It's a camping festival, so pack your tent and sleeping bag and join the 23,000 other attendees for a carefree weekend!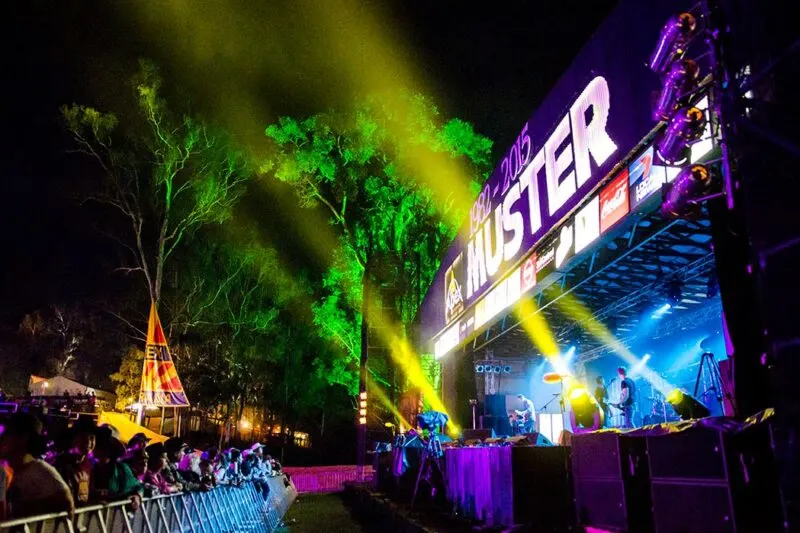 As well as great music, the Gympie Music Muster puts on dance classes for its visitors each and every day (rock and roll, clogging and line dancing), as well as poetry events, free creative workshops and a kids' club.
Getting there: The festival runs a shuttle bus service from the festival car park to the entry gates, but you'll have to use your own vehicle to get to the car park. It's a 2-hour drive north of Brisbane or a 45-minute drive from Noosa.
Final Thoughts on the Best Things to Do On the Sunshine Coast
Thanks to its subtropical climate, the weather on the Sunshine Coast is ideal the whole year-round, and with so many fun things to see and do there, you might need to stay that long!
With such an outstanding selection of beaches, national parks, hikes and cultural attractions, the Sunshine Coast is an unmissable stop on your Australia itinerary.
---
---
>>> BIO
Ella Moore is a part-time travel blogger who has been obsessed with exploring the world for as long as she can remember. In 2020, just months before the global lockdown, she started a travel blog to share stories about her adventures. Her blog, Many More Maps, is all about seeing the world on a budget and balancing wanderlust with a full-time job.
---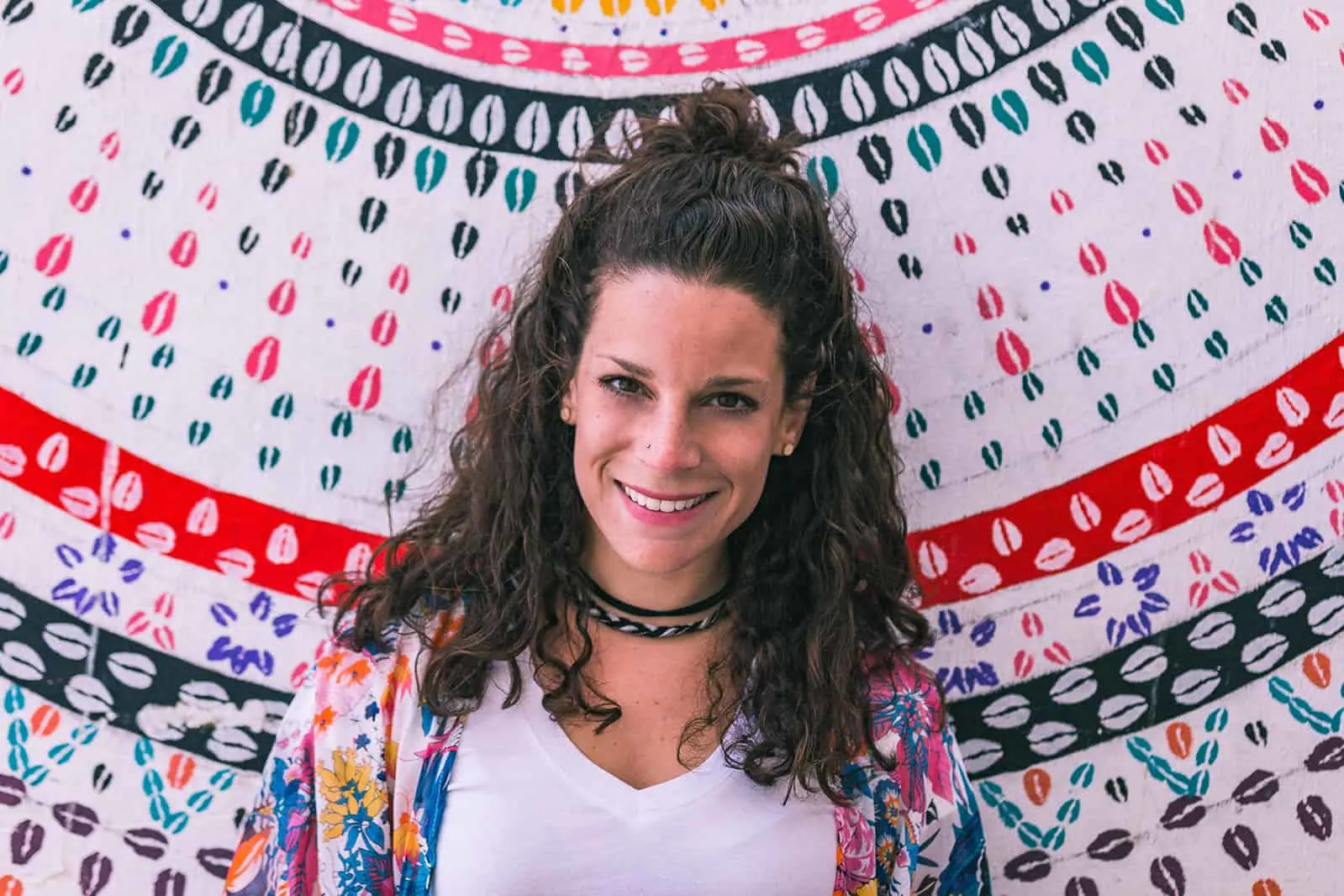 Nina Ragusa is an adventurer, messy bun master, breakfast fan, and full-time travel blogger. She's been abroad since 2011 and blogging on Where in the World is Nina? for nearly as long. Nina helps people like you move around the world while making money. She loves talking about how to work abroad and online to travel longer!