If you are new to the Airbnb scene, there has never been a better time to get started. More and more Airbnb's are popping up all over the globe at affordable prices, offering a great alternative to hotels and other forms of accommodation.
The Airbnb platform allows you to stay in other people's houses and apartments while you are traveling, often for less than a hotel while still offering more value (yes, even with an Airbnb discount code too!).
Sometimes the host will be there as well, sometimes you'll be staying with other travelers and sometimes you will have the whole apartment or home completely to yourself, it just depends on what it is you're looking for.
Despite being a relatively new way to book accommodation around the world, Airbnb is huge, with places to stay in almost 200 different countries. From a cozy treehouse in the rainforest to a towering turreted castle, a cute cottage on the beach or a townhouse with a view, there are some incredible places where you can set up camp for the night.
I have a million reasons why I LOVE using Airbnb and most importantly, HOW I use it and how you can get Airbnb discount codes because really, who doesn't love a discount? That's what I thought…
Too impatient and just want the code?
[button link="https://whereintheworldisnina.com/Airbnb" newwindow="yes"] Grab your Airbnb code now![/button]
For everyone else, keep reading so you can find out all the tricks and Airbnb tips for using the platform and getting discount codes.
[learn_more caption="Table of Contents"]
1. How to Get Your Airbnb Discount Code
2. Other Tips to Get an Airbnb Discount Code
3. Two Ways to Use Your Airbnb Coupon
4. Airbnb Tips for Using Your Coupon Code
6. Is Airbnb… Bad? Are There Downsides?
7. Airbnb Tips for Digital Nomads[/learn_more]
Why Stay in an Airbnb?
---
There are many benefits of using Airbnb over other accommodation options, and it's currently one of the biggest players in the vacation home rental game. Let's take a look at a few of these benefits.
You can refine your search to suit your needs– There are tons of filters you can use when searching for your perfect vacation rental, meaning it is likely you'll end up with exactly what you are looking for. You can sort by room type, the price, the size, what amenities are included, the property type, what language the host speaks and even use different keywords to sort through accommodation, such as "pet-friendly" or "view".
Plenty of space– When booking a hotel or hostel, the likelihood is you'll get a room and a bathroom and maybe a balcony if you're lucky. Airbnb's tend to have a lot more space, you can rent an entire house or apartment for a similar price, meaning you'll have a living area and kitchen to make use of as well. This is especially handy if you are planning on spending more than one night somewhere or are traveling with other people. More space is always good!
Price– Depending on what it is you are looking for, Airbnb is very often a cheaper option than a hotel. Even if you end up paying more, your money will be going a lot further when it comes to the space or number of amenities you are getting. Plus, you can very often get your hands on an Airbnb discount code helping out with the price.
Cooking facilities– As mentioned above, many Airbnb's have a kitchen, giving you the option to prepare meals in the comfort of your own space. This will work out a lot cheaper and healthier in the long run than having to eat out every night. You will also have a fridge to store food in and some Airbnb's will also provide the basics for cooking such as salt and pepper, oil and tea and coffee. In my opinion, even if I pay more for my Airbnb, having the kitchen saves me a lot of time and money on eating out so the price, at the very least, evens out.For those who say "who wants to cook while on vacation," I say this to you… "Who wants to pay $15 for eggs and bread?" At the least, I cook my breakfasts! I LOVE breakfast and while I wish I could eat breakfasts out all the time, I know that this is the easiest and cheapest thing to make, and having the option to toast some bread and fry an egg, shove it down my throat, and go out for the day makes a huge difference. It saves time and money, trust me on this one!
Something different- In addition to rooms and apartments, Airbnb's also have some slightly more unusual accommodation options like tree houses, tiny houses, boats and more. You can truly find some weird and wonderful places to stay that won't break the bank.
A personalized service- Many Airbnb owners like to provide personalized service for their guests, such as leaving a bottle of wine or a note for their guests. They also often will greet you face to face and provide information about the local area, giving you advice on things to do and places to eat. I've got some truly local advice and great recommendations from staying in an Airbnb!
Great for groups- If you are traveling with a large group of friends or as a family, Airbnb makes a great alternative to hotel rooms as you are all able to stick together. There is also likely to be a communal space where you can all hang out, an option hotels don't tend to provide. Combined, this may also be a cheaper option.
Other perks – Sometimes listings come with other perks hotels simply don't offer. The use of bikes, their extra surfboard, and even parking spots in busy cities that'd cost you extra money staying anywhere else. These little touches can make a huge difference and can even save you a few bucks.
Ability to use an Airbnb booking coupon- If you after an Airbnb first-time discount (or not…wait for it!), then you can get your hands on an Airbnb coupon with ease, giving you money off your first booking.
Is Staying in an Airbnb Weird and Gross?
Some people out there think so!
The most common thing I've heard is… "Ew, I don't want to sleep in someone else's home!"
Can anyone explain how this is that much different than staying in a hotel? I'm still looking for the answer… In fact, the hotel sees a million more people than someone's Airbnb. Most people have their home set up in a way where it's hotel like (neat, simple, not too much clutter etc) so it's almost literally like a hotel but with more homey touches, space, and amenities.
I think another common misconception is that it's awkward and weird to stay in someone else's home.
And I kind of don't disagree… It would be quite awkward to share a space with a stranger but they are willingly doing it, so who cares? Also, as you'll see I mention below, I will only stay in my OWN house/apartment most of the time. I rarely share the place with the owner and book "entire" places for myself cutting out that awkwardness.
Did we get rid of those icky and weird feelings? Good…
How to Get Your Airbnb Discount Code
Airbnb works on a referral basis, meaning if a friend refers you to the platform, then you'll get your hands on an Airbnb first time discount to use on the huge range of accommodation options available. To get the Airbnb discount code, they'll need to send you their unique code via message, Facebook post or via email.
Once you sign up for an account using the link, you'll be credited the discount as soon as you book your first stay that is over $75. It can turn out to be a huge saving if you refer a few friends! As long as you use the link when you sign up and you spend $75 or over, the money will credit automatically.
The credit is valid for 12 months, so make sure you book somewhere before this time or you'll lose your Airbnb coupon.
Your Airbnb discount should automatically load when you are making your booking, but if it doesn't there are a few things to could try. Firstly, you need to check that what you are spending is above the required minimum spend.
[button link="https://whereintheworldisnina.com/Airbnb" newwindow="yes"] Grab your Airbnb code now![/button]
Other Tips to Get an Airbnb Discount Code
There are many other ways to get your hands on an Airbnb discount code. Those that run the platform have a few features that they try to keep a little bit of a secret but can end up saving you some money when booking a place to stay.
Ask the Owner Directly
One of the easiest but little used ways to get your hands on an Airbnb discount is to simply ask the owner for a discount directly. If they want to, the platform allows the host to add a special discount for those that book their property. When you are looking through properties, you should see a button that allows you to contact the host, if you are interested in the property, then it is worth asking for an Airbnb coupon, the worst they can do is say no!
The majority of the time the host would rather have you stay and just pay a bit less than lose a potential guest. Just send them a message, being sure to ask nicely, and you might just get your hands on an additional Airbnb discount code.
Be sure to use this option respectfully, remember that unlike hotels, many Airbnb's are owned by locals who could be renting out their own homes, and rely on that for income.
One of the best times to ask for a discount is if you are booking last minute. As a property owner, you never want any empty rooms, so if you are looking to book just a few days before your stay then it is likely that your host will consider lowering their prices, just so at least they have that room filled.
Another good time to ask for an Airbnb discount is if you are traveling in low season of that given country, as this is when they can't guarantee that they will get their rooms filled. It may not always work, but you won't know until you try!
This tactic is legal and is completely okay with Airbnb's Terms of Service, in fact, it is built into the platform and is known as a "Special Offer," so take this Airbnb tip and run with it!
Long Term Stays
Many people don't know this, but Airbnb actually offers discounts for longer stays.
There are weekly discounts if you are looking to stay for 7 nights or more, and monthly discounts, if you are looking to stay from 28 nights or more.
In some cases, it may even be cheaper to book for more nights than you actually need so you get the discount applied.
Be sure to do a comparison of the price of staying for 6 nights for example, and then 7 nights with the discount applied to see which option works out cheaper.
Not all listings do this, so it is worth checking before settling with an option. If you want to stay in an Airbnb for a month or more, you are in a very good bargaining position.
The host is likely to love the fact that they won't have to organize cleaners or paperwork for different travelers for a few months. It might be worth booking some accommodation for a few nights first to see if you like it, and you can then contact the host and work out a deal with them if it's working for you (as long as it is not already booked up).
This very often works out even cheaper than staying in a budget hotel or hostel. If you are a digital nomad that hops from Airbnb to Airbnb to work throughout the year, then this Airbnb discount trick is likely to be a gift from the accommodation gods. Not only will you get some great savings, but it's also an easy way to get a mid-term apartment rental.
A recent example to help you understand how amazing this trick can work was my stay in Christchurch, New Zealand. I was getting ready for my van life endeavor around the country but I had tons of work to do, I had to buy a van, fix up, etc… I decided to give myself around 3-4 weeks in an Airbnb in Christchurch to figure my life out.
I went to book for three weeks and then changed it to four weeks to see the price difference… IT WAS THE SAME PRICE! As in, I got a week for free because I booked for a month instead of the three weeks—Which when in pricey New Zealand, is a huge break for my wallet. That's how awesome long term Airbnb discounts can be.
Refer a Friend
Another great way to get your hands on an Airbnb coupon is to refer a friend.
By referring a friend you'll get Airbnb credit when they make a booking for the first time. The more people you invite, the more credit you'll receive, so you could start to make some serious savings. Plus they will get their hands on an Airbnb first booking coupon.
Finding your own referral link to send to your friends is easy. Log into your account and then click on the tab that either says 'Invite Friends' or 'Credit'. You should be able to see your referral link under the 'Share your invite link'.
Simply copy and paste your link to share it with others so both you and your mates can benefit from the Airbnb discount code. You'll have to wait until your mate actually books a trip before you will get your travel credit, but you'll know when they do as you'll see it appear in the top right of the screen, and will automatically be taken off any bookings you make.
The more friends you have, the better, because you can earn a maximum of $5000 USD in Airbnb coupons just by using your referral link. Just think how many free stays in cool places around the world that is.
Speaking of which, here's your coupon again and I'll thank you now because we're friends and I just referred to you to grab your Airbnb discount which in turns gives me some credit too! 🙂
[button link="https://whereintheworldisnina.com/Airbnb" newwindow="yes"] Grab your Airbnb code now![/button]
Early Bird Discounts
If you are super organized, you may be able to bag yourself even more of a bargain when booking an Airbnb. Some hosts will reward you for making a booking far in advance. You may be able to get around 5-10% off the total price of your stay. They say the early bird catches the worm!
The other benefit of booking in advance is you'll get the pick of the best and most reasonable options before they all get booked up, meaning you may save even more money just by being organized.
Use Another Email
This Airbnb tip is a bit of a sneaky one, but using another email to sign up for another Airbnb account is a great way to allow you to use another Airbnb first time discount. You'll just have to remember what account you have made which booking on, or things could get a little confusing. Always remember to log out of your old Airbnb account before clicking on the referral link to create a new one, or it won't let you use it.
If you want to be super sneaky, you could even refer yourself, sending your old account's referral link to the new email you are using.
That way, not only will you get an Airbnb coupon for your first booking with your new account, but your old account will also be credited with an Airbnb first booking coupon, giving you double the savings!
Get Emailed Airbnb Discount Codes
If you have already signed up with Airbnb and are ok with them sending you marketing emails, this could be a good way to claim further Airbnb discount codes.
Sometimes an Airbnb host will give a discount for a selection of dates, and if you have already stayed with that host before, or looked into that accommodation or location, Airbnb will send you an email to notify you. This is a good option if you are not too fussy about the dates that you travel, and you have the time to sit and wait for a promotional email to come through.
Two Ways to Use Your Airbnb Coupon
Of course, you could use your Airbnb first booking coupon towards one of the thousands of homes and cool accommodations all over the world, but a relatively new option is putting it towards Airbnb experiences.
You can now book some incredible experiences directly through the platform, most of which are hosted by the locals themselves. The options are endless, you could go on a wine tasting tour through the vineyards of Italy, see the temples in Thailand with a knowledgeable guide or try sky diving in Australia, there really is something for everyone.
Using your Airbnb discount code for an experience can be a great way to integrate yourself into a new city and make a new local friend. Despite what you may think, it's not always easy to make a local friend so this can be an easy and natural way to do so.
Airbnb Tips for Using Your Coupon Code
---
There are so many different accommodation options on Airbnb, at first glance the choices of where you use your Airbnb first time discount can be a bit daunting. The majority of listings are likely to be completely fine, but it's worth doing a little bit of research first before picking the first awesome looking pad. Here are a few tips help you make the right decision when it comes to using your Airbnb discount code.
1. Read the Reviews
The reviews on Airbnb are invaluable, and you should read them, seriously. There is no better way to get a sense of what the accommodation is like than to listen to the opinion of real travelers who have already been there. You will be able to get a pretty good idea of what a place is like once you have read a few reviews, and you could end up dodging a bullet if somewhere looks great from the photos, but it's a different story in person.
Sometimes it may not even be the apartment that is the problem. The Airbnb listing won't give you any idea of what the host is like, but the reviews will. You don't want to end up staying in a great apartment with an awful host.
Lastly, I have a personal rule where I don't book Airbnbs without a review. I'm sorry but I don't like being the guinea pig, so I tend to avoid those and thus, avoid any issues and surprises.
2. Filters Are Your Friend
Different Airbnb apartments will all have vastly different amenities, so it is worth considering what is important for you and what you can live without. For me, the most important filters are if the place has wifi, if there is a fan or air-con if you are in a hot country, if there is a parking space (when I have a rental car) and if there's a kitchen.
I also 95% of the time I check "entire home" as I don't like sharing my space and prefer my host to not live in the house/apartment I'm renting.
This is also because I tend to stay in places longer if it was just for two nights or something, I'd consider sharing.
3. Price Check
At first glance, many Airbnb's will look like they are super cheap, but there are some other costs you need to be aware of before you make a booking. Some accommodations will have ridiculous cleaning and service fees which could near enough double the price of the rental. Most will charge a cleaning fee, but make sure that it is a reasonable amount before you commit.
On a similar note, if you don't see an automatic discount for booking a week or a month, I'd email the host to ask! 99% of the Airbnbs I've booked have given me a discount for booking an extended stay.
4. Use the Map Search
Airbnb comes with a handy search tool that lets you see where all the Airbnb's are in a certain area on a map. If you are looking to stay in a certain area or near a particular attraction, this is the way to do it. All the prices are listed on the map view too, and you can filter to make the searching process even easier.
5. Chat to the Host
If you have a question about a particular Airbnb you are after, don't just book it and hope for the best, talk to the host about it! You can contact the host before even making a booking, and ask them about anything that's playing on your mind.
Some good examples of things you could ask are about the public transport options, more details about the amenities provided and even if they wouldn't mind showing you some more photos. I've also asked for a wifi speed test as I can't book places with slow internet.
6. Only Book on the Platform
It may be tempting to book off the platform to save on some of the hefty fees Airbnb may charge, but this is risky. Airbnb is secure and offers both insurance and buyers protection, booking outside of this means that you won't be protected.
There are some crazy crafty scams out there regarding Airbnb! Be VERY careful to only navigate to the Airbnb.com website yourself to purchase anything. Any random links, requests for Paypal payment etc are a huge red flag.
BUT—There's an exception to this rule!
If you are already in the destination, you can reach out to a host to check the place out and book off the platform. I did this in Morocco. There were no reviews on the apartment so we went to see it make sure it was legit. It was!
We ended up coming to an agreement and renting the property off the platform avoiding some fees. The only downside to this is you can't use your Airbnb coupon for this transaction but it's one of my fav Airbnb tips if you can swing it!
7. Look for a Superhost
You don't have to book with a Superhost, but if you do, you can rest assured you'll be getting an apartment that has glowing reviews, has a high response rating and never cancels on guests.
Becoming an Airbnb Host
You can earn a surprising amount of money by becoming an Airbnb host, just by renting out your apartment, campervan or treehouse to travelers! Plus, it is possible to earn an additional $75 Airbnb discount code on top of your earnings if someone you refer decides they want to try their hand at hosting too.
If you have another property somewhere, or just have some money you are looking to invest, signing up to become an Airbnb cost could be an effective way of making a little extra money, as there are a lot of people out there earning a fortune from the platform.
If you travel a lot, you could even consider putting your home up on Airbnb and getting a little extra cash to fund your travels. Your place would only be sitting there empty after all.
The process is simple, and Airbnb will guide you through all the necessary steps to create your listing. They even have a handy calculator tool so you can work out roughly how much you will be making every day, week or month.
Don't forget, you'll need to deal with the logistic of getting the key to the renter, cleaning, etc, so make sure you're pretty serious before getting your feet wet here. There's a lot that goes into hosting your property.
Is Airbnb… Bad? Are There Downsides?
I can't publish this post without talking about the downsides or bad effects of Airbnb.
Airbnb/the countries Airbnb is offered in have a long way to go. Some people buy up properties in prime locations, put them up on Airbnb and cause inflated rent prices for locals in the area.
After all, people can make a lot more money renting out their properties on Airbnb than having a local come in and rent it long term.
There are some major issues surrounding the use of Airbnb. It's certainly not perfect but with that said, I don't think it's a bad platform. I just think the laws and uses haven't fully formed and caught up yet!
Airbnb is great on so many different levels and I hope states and countries can find a happy medium on how Airbnb can be integrated in a better way.
I do try to make a conscious decision to attempt to rent from "regular" people with their 1-2 properties rather than someone who has many properties. You can see under the user profile how many listings someone has.
It's also worth noting that Airbnb is actually borderline ILLEGAL in some places around the world. That is, it's illegal to rent out your house if you don't check a few boxes, like renting it out for more than 30 days, or renting out property that's not your personal residence for more than 6 months a year.
Here's a list of places cracking down on Airbnb.
There are downsides to Airbnb, of course, but the pros far weight out the cons for me personally. Here's what a lot of people miss when they stay in an Airbnb:
There's no reception, housekeeping or rooms service on offer.
If you have to deal with the host things can get tricky. They can run late delivering the keys, or when you're trying to check out. If you lock yourself out or something goes wrong, you're at the mercy of the host and their schedule. Many of my Airbnb's have had preventions for this though in terms of having a key box on the outside of the unit or offering two sets of keys.
The host can cancel if something comes up. At the end of the day, cancelations happen at hotels too but probably not as likely. If your host cancels it could leave you in a bind. Although this has never happened to me and I've used the platform hundreds of times, it can happen.
There are other "complaints" I've seen people make such as the photos or description don't match when you get to the property, however, this has happened to me tons of times when booking a hotel too. That's why you should read the reviews.
The worst Airbnb experience I've had was a listing that was listed as an "entire home" and when we got there, we found out we were sharing it with three loud college students…
We were PISSED, to say the least. However, it was only for a few nights and Airbnb refunded our entire amount after just a few messages explaining the situation.
This was my only bad experience in probably hundreds of bookings.
There's nothing perfect out there but I find Airbnb too easy and great for me to ever go back to only booking hotels. Plus, with the use of Airbnb discount codes, it's my go-to site for booking accommodation.
Airbnb Tips for Digital Nomads
Lastly, if you're a digital nomad or thinking of becoming one, Airbnb couldn't be a better choice.
Considering I'm a digital nomad, I almost can't fathom living anywhere else but an Airbnb! The wifi is almost never shared which makes a huge difference. You're the only one on the connection.
The kitchen saves me time and money, and I can feel like I'm home. Plus with my Airbnb discount codes and tricks I've mentioned, it makes it so easy and usually cheaper to choose to stay in an Airbnb.
Oh, and if you're wondering why I haven't mentioned HOW MUCH your Airbnb discount code is for, it's because the number has changed randomly and I didn't want to mislead anyone here (Read: I'm too busy to update this post every time the amount the changes).
It's usually around $30-40 bucks. Also, depending on the specific currency you're using, it varies, so yeah, just click and find how much you get!
[button link="https://whereintheworldisnina.com/Airbnb" newwindow="yes"] Grab your Airbnb code now![/button]
So what are your thoughts on Airbnb? Were you able to use your Airbnb discount coupon on your booking? Did you have any other Airbnb tips? Let us know in the comments!
---
---
>>> Read More! <<<
17+ Seasonal & Temp Jobs That Could Get You Abroad Faster
21+ Digital Nomad Jobs: Take Your Desk Around The World
71+ Ways to Travel & Make Money—A Badass List of PAID Work Abroad
How to Work Online – Ways to Make Money to Travel Longer
---
---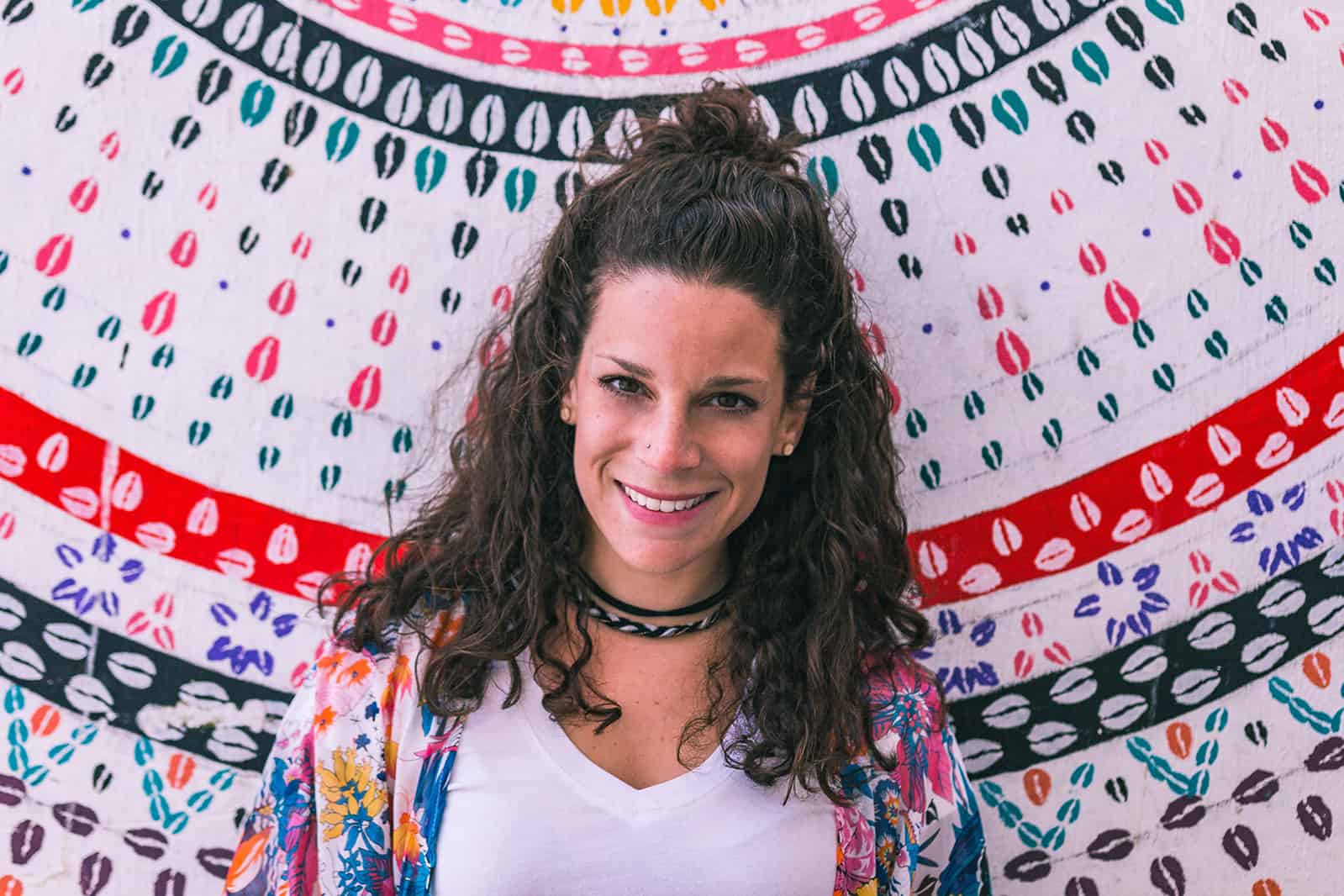 Nina Ragusa is an adventurer, messy bun master, breakfast fan, and full-time travel blogger. She's been abroad since 2011 and blogging on Where in the World is Nina? for nearly as long. Nina helps people like you move around the world while making money. She loves talking about how to work abroad and online to travel longer!