This post was written for Thaholiday.com. I added it to my site for my readers. Be sure to check Thaholiday.com out for more great travel info, tips, and destinations.
If you're going to Thailand soon, chances are you are going to want to research how the visas work out. Lucky for you, you don't have to look very far. Here are all the basics you need to know about crossing borders, tourist visas, what the heck "visa runs" are and all that good stuff.

Going to Thailand by….
By Land
Many people will receive either a 30 day or 15 day visa on arrival. This visa can be obtained on arrival without a prior application. The visa is free.
You can enter Thailand by land from the following countries:
Myanmar (Burma) to the west
Laos and Cambodia to the East
Malaysia from the south
What to expect: A land border crossing is rather straight forward. You will be required to exit the vehicle that you arrived in with your passport in hand. You will exit Thailand and get your passport stamped. Enter the next country, exit that country, and get stamped back in to Thailand.
By Air
Most countries get a free 30 days on arrival. Walk through, get stamped, and you're in.
What to expect: The standard. Go through customs, get stamped in, and go along your merry way.
For both land and air crossings: You will be required to provide a hotel address in Thailand on the arrival/departure card.
[adsenseyu3]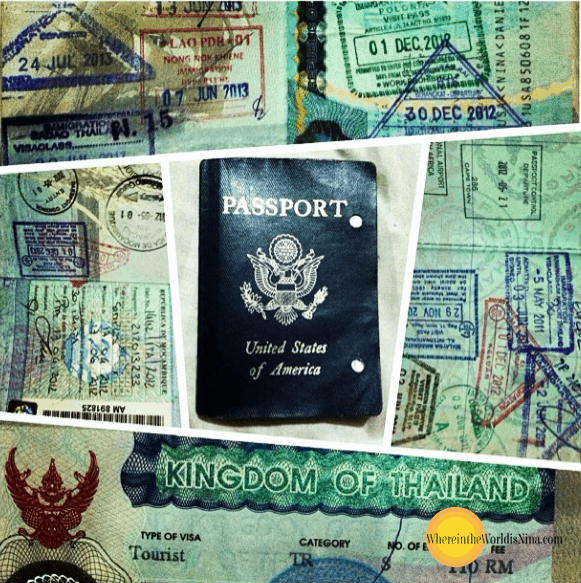 Thailand Tourist Visa
What is a tourist visa?
A tourist visa is a visa obtained by a person wanting to stay in the country for 60-90 days as a tourist.
Where do you get one?
You must obtain a tourist visa at a Thai embassy. You can get it before your travels in your home country, or you can obtain it at a Thai embassy while on the road in another country. The surrounding countries all have embassies that issue Thai tourist visas.
How many days do I get and can I get more? How much is it?
When you initially apply for a tourist visa you will receive 60 days for 1000B ($30 USD). If you wish to extend, you may do so for a fee of 1900B ($60 USD). This will get you another 30 days for a total of 90 days. You will need to go to an immigration office to apply for this extension.
Can I leave the country and come back?
Yes and no. If you get the single entry visa, the one I am talking about and that most people get, once you leave the country, it's finished. Be sure that you get the multiple entry tourist visa if you plan on leaving and coming back.
What to expect for your Thailand tourist visa: As mentioned, there are quite a few places you can obtain a tourist visa. I can provide my personal experience doing this is in Vientiane, Penang, and Kuala Lumpur. There is the same overall process. You must enter the Thai Embassy during the morning hours. Usually between 8 AM and 12 PM. I would recommend getting there as early as possible, and certainly before 11-11:30AM. They might not take more people in if you arrive too close to lunch time. Keep in mind during the high tourist seasons, it can get really crowded.
You will fill out a paper and queue up. Once you're called up, you will have one person review the documents and passport and another person will collect your money. You are given a receipt and they keep your passport overnight. You return the next day, usually after 1-2 PM, to pick up your passport. Picking up your passport is relatively quick. You show your receipt, you get your passport. Done. Always check that they properly placed your visa in the passport with the correct dates before leaving.
Things you need for your tourist visa:
You will need at least one photo for a tourist visa. The size is usually 4 x 6 cm.
You will need the correct currency. Sometimes they except baht, sometimes only the local currency. It just depends which country/ embassy you are at. Please check before going.
Bring a black pen. Don't even attempt to go there without one. It's a hassle to get one once you are there.
The forms needed will be at the embassy. It's only one piece of paper with straightforward questions.
Make sure to have the address of a hotel you will be staying at in Thailand. It's one of the questions on the application.
Paying someone to get your tourist visa: There is an option to avoid the hassle and pay someone to get you the tourist visa. It's offered in a few places and the prices vary. If you want to save a buck, do it yourself. But if you get lazy, like I did Penang, then just pay someone. My personal experience was great. I have done it twice in Penang. For $10 I got a trustworthy local who worked at my guesthouse to make the run for me. I handed over the documents, my passport, and money, and within hours they were back, all finished. No waiting in line, no taxi to the embassy, no waiting until the next day to get your passport. It's really nice, but if you are a backpacker wanting to save money, doing it yourself really isn't that bad.
Border Runs
A border run is where you cross the Thailand border to another country, just to turn around and go back to Thailand.
Why would someone need to do this?
They do it so they can "refresh" their visa. Whether you came in on a free visa, or a tourist visa, if you're time is running out, you can do a border run to get more time in the Kingdom.
What does it involve?
Hours on a bus, queuing to stamp out of Thailand, stamp in to the next country, stamp out of that country, and then getting stamped back in to Thailand, and then a few more hours on a bus back to the town you started from. Fun, right?
How much is it?
To go on a visa run the fee is around 950B + ($30 USD). It's all depending on your starting city and the border you are "running" to. Essentially you're just paying for the bus ride and back.
How many times can I do it?
These runs are meant for people to get their last few weeks of touring the country in. Recently, there have been announcements of getting stricter on the runs. If you do a border run once, it's no big deal. Twice? They might start questioning your intentions of staying in the country.
How many days do I get?
See "Going by land" above. The same rules apply.
[adsenseyu5]
Tips:
Make sure you have enough pages. Keep in mind some visa's are large stickers that take up an entire page. This doesn't include the stamps you will get as well. Thai tourist visas also take up a whole page.
Make sure you have six months validity left before leaving your home country. If you are already abroad, make sure you know there is a chance they can deny you entry to a country until you get a new passport. This will be a bad surprise to find out at the border.
It's in your best interest to dress appropriately when going to the embassy. It's not that you have to dress up, but wearing your Full Moon party gear, the dirtiest hippy clothes you own, or something very revealing is something you want to avoid.
Alway have a pen on you.
Keep track of the date in your passport. An overstay of just one night will cost 500B ($15 USD).
It's a good idea to have a copy of your recent bank statement to show that you have funds. There has been a recent crackdown on this rule. It couldn't hurt to bring it.
Some things to keep in mind:
I'm a U.S. citizen, but many countries share the same rules.
I'm someone speaking about my extensive experiences along with some research.
Rules, regulations, prices…etc are subject to change at any time.
ALWAYS check the Thai Embassy website, and the particular rules for your home country before jet-setting.
At the time of writing there has been a discussion on whether or not to start charging for visas, therefore eliminating the free visa on arrival all together (for some countries), as well as more rules and regulation for the tourist visa. Please, again, check all information prior to departing.
Transportation Tip for Thailand:
While you can simply book at the pier, bus or train station, you may want to book ahead for certain legs of your journey to guarantee that you get a seat on the day you need to travel. 12go.asia is the best way to do this. Book your next trip ahead of time so you have one less thing to worry about.
Well that's about it! There's a whole bunch more visa stuff to talk about if you're coming for business, to work, or possibly even retire, but this is the basics for anyone wanting a Thailand tourist visa. Enjoy your time in Thailand!
Read More About Thailand…
→ Check out my guide to Thailand: Backpacking Thailand: the Only Guide You Need to Prep for Your Trip
Where will you go after Thailand?
Laos | Malaysia | Singapore | Indonesia | Philippines | Cambodia | Vietnam
This post was written for Thaholiday.com. I added it to my site for my readers. Be sure to check Thaholiday.com out for more great travel info, tips, and destinations.

[adsenseyu4]