Intrepid and sun loving? We're bringing you the 5 best places on planet Earth for tropical travel adventures. We're scouting every continent that touches these equator-skimming zones and find the stand-out destinations for hot helpings of golden rays, white sands and steamy sights.
1. Asia – The Emerald Cave, Koh Mook, Thailand

Take a boat or kayak to get to this green jewel in the balmy seas. On an island near Thailand, this gorgeous spot has a secret beach that is accessed by taking a boat through the cave and out into a collapsed sinkhole. The water is a spectacular clear green, as you might have guessed by the name. Koh Mook means 'pearl island' so this place is doubly precious, but perhaps that reflects the pirates who hid their treasure here, once upon a time! Backpacking Thailand will bring you to plenty of little places of paradise but this one's quite unique!

2. Africa – the Seychelles

Beautiful white shell beaches, crystal clear waters for diving or sailing and stunning luxury resorts make the Seychelles a real paradise. Just south of the equator, this archipelago enjoys year-round warmth, but stops short of being overly hot by the surrounding ocean breezes. Although it can be costly to get to the Seychelles, frequent carnivals and celebrations provide plenty of free events to soak up the atmosphere.

3. North and Central America – Chichen Itza, Cancun, Mexico

A Mayan temple complex that nestles in the rainforest, ancient architecture and mysterious carvings, this group of stepped pyramids is one of the most iconic to be found. Explore the stone buildings and watch the shadows of the steps form the back of the feathered serpent god and shiver as you hear about the history of human sacrifice. Popular with tourists, the temples make an ideal day trip from the beach resorts of Cancun.

4. Australia – Port Douglas, Far North Queensland

Less than an hour's drive north of Cairns, Port Douglas is an ideal base for exploring the amazing Great Barrier Reef. Go diving and snorkeling among the beautiful coral with plentiful boat charter companies or try your hand at kite surfing at one of the many immaculate beaches. For a change of pace, see some of Australia's fascinating fauna and get into the canopies of the trees with walkways and zip lines that thread through the ancient Daintree rainforest site.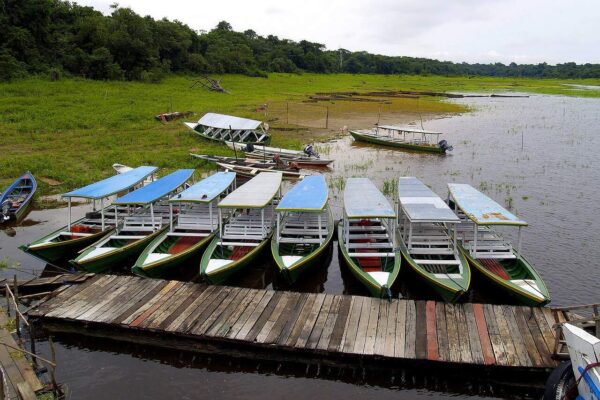 5. South America – The Amazon, Brazil

Take a boat down the most spectacular of all waterways. Many tours are offered and vary in size of group and activity. You could end up in a canoe, paddling through a drowned forest or swinging from a hammock in a grand old riverboat. Stay in the jungle overnight in one of the plentiful lodges. The incredible biodiversity and the extreme power of the river ensure that a trip down the Amazon will be unforgettable!
Remember that tropical locations can have some risks, such as malaria and yellow fever. See your GP to get shots and if you travel frequently, consider taking out annual travel insurance to cover any medical issues. Check with government advice websites to see if there are any problems in the region. Armed with all these pieces of information, you can lie back on the beach or prowl the jungle with your mind at ease!