UPDATE: The curfew is no longer being imposed. Keep up to date by following Richard Barrow.
Let's get things straight here people. First things first. The most important item that needs to be addressed before anything else is discussed…
Mom- Yes! I'm fine! I promise I'm not in the middle of a war zone, I'm not hearing gunshots, and no, military tanks aren't running through the streets of my town. Love you!!! XOXOXO
Next, I need everyone to look at a map of Thailand. Now, find the capital, Bangkok. See that dot? Yea, that's the only place that has any visible issues at this time. Dare me to take it even smaller? Done. The majority of protests are contained to a certain area. Thanks to Richard Barrow, he has been so kind to make a Google map of the protest sites for us, as well as keeping an up-to-date Twitter account on any of the drama.
So as you can see, while the country is experiencing political unrest, the majority of the unrest is in Bangkok, in a select area.
Why is there political unrest? I'm not getting into that. Long story short- Corrupt government, taking money from the poor, brother and sister in cahoots, red shirts… Do you own research on that one.
So what happens if you visit Bangkok?
Considering I just spent four days in Bangkok, May 19-22, 2014, I can give you a bit of a better perspective. Here are the top complaints:
Fucking traffic

Horrible. Fucking. Traffic

OMG… Are we on the road or in a parking lot?

Fuck it, I'm walking. OK, JK… The taxi is still quicker than walking.
That's about it. The traffic was due to road blocks. I saw very little military on the streets.
[adsenseyu3]
Some of the road blocks are actually very close to the famous, and infamous, Khaosarn Road area AKA the backpackers ghetto of Bangkok. While my friend and I were in a taxi on the way there one night, we didn't realize the roads were all blocked. When looking at the protest sites on the map, it seemed a bit more north than this area. So we had our fun while we were there, and knew we wouldn't go back. Not that we felt threatened, but it just wasn't worth it. It took a long time, and being that I have been there several million times before… I knew the vibe was off. People were partying, but the usually bustling streets, despite low or high seasons, were not as happening and ….the vibe was just off. I can't find another way to describe it.
I would suggest avoiding the area only because you are getting closer to the protests. There has been some reports about protests sites getting more prominent in some areas that are sometimes frequented with tourists as of recent.
Should you find yourself in Bangkok, and this is assuming you are a grungy, cheapo, backpacker like me who often likes to stay at a dodgy guest house near Khaosran Road, try to splurge a bit and stay in the Sukhumvit and Silom area of Bangkok. This is what we did, and we had a great time. Hello, Bangkok sky bars! We went to the famous Lebua, I'm sure you will recognize it from the Hangover II movie, no?
These areas will give you plenty of what you need without being as close to the road blocks and being much further from the protest sites. The traffic will suck, 100%, either way.
"Nina, what do you know about this stuff anyway? What? You think you're some kind of expert on this situation? What do you know about politics, and whether or not the violence will spread? You suck."
I'm surely no expert. This post is purely for people who are wondering what's going on, but want to read something other than what's posted in major media outlets. They might want to know what a real person, living there, is experiencing. Please don't take this as anything but that. I also don't live in Bangkok, which is where anything is happening, if it is.
There might be questions about the curfew that it's in place as of now. Currently, it's midnight to 4:00 AM. It used to be 10:00PM to 5:00 AM. There has been word that it might be lifted soon. The country, all in all, isn't taking the curfew TOO seriously. Not that I have seen. I was partying on Koh Phi Phi, a famous island off the west coast of Thailand on May 27, and the next morning, I had wished they gave me a curfew. A couple of weeks ago in Krabi town, where I currently live, I went home after 1:30 AM and there were people still out (two nights after the curfew was imposed). As I write this, the government is completely lifting the curfew in most major tourist areas, and more.
A few things about this…
Yes, a few bars will listen to the curfew, but there are the few rebels that don't. So it's not like it's a ghost town.

The curfew is dissipating, especially in major tourist areas.

The islands- What curfew?

In Bangkok- Things will be stricter. I made it back to Krabi before the curfew was imposed, so I can't offer first-hand knowledge on what it was like.
[adsenseyu1]
OMG… Shut up and just tell me – Is it safe to travel to Thailand?
I can tell you that I think it's fine. My friend just visited me, and didn't feel threatened or worried at all. In fact, she had the time of her life.
The point is, if you have a trip planned- Don't cancel. If you're thinking of coming and can't think of any of place you would rather be on this entire earth, and must, MUST come to Thailand… Then just go!
SSSSOOOOO…. Is it safe to travel to Thailand?
My best advice: If you're really that worried, remember that map of Thailand we talked about earlier? Good, look at it again. It's a country that is more than just Bangkok. There are over 70 providences in the country, go explore. Leave Bangkok alone, there are airports everywhere. Go. Do. Something. Stop. Worrying.
[adsenseyu5]
Can something bad happen? Yep. Can shit hit the fan and everything turn into dust and rubble? Yea, I guess so. But guess what? Something terrible can happen anywhere at anytime on earth. So until you hear reports from Thailand about mass shootings aimed at tourists, large man-eating military men chasing young woman in the streets, or temples transforming into robo-army men and taking over the Kingdom then…
Where will you go after Thailand?
Laos | Malaysia | Singapore | Indonesia | Philippines | Cambodia | Vietnam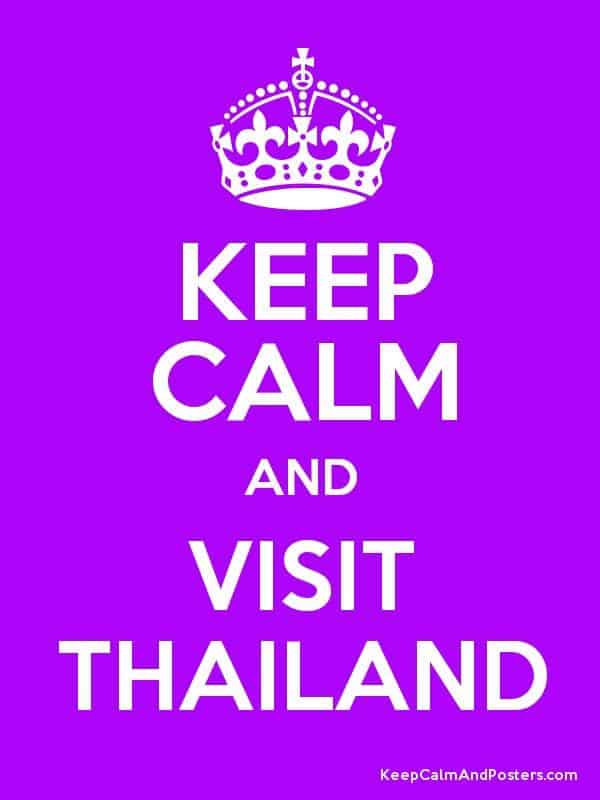 Have you been to Thailand recently? What did you experience? How did you feel in Bangkok?
---
---
>>> EVEN MORE AROUND THAILAND<<<
"One Night in Bangkok … and the World's your Oyster"
27 Things to Do in Pai, Thailand + Where to Eat and Sleep
Where to Stay in Pai, Thailand: Pai's Hostels, Hotels and Resorts
21 Krabi Beaches That'll Make You Book Your Trip Today (Thailand)
9 Krabi Island Hopping Tours That Will Make Your Jaw Drop (Thailand)
Photo and Video Blog- Ao Luk, Krabi, Thailand
Krabi Itinerary: What To Do In Krabi, Thailand for 1-7 Days & When To Visit
First Timers: Rock Climbing Krabi, Tonsai and Railay, Thailand
Where To Stay In Krabi, Thailand For Any Budget
Where to Eat in Krabi Town: Night Markets and Restaurants
Krabi's Beauties: Railay Beach and Tonsai Beach, Thailand
The Low-Down: Thailand Tourist Visa and More
Thailand's New Year, Songkran, Is the World's Largest Water Fight
7 Unusual Things To Do in Chiang Mai
Photo Blog: Doi Inthanon, a Day Trip from Chiang Mai
Chiang Mai to Pai and Back! The Best Ways to Get Around (Thailand)
4 Lesser-Known Spots Around Mae Hong Son To Go To
Chiang Khong to Huay Xai Border Crossing (Thailand to Laos)
Chiang Rai Itinerary: 10 Things To Do In Chiang Rai That You Can't Miss
Thai Vegetarian Food That You'll Want in Your Mouth
7 Reasons Why Eating Thai Street Food Is The BEST & How To Avoid Getting Sick
Transportation Info and Tips for Thailand
Play it Cool: Thailand's Do's and Don'ts
Photo Blog: Kanchanaburi – Bridge on the River Kwai and Erawan Falls
---
---
Related articles across the web