Choosing the best travel daypack is no easy feat.
After all, this bag will be used every day to hold your most precious and used items!
I know I use my daypack every day—out on the streets, on a hike, through crowded and crazy markets, and shoved under the seat in front me on a flight… Just to name a few occasions.
Having the right travel daypack can make or break your travels. If it's uncomfortable, you'll know it, every day! If it's flimsy, you could be caught out in the middle of a food market in Vietnam with your stuff spilled all over the street!
If it doesn't fit everything you need, you'll be forced to bring another bag leaving you uncomfortable and having your stuff be cumbersome to carry and traveling through a big city known for petty theft with an open handbag? You're a walking target and would be lucky to get away without anything being stolen.
The right travel daypack just may very well be more critical than your check in a bag.
I hope this list helps you figure out which travel daypack is right for your upcoming trip or your perpetual jaunt around the world like me—Which will make this decision even harder!
Don't lose this! Click to pin it now.
Best Travel Daypacks
---
Below are some of the best travel daypacks currently on the market. After extensive research, talking with friends, reading reviews, and trying a few myself, these are great daypacks for travelers keeping in mind that every traveler is different.
Some bags are better for specific activities, and some are multi-use bags. Here's a quick table outline of the best travel daypacks but scroll down for a more comprehensive description of each of them and to see which ones I use and love.
Best Daypacks for Hiking
---
1. Osprey Talon & Tempest 22 Daypack
This version of Osprey is one of the most versatile hiking models available to date. The 22L capacity makes it an ideal choice for a hiking daypack, but it can also be used regularly as a school bag or for urban commutes. We see this pack on trails more than any other because of its high durability that can be credited to the 420-denier nylon along the bottom of the pack, which builds tear resistance.
The biostretch harness and Airscape back panel come together to create a snug fit which is not constrictive due to excellent ventilation keeping the backpacker cool throughout long treks.
Additionally, this is one of the best travel daypacks since it comes with many multi-sport features such as the LidLock system which allows for helmet attachment, zippered hip belts, a hydration sleeve, and compartments to provide organized storage space. The Osprey Talon is a great buy and customers love it for its simple design and lightweight (14.5 ounces).
PRO
Multifunctional due to its lightness and design simplicity. Extremely long-lasting due to high-quality fibers and zippers used.
CON
Sometimes the hip straps may not hit in the right places, and the support in the frame may not be enough for those who want to pack it full.
Check prices for women's: Amazon | REI | Osprey
Check prices for men's: Amazon | REI | Osprey
2. REI Co-op Flash 22 Pack
One of the most affordable options available, the REi Co-op Flash 22 is ideal for hiking. This frameless hiking daypack is light and comes with an assortment of features that come together to create a comfortable fit for the user such as the lightly padded stretch-mesh shoulder straps and mesh back.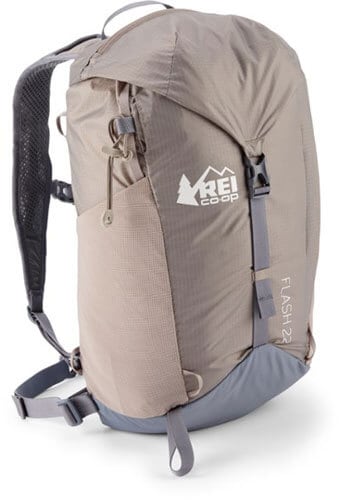 Additionally, the waist belt and sternum strap are detachable so a simpler look can be achieved. The zippered lid pocket is a handy feature, and the additional space (as compared to the Flash 18) make it worth the slightly higher price.
PRO
Loved for its increased capacity and storage accessibility due to external zippers which were not a part of the Flash 18's design. The compartments and key holder are also handy in separating the general load from essential items such as wallets.
CON
Not the best travel daypack available in terms of durability, the material tends to tear when subjected to rough use.
Best Lightest Daypacks
---
3. Deuter Speed Lite 20 Athletic Daypack
Minimalistic in design and purpose, the Speed Lite 20 provides maximum comfort and excellent ventilation to those seeking adventure in the mountains. The new streamlined design and Lite Backsystem made of 3D air-mesh are perfect for endurance sports and added features such as accessory loops and stretchy side water pockets only add to the convenience the pack provides.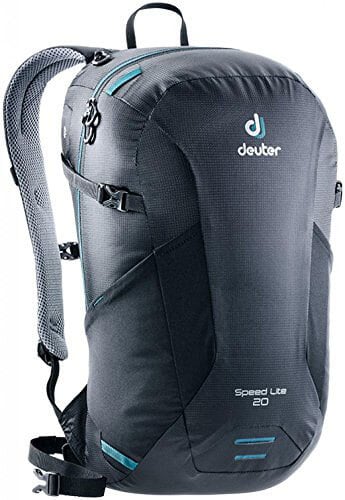 In addition to being ergonomic and adjustable, this is one of the best daypacks as it is extremely durable and comes with a limited lifetime warranty.
PRO
Light, sturdy and compact. Easy to pack in a suitcase for travel or can be used as a carry on too.
CON
For some, this may be a bit tight for space and can hit a bit low for shorter people. You'll have to buy the rain cover separately to make it waterproof/resistant.
4. HIKPRO 20L
Perhaps the most affordable option available, the HIKPRO 20L does not compromise on quality despite its comparatively lower price. Made of water-resistant nylon material, the bag allows contents to remain dry for up to 40 minutes and is typically more durable and wear-resistant than other bags of the same range due to its higher thread count.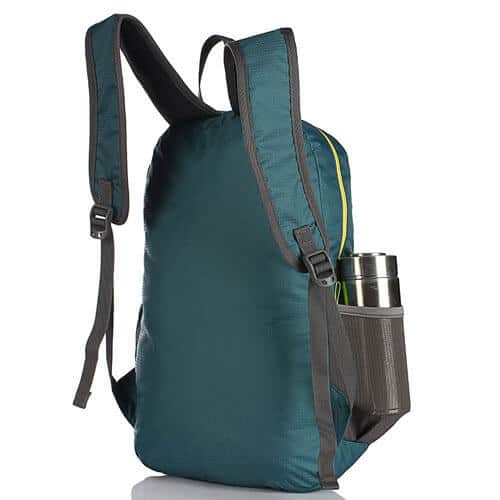 The bag is also very compact as it can be folded down to sandwich size for travel in spite of its 20L capacity and zippered compartments. This model is available in a range of colors.
PRO
The fact that it is lightweight and can be folded to a fraction of its size makes one of the best daypacks. A lot of space inside and outside the pouch.
CON
The bag is water-resistant, not waterproof, so a protector needs to be purchased. Material not padded so objects can be felt by the wearer.
Best Daypack for Electronics
---
5. The North Face Borealis
The The North Face Borealis is the best daypack for the storage of electronics. Its laptop sleeve and media compartment are lined with fleece which protects fragile items through impact absorption and cushioning. To accommodate small storage items, the bag has multiple pockets and an elastic bungee for external storage.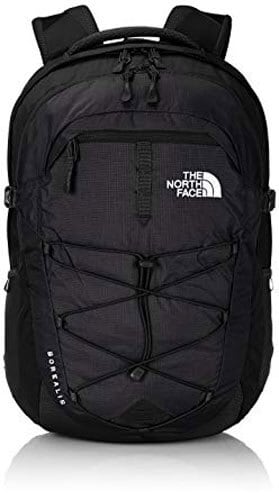 The overhauled FlexVent suspension system with its injection-molded shoulder straps and mesh back pads provides maximum spinal support and ventilation. Its size is optimal for students as it can easily fit a laptop, several notebooks, and small electronic items but it can't be stretched beyond its 28L capacity. The North Face Borealis holds it shape for years to come and has a lifetime warranty, so it's a great investment to make.
PRO
Sturdy and has a lot of extra space due to the accessible pockets that can be readily utilized. Can take a high load and holds its shape.
CON
The rugged design may not appeal to someone looking for something simpler. A little stiff and too heavy for someone with a smaller build.
Check Price for men: Amazon | REI
Check Price for women: Amazon | REI
Best Anti-Theft Daypacks
---
6. Pacsafe Venturesafe 15L GII Anti-Theft
The main features of this bag's anti-theft design include securable zippers and an RFID pocket to prevent unauthorized scans of credit cards/ID. The daypack is cut-proof as it is made of lightweight steel mesh which makes it ideal for both travel and casual use.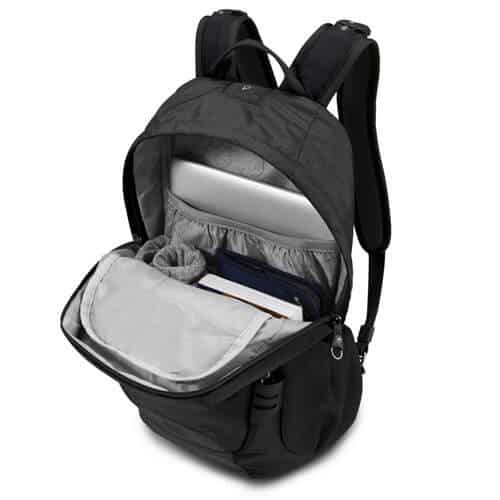 Though smaller than other best travel daypacks on this list, this Pacsafe bag is large enough to fit daily essentials and is accepted as a travel-on by most Airlines. The Pacsafe requires some maintenance such as regular cleaning, but it is quite durable and comes with a five-year warranty.
Considering I travel perpetually for months and months on end, usually only going home once a year, this is the travel daypack I use and love since I think it's one of the more versatile. I need this bag to safely hold all of my electronics but also be able to go on a hike, oh, and also be a bag I throw some clothes in for a quick getaway!
It can do all of that, AND it's an anti-theft bag. It kind of hits all the marks in my opinion and since I travel so much, I don't have the luxury of having all the travel daypack choices so this one is the winner for me.
PRO
Slim profile makes it easier to get on and off. The clipping mechanism on the zippers makes theft attempts impossible.
CON
There are no hip straps, so packing it full could put some weight on your shoulders.
7. Travelon Anti-theft Classic Backpack
Another excellent option, the Travelon Anti-theft Classic ensures maximum protection against petty thieves. A locking strap allows you to attach the bag to a stationary weight discouraging grab n'go thieves and the slash-resistant body and steel cable reinforced straps protect you from cut n grab thieves.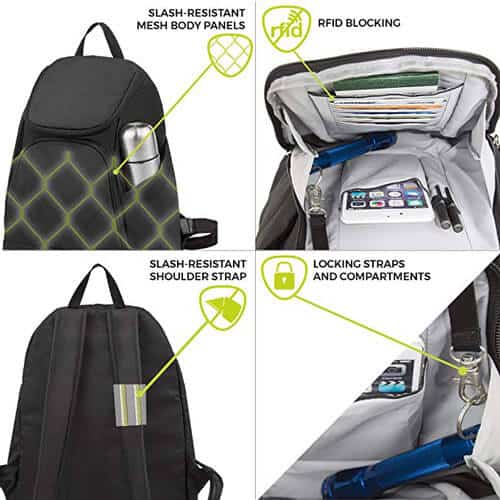 Like the Pacsafe daypack, the Travelon Classic Backpack also contains RFID blocking pockets for passport and ID cards. This is one of the best daypacks in terms of anti-theft features and is highly recommended because, in addition to the aforementioned features, it is also lightweight, roomy and well-constructed.
PRO
It's compact but extremely roomy. The padded shoulder straps are adjustable and have a built-in flashlight which comes in handy.
CON
The opening of the daypack is a little small, and the zippers tend to get stuck.
Best Waterproof Daypack
---
8. Drycase Masonboro Waterproof Adventure Backpack
This Drycase waterproof daypack made from Gnarwall™ heavy-duty marine-grade material is 100% waterproof and the first of its kind due to the addition of a purge valve. The purge valve allows you to inflate/deflate the backpack.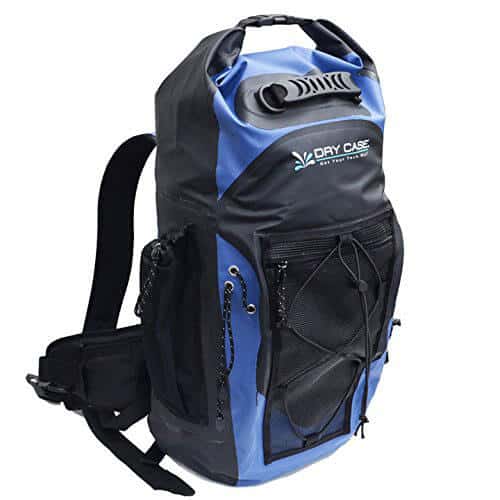 The primary storage compartment is completely waterproof and can hold up to 35 liters while a small waterproof compartment can hold smaller items. There are also external mesh pockets and bungee cords to hold wet items, and the padded shoulder straps and back support make for a comfortable fit.
If this bag sounds great, but you don't need a bag fully dedicated to being waterproof all the time, then just get a regular dry bag. I've been traveling with one for nearly eight years and wouldn't leave the house without. It folds flat and has saved my ass (or I should say my stuff) many times over the years.
PRO
The netting on the outside is perfect for holding wet items and the bag when aerated floats on water.
CON
The vinyl at the bottom of the bag may weaken over time due to rough usage and tear.
Best Water Resistant and Packable Daypacks
---
9. Outlander Outdoor Backpack
The Outlander Outdoor Backpack packs well above its weight with the capacity to hold 33L while weighing under 0.5 Lbs. Constructed of high-quality rip-proof nylon, the hiking daypack is water resistant, durable and perfect for use in all weather.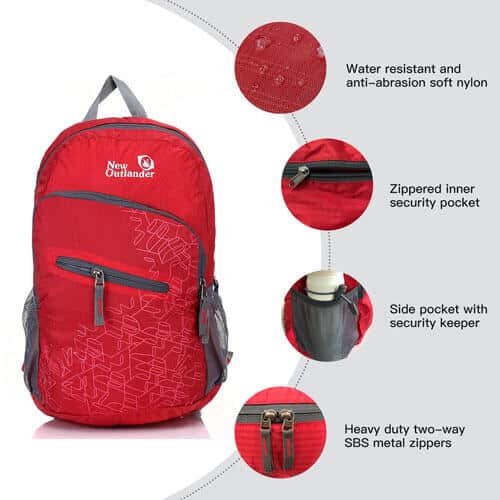 Additionally, stress points have been reinforced with bar tacking for increased longevity. Outlander has also used durable 2-way Abrasion Resistant SBS Metal Zippers across the backpack to prevent breakages. This packable daypack has multiple compartments for storage and can fold into its pocket, so it's very convenient for travel.
I often bring this one traveling with me when I know I'll be in need of a quick bag to throw some extra clothes in or a bag to use for gifts for family and friends. It holds SO much more than you think it would and I'm surprised as to how durable it is considering it's such a lightweight and packable daypack.
PRO
The packable daypack itself is deceptively large and can hold several times its weight.
CON
The bag doesn't hold its shape when overloaded and it wouldn't be great to wear for a long period of time if it's packed full with heavy items.
10. Sea to Summit Ultra SIL Daypack
It's no wonder that the Ultra SIL Daypack won the Backpacker Editors' Choice Gold award in 2017. Loved for its sleek, streamlined design and extreme durability, Sea to Summit packable daypacks are made of Cordura brand high strength nylon that goes through a further siliconization process to increase tensile strength.
This results in one of the best travel daypacks with a very high tear strength to weight ratio. There's also bar-tack reinforced stitching on all stress points and two-way zipper closure. Additionally, the webbing daisy chain attachment can hold a bike light, and the stuff sack has an attached carabiner.
PRO
Amazing capacity and packs down incredibly small.
CON
The straps are narrow and tend to get uncomfortable with heavy loads.
There's only one person who truly knows the best travel daypack for themselves and that's you! What upcoming travels do you have and which would make the most sense to bring?
Do you have a carry on backpack that solves most of your needs and you just need the simple packable daypack? Or are you like me traveling a lot, needing a daypack with multiple uses in addition to your carry on bag?
Did you have a travel daypack that you LOVE that you want to share with everyone else? Let us know in the comments!
---
---
>>> Read More! <<<
9 of The Best Travel Tripods For Any Snap Happy Traveler (Pro or Not!)
51+ of the Best Travel Accessories for Men and Women
The Best 11 Carry on Backpacks For Every Traveler
---
---
Busy? Click the picture to Pin this for later