Making Your Dreams a Reality
How to Change Your Perspective, Travel More, and Save Life-Changing Amounts of Money.
I bought a one-way flight to Australia and my timing couldn't have been worse. Yet, in just a short month, I was on a steady path to turn it all around.
Within 10 months of living and working in Australia, I had put away $30,612 AUD ($20k USD)!
Don't get me wrong, I worked my ass off instead of lounging on the beach but I made BANK that lasted me years.
I wanted to travel more and GROW a business—but I needed money. I know, *shocking new info*
My hard worked earned me:
New Macbook and iPhone.
The literal time to grow my online business.
TRAVEL! From the coast of Portugal to Thai beaches, to van life in New Zealand.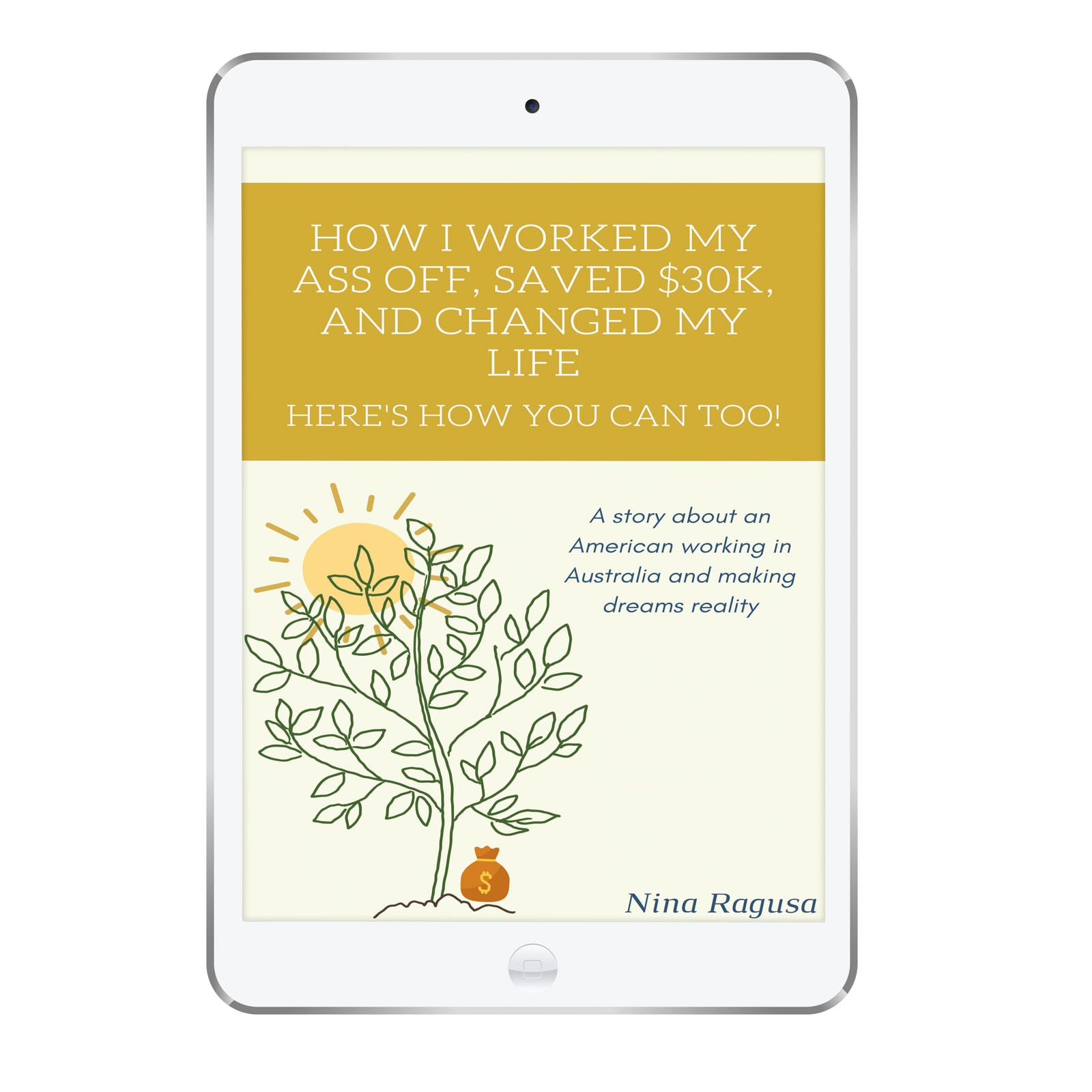 What would $30,612 mean to you?
That's a lot of *insert dream goals here*!
Seriously...
you can live in Australia,
save some life-changing cash,
and explore the world…
I NEED THIS BOOK!
Inside my easy to read ebook, "How I Worked my Ass Off, Saved $30k, and Changed My Life", I'll tell you all about working in Australia with a WHV, including:
• How I organized my life to make the most amount of cash – Chapter 5
• How you can leverage your time and money to grow something bigger in your life – Chapter 3
• What to do when everyone around you tells you not to go – Chapter 2
• PLUS insanely actionable tips throughout the book to help you work smarter & save more.
I can help you
Pick up your life, move to Australia, and whip you into savings mode so you can earn crazy money to put towards your dreams.
I NEED THIS BOOK!
What they are saying about the book…
⭐⭐⭐⭐⭐

❝ You are my travel mentor! Reading this ebook reminds me not to forget about my dream and where I want to be.

This book helped remind me that no one has to be stuck in the monotonous life that societ creates.

You encouraged me do things that make me happy and live the life I want to and with the money I'd make in Australia, I could better excute those dreams!

– Dominic Santoya
⭐⭐⭐⭐⭐

❝ I would definitely recommend this ebook to anyone looking at doing the Working Holiday Visa in Australia, this is top notch orientation on how to best take advantage of the incredible opportunity that we only get once in life time! Thank you, Nina!

– Hynda
⭐⭐⭐⭐⭐

❝ This book gave me all the answers to questions I wouldnt have known to ask! No matter how different ours walks of life are, you make me feel like I could do this.

It's definitely new spin on work hard play later. I feel empowered with the knowledge you gave. This would have been daunting to figure out on my own. You put everything in one place and the information was easily digestible.

– Vanessa
Step 1: Work Damn Hard
Step 2: Make Serious Cash
Step 3: Change Your Life
✨Bonus✨
Australia checklist!
So you're super prepared!
BUDGETING✅
PACKING✅
PRIORITIES✅
THINGS TO DO NOW✅
I NEED THIS BOOK!
Who is this book for?
Anyone who qualifies for the Working Holiday Visa in Australia* and wants a good story on saving cash and implementing a new mindset. This is for people who want to start a life of travel and need the funds. This is for the dreamers who need a path on how to get things kick-started.
*WHV applies to 44 countries for those aged 18-30
Why wouldn't I just save money at home?
I discuss this before I even get into chapter one! It's a good question—why don't you tell me why you haven't already? I suspect it has to do with being too comfortable and the influence around you. I help change this mindset.
Who are you anyway?
I'm Nina, I lived and worked in Australia. I've been traveling since 2011. I've been blogging and helping others travel and work abroad since 2012.
I'm you, I'm your friend, I'm that person who has been there and can help you navigate new waters better with advice.
What are the main points answered in the book?
Everything you need to know about the Working Holiday Visa for Australia
All your fears and doubts answered
How to best use this visa
Info on specific cities and areas to work
How you can save tons of cash
The possibilities this opportunity can bring you in life
Mindset changes that reward you with new possibilities
We are going way beyond just the idea of "working in Australia." This will be a turning point in YOUR LIFE!
How do I get the book?
This is an ebook, you'll be immediately prompted to download the ebook after purchase. The link will also be emailed to you.
You'll get a .mobi and .pub for eReaders/Kindle and a PDF to read on any device.
How much did you really save?
I saved about $20,000 USD / $30,000 AUD
(SAVED not earned)
OK I'm Ready for my life-changing opportunity in australia!
*WARNING: this ebook is ONLY for those willing to put in the WORK!
Grab your ebook and bonus checklist now
I NEED THIS BOOK!